Before this Monday road game, it was just another chilly Monday. After this road game, it was more of the same.
Because we had performed our fan penance on a Saturday morning where we watched the Nucks lose a low scoring tilt before lunch, the expectation (or rightful privilege) was a high danger, run 'n gun blowin' up the MSG game.
And boy, did we ever get that. For about 15 seconds. The rest of the game was overshadowed by the kind of game AV used to make us and the Rags play. Low to no event hockey.
Was that fair? No, it wasn't. Can we protest the final tally? No, we can't.
Like they say over in the Greener pastures, "you're going to play well and lose some times".
Unlike last year tho, it really is just sometimes. So far.
Besides, it's a Monday afternoon game in the eastern provinces. They don't even count in the standings. Even if they did, which they don't, we'd still be #1 in the Pacific. For that matter, we're still #1 in the Metropolitan. Or would be if we were cosmopolitan enough. But, we're not.
Are you bored enough, yet? No? Just wait. Have we got an exciting period of hockey for you...
1st Period
Words can't describe the intensity, the excited involvement in the game thread. Only gifs can.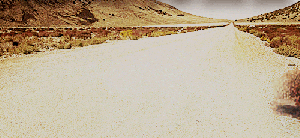 In the Rags' weird self-involved hockeyverse there was a lot of action - some MSG shot counters who were still conscious claimed NY had 6 shots on goal where the Nucks had none.
According to reliable media sources, that is enough scientific proof to state: 6 Raggy SOGs are equal to no Nucks shots. Or something.
Fortunately, despite playing under the bright lights of the MSG (do the fans in the east have to illumine the rink with their ad-ridden flashlight apps?), the Canucks changed their no shot strategy. And played some dominate shifts.
Pete almost made another highlight reel pass on the powerplay. Actually he did, but Bo didn't manage to tip it in. And we're still moping about it. That almost goal would have been a big mood changer.
Although it took most of an hour the 20 New York minutes ticked away. The two teams...uh... the Nucks and Rags finished with 8 shots each. It's a tie! And more exciting news. It's a tied game too! Zip to Zip. Nought to Nought. Nothing but nothing.
Do you remember that wide open scorefest over the Boourns last week? That outbreak of sniper maddness all started in the 2nd.
2nd Period
Finally, just a few minutes into the period the sniping started.
MDZ scored. We saw it go in. (and out).
No goal. Post, crossbar, post and out. Insane.

— Vancouver Canucks (@Canucks) November 13, 2018
Moving on. Don't think about it. That path leads to mad bitterness FFS!
Doesn't matter. Because, we're playing to snipe. Including Goldy.
The Nucks rip open the scoreboard after a penalty that Goldy took. At least he put it back after the flawless (so far) Nucks PK and Guds' shins kept a hot shot puck warm for Goldy on his release from a not-sanitised-for-your-protection MSG holding cell.
Wooo! It's a goal! A Nucks' goal. Goldy's 2nd goal of the year! Dance around like it's never happened before. In this game. Once the gamethread returned to their dancing chairs, play resumed.
With the Nucks leading, possibly even winning the game. Just like in Buffalo.
And just like that, the leading, the winning was over.
The invulnerable Nucks PK did something it's done too often recently. It's 80.2% invulnerability rating is now ranked 18th in the league. And it feels like 20th.
The best penalty killer is your goalie. And your goalie is Marky. And your Marky has been rebounding. And giving juicy ones to strangers across the east. Really need Nilly to get off the fluffy finger faery therapy and get some ice time while Marky gets some Clarke time.
CAUTION: This clip is only for completeness and filler purposes. If you do have to watch, do so with the sound off. These NY play-by-play guys are high on polluted city air and natural laxatives. Ugh.
I know. Why can't Bo win 3 faceoffs in a row? He leads the league in faceoffs taken. And practice makes perfect.
And that concludes the high points of the game. NY outshot the Nucks 10-7.
Yet the period ends in a tie. The refs spent the period trying to break it. And equal a league phantom penalty record. Pretty sure they were close.
They gave the Nucks 5 sinbin seats and 3 to the Rangers. 8 penalties, one period. Seems like just last week it was 8 goals, one period.
3rd Period
After that scoring onslaught the gamethread was hoping for a calmer more AV-inspired preserve the tie final period.
Careful what you hope for.
Goldy opened up the game about 5 minutes in. By taking another penalty. And was hoping for the famous lightening always strike twice sniper rule to prevail. It didn't.
The tie continued knotted. The Nucks had some chances, but the posts were coated in NY anti-puck grease.
Then, when it looked certain the tie and the SO collapse was all but inevitable, an innocent defensive faceoff taken by Granny turned ugly fast.
Shot was blocked. Shot was shot. Marky was shocked. Tie was broken. In the worst possible way.
CAUTION: This clip is only for completeness and filler purposes. If you do have to watch, do so with the sound off. These NY play-by-play guys are high on jacked-up rink air and natural laxatives. Ugh.
In the final minute the refs gave us a little tease. A 6—on-4 powerplay. But the King of MSG wasn't giving us any breaks. It's over. The game. But not Pete's point drought. This extended 2 game point starvation streak is the longest of his remarkable career.
The good news is...at least Marky and our snipers didn't have to go through a 3rd road SO loss. Sure, the extra point would have been nice to pad our fat lead in the division, but that's not the point.
The point is, the game is over in reg. And the Nucks get almost a full 24 hours to regroup and play again.
Let's hear from Goldy on his sneaky sinbin strategy
There's space in the MSG for a Green room - even after a tight game.
It's a nice clean road game loss. A tight game that could have gone either way, but just went the worst possible way. But, that's what Mondays are for. Get the worst out of the way and make Tuesdays great again.
That's tomorrow. A back-to-back on the road is what we give up hope for. Why ruin only one simple tea time, when the league can ruin two in two days.
Our road-wise Nucks take the long bus ride over to Brooklyn to play Taveres Barzal and the Isles. Enjoy the rest of your week until 4PM PST tomorrow.