What a week. Injuries. Mumps. Trades. Trades some thought JB would never make. Soon enough.
Jannik Hansen is no longer a Canuck. He's been released into the salty sea of playoff waters to swim with the big fishes in SJ. Like Burrows, I always thought Yank would be a Nucks lifer. Sure, there was some talk last season when he was lighting up a career year with the Sedins that he would be traded. Again this year. But this year the rumours, the rumblings, the renegade tweets were more serious. And threatening.
The chatter reached a fever pitch in the past week. And not just cause of the mumps. And last night Hansen was cut pre-game. Then in the third period (which we WON BTW) the noise from the sports media was loud. Which is rude when we were winning the third period - not like that happens much anymore. So... thanks for the disruption, internet.
Through the seeping slime of sports media tweedle-dumb it was announced a secret deal for another of our team's heart and other vital organs had been made.
Beaker had been thrown to the Sharks. I was like...
What?!!?!!
Anyhow I type here not to bury stoopid true trade rumours about Yank, I'm here to praise him, the speedy winger - the consummate team player. He learned that from Burrs. And had to carry Burrs' torch for almost 36 hours.
He's one of the final six four still here from the great run of Twenty Eleven. Many of you young NMers are probably too young or drunk to recall that we came within a game of winning the Grail. Just like we did in a previous era in a century so very far away.
Hansen's determination, fearless play and no bullshit attitude will be missed. Not to mention his crazy wheels. Treat him well, San Jose and do not play the Swedish national anthem for him when he arrives. He's from Denmark. Where things aren't as rotten as hockey literature depicts.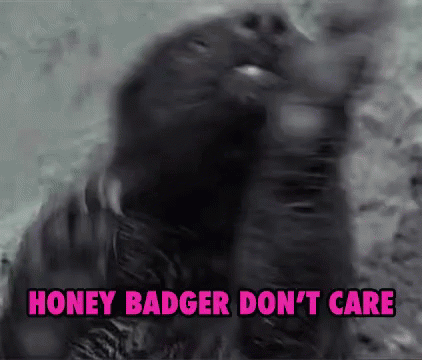 While he's playing for you now, SJ, just remember....he wasn't always your secret cup-winning winger.
Ah...what a poignant moment. Burrows and Hansen taking it to the Sharks. And the refs!
And what about that run of twenty eleven that Jannik was a part of?
Cheapshot(s)? Ah..those were the days...
Last year's triplet express:
This is what SJ wants....a hattie against the Pens.
Stats. Yes, Jannik has stats. All Orca and Moose stats. A lifer. Until now.
The Honey Badger was one of my fav Canucks of the past 10 years. Sure we're getting a new young sniper with promise...but I will miss terribly not being able to make great lasting last minute Groot/Badger art every again.
If only I wasn't so lazy and unobservant, I would have mocked up at least one more this season...the real rebuild season. Who knew? Other than the Injury Faeries, the Effing Refffing Faeries, the sterility-causing Virus Faeries and most of NM.
We will miss you Jannik - and not just because of your sweet alto speaking voice. Because you were part of the heart and soul of the Nucks of the past 10 years. So thank you for helping our team with better, faster, tougher gamethread memes.
Here's Jannik's last presser as a Nuck. Sorry, but this tribute post does not supply tissues.
How will Hansen handle the SoCal hockey mafia scene?
Thanks for your great play and triple rhyme times - Dank - Hank - Yank - GOAL!
May you, this year especially, finally win the STANLEY CUP, even tho it's been proven by historical hysterical experts a fake cup. A substitute, a stand-in, a crass commercially-exploited body-double cup
We all wish you success in realising the Grail dream while you help us get the 1st round pick to help us achieve ours. SJ getting their first cup 2-3 years before we get our first one wouldn't be the worst thing ever.
We will be cheering for you like crazy in the post season. Next year...well...you know NM is a fickle group of socially inept grail-starved maniacs. And those are our good points.
So...NMinati,  what are your best Beaker moments?
Tinfoil Side Note: My fears of JB being a sleeper agent were confirmed last night. He let slip a very telling, stumbling phrase while paying tribute to Jannik:
"He was part of a good team, when they had a lot of..you know.. success here and he was a very good player for THAT team"
- My slippery Freudian meter just pinned. JB, Even tho THAT team lost to YOUR team, is that what you're saying? THAT team is THIS team. It was the Canucks then and still is the Canucks now.  The Canucks, JB, the same team you are the GM of. FYI.
Here's JB's depressing presser on the tube.