Well, Trevor Linden was a co-host on Team 1040 for a couple hours and he talked about a lot of things: Training Camp, expectations, Horvat, Kassian, Odjick, better food, beverage and music at Canucks games, fighting in the NHL and so much more. Here is the interview:
If that player doesn't work for you, here is the link to it.
OK, so he doesn't like staged fights much, and doesn't want players to have to fight after making a huge hit...whatever. A lot of people don't, and I've accepted that fighting in hockey is dying, blah blah.
Call me crazy, but what stood out to me the most was the suggestion that the team has looked at Johnny Canuck jersey ideas, with Johnny being the logo on the front. Change is coming? Remember when the Orca was rumored to be netted and speared back in 2008/09 after Orca Bay Sports And Entertainment became Canucks Sports and Entertainment?
I had to sit down and think about this potential change for a while. I have decided a lot of things.
1. This team has had how many logo / jersey changes in their history? 13? At what point is enough enough and some sort of identity and continuity established?
2. I think the current Orca logo is fine. OK, I do want the whale to look more bad ass in its body language and appearance. But I guess that would mess with the whole First Nations theme. Screw it! Sharpen those teeth! Insert blood like it just ate a Bruin! As for the "VANCOUVER" on the front, yea, I like that too. It has grown on me. This is the best jersey they have ever come up with. I do love the early 90's skate jerseys too. They are very-much a close second. This one:
Badass! I love black unis, but like I said, the current color scheme and logo are solid.
3. Do you really want this on the front of the Canucks jersey: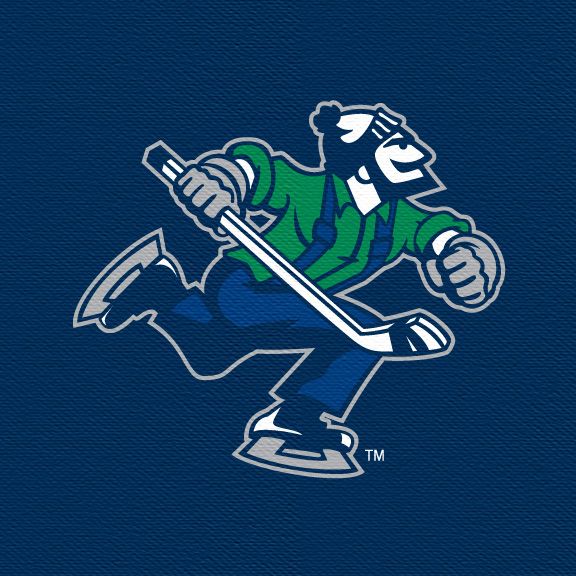 No, you don't!
Or this: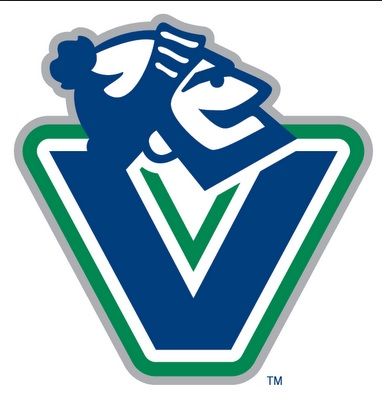 NO NO NO NO!!!! That one needs to become obsolete!
4. Maybe they'll revamp Johnny so he looks more like a tough guy. I really like the Vancouver Giants lumberjack logo. The artist for one of Luongo's Johnny Canuck masks really nailed it.  Once again: BADASS. That's just my taste, but once again I revert back to my point #1. And as a part of that, I really didn't mind these jerseys either: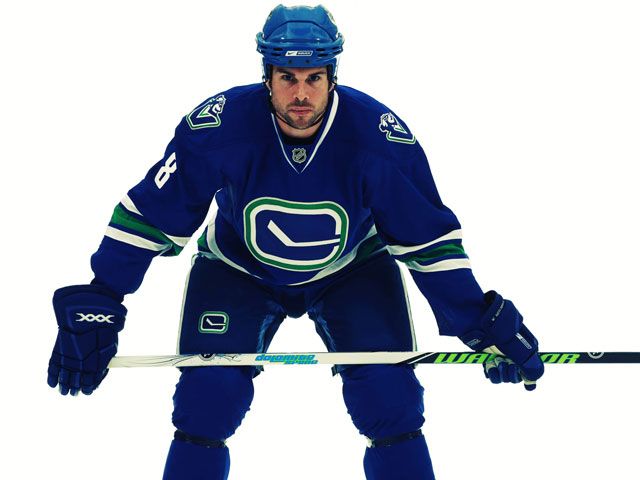 No, not so menacing (except Willie), but you know, if we're going by history and continuity.... (Just get that dammed atrocious JC head coming out of the V off the shoulders!)
What do you think? Vote on the poll below and voice your opinion in the comments section!