Before I post the winners of the 3 Nucks Misconduct competitions from this season, I just want to thank not only everyone who participated in those events, but also every member of the NM Community, whether a commenter or lurker. We have a strong community here at the site, on Twitter and on Facebook. We at NM try to entertain and inform all of you as much as possible and are grateful for your involvement here!
COMING UP AT NUCKS MISCONDUCT
Playoff Open Threads
Canucks Player Autopsies
Any Breaking Canucks News
2013-14 Standings Prediction Competition
On October 1, 2013, Passive Voice set this competition up. Participants had to predict the final seedings in each NHL Division. Bang-on = 4pts. 1-off = 2 points. 2-off =1 point. 3-off = 0 points. 4-ff = -1 point. 5 or more-off: -2 points. I kick myself for not entering this one. The final standings:
1. Nathaniel Perlow (58 points)
2. raincity (52)
3. gmonk33 (51)
4. ZackHendo (47)
5. goldomatic: (45)
6. danthestatman (44)
7. seedvt (39)
8. Passive Voice (38). Poor bastard sets the contest up and finishes last. Unreal! (You're welcome for doing the math!)
Score-Predicting Wizards Competition
This is predicting the score of a Canucks game, the winning team and correct game-winning goal scorer. A perfect 3 did not happen very often this season. This was a close race to the finish.
Zanstorm: 23
Bobby Canuck: 22
Geordie Nuck: 20
marcness52: 18
Nathaniel Perlow: 18
Passive Voice: 15
FormerHab: 14
Coach Ryan: 13
gmonk33: 13
Tengeresz: 12
westy99: 12
nucksandpucks: 11
seedvt: 11
Twitchy2010: 11
Azzy Mahmood: 10
Nathan k: 10
jwolf0: 9
vancitydan: 9
BigPDog: 8
Brobidus: 8
hookedoncanuck: 8
itsahardknocklife: 8
canuck89: 7
kiwinuck: 7
AK_nuk: 6
bygfeete: 6
Nose_Face: 6
beerandpopcorn: 4
Jes Golbez: 4
pagnificent: 4
prairienucker: 4
Puckhead1: 4
Tim Burke: 4
ChuckinNux: 3
Brock: 2
ctas: 2
John Carroll: 2
Smoboy41: 2
Vancouverguy: 2
CombattlerV: 1
Kent Basky: 1
pheenster: 1
thesporteditor: 1
NM's Yahoo Sports Fantasy Hockey Pool
Damn, live drafting is so much fun! I kicked everyone's butt last season. Not this season. No sir! I took my ball and went home months ago. Here is how it shook down: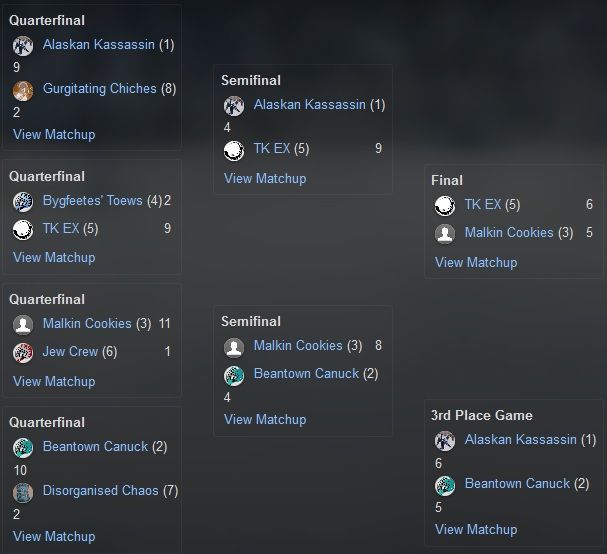 So, on the podium:
Well done, everyone! And thanks again for playing! Maybe next season we'll have a strip poker tournament.
And speaking of tournaments...the NHL Playoffs start on Wednesday.
NM 2014 NHL Playoffs Bracket Challenge
Our good buddy kiwinuck has set up a Nucks Misconduct Playoff Bracket Challenge at NHL.com. Head over to his FanPost here to get the link and password to this contest. Don't be a chicken shit! Join in!
I ended up with a final 4 of Blues-Ducks and Habs-Blue Jackets (messed, I know), and a Ducks-Habs final with Anaheim winning the Cup. What's YOUR prediction?