Time
Tuesday, 6:00 PST

TV
Sportsnet Pac.

Season Series
2-1-1 Canucks



Last Meeting


5-4 Canucks Jan.26/14



The Enemy
Five For Howling
Scoring Leaders
D. Sedin: 13-27-40
Ribeiro: 14-27-41

| | | |
| --- | --- | --- |
| CANUCKS | CATEGORY | COYOTES |
| 28-25-10 | SEASON RECORD | 27-23-11 |
| 66 | POINTS | 65 |
| 10th | CONFERENCE POSITION | 11th |
| Lost 2 | STREAK | Lost 4 |
| 1-8-1 | LAST 10 | 3-5-2 |
| 13-15-4 | ROAD RECORD / HOME RECORD | 17-11-3 |
| -16 | GOALS FOR / AGAINST DIFF. | -11 |
| 0.94 (20) | 5 ON 5 GF / GA DIFF. | 0.99 (15) |
| 13.9 (27) | POWERPLAY % | 20.6 (10) |
| 84.5 (6) | PENALTY KILL % | 79.4 (27) |
| 147 (25) | GOALS SCORED | 165 (17) |
Daniel Sedin reportedly had an MRI done on his leg, knee or whatever on Monday, but the results are unknown. CKNW tweeted
The Sports Network reporting Daniel Sedin is having a M-R-I on injured left leg. Early reports suggest he's gone minimum of 3 weeks

— CKNW (@CKNW) March 3, 2014
That wouldn't surprise me one bit. I had initially thought he had messed up his MCL or ACL on that play seeing how he crashed into the boards from the Marc Methot hit. At least the hit was clean. But here is a Canucks forward who had not scored a goal in 22 games. It was becoming infuriating. So the Canucks call up tough guy Darren Archibald, because clearly they don't think Niklas Jensen is ready yet (ulp). Archibald isn't here to replace Daniel. He's hitting the bottom 6 role and a guy like Chris Higgins perhaps is going to get more minutes and play with Henrik Sedin.
I hate that Daniel sustains the injury because I wanted him to play out of his funk. It was just a matter of time before he lit the lamp. Now we have to wait for that. It sucks. Now the Canucks play with less firepower "potentially" and they have scored what...8 goals in their last 7 games?
This is the last game before the NHL's trade deadline. Is this the last time we see Ryan Kesler or some other surprise Canuck in a Van uni? Troubling times. The team must persevere regardless. We are not dead and buried yet. I refuse to believe it. But here is the reality: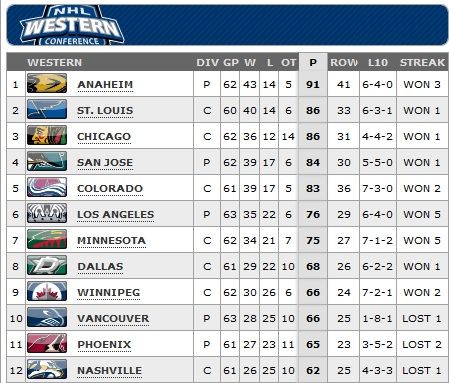 Slim margin for error. Massive turnaround needed. A holy ghost miracle. How much faith do you really have that this Canucks team can somehow snag that 8th spot in the end?
MEANWHILE IN PHOENIX...
From Fox Sports:
Some losses weigh more heavily than others. The Coyotes' 4-2 loss to the Blues on Sunday was an iron safe crashing through the floorboards.

"We played so well for 40 (minutes). We were dominant, doing all the right things," forward Paul Bissonnette lamented. "We just got away from it, and it's kind of been the story for the last few months here."

It's been the story of the season. The Coyotes talk fervently of playing 60 consistent minutes. They talk earnestly of playing a simpler, smarter game. And then they get away those philosophies and all hell breaks loose, which makes you wonder, as the trade deadline approaches, if this group is even capable of consistent play.

.......But the looks on the faces of the players and coaches suggested they are out of solutions to fix or words to describe what is ailing this club.
Oh hey! Join the club! We are like long lost brothers from the same mother! We feel your pain! We almost sympathize with you but....
GET THE FUCK OUT OF OUR WAY WE WANT THAT 8th SPOT IN THE WEST.
VIDEO
The last meeting between these 2 teams was a miracle of sorts:
5 goals scored? Holy shit!
The title of this game preview post has been brought to you by Monty Python:
GO CANUCKS GO!
SCORE SOME MORE GOALS, EH?
SCORE-PREDICTING WIZARDS UPDATE
Bobby Canuck: 18
Nathaniel Perlow: 16
Zanstorm: 16
marcness52: 15
Passive Voice: 15
Geordie Nuck: 14
gmonk33: 13
Coach Ryan: 12
FormerHab: 12
Tengeresz: 12
nucksandpucks: 11
Twitchy2010: 10
seedvt: 9
Azzy Mahmood: 8
BigPDog: 8
itsahardknocklife: 8
vancitydan: 8
westy99: 8
jwolf0: 7
Nathan k: 7
AK_nuk: 6
Nose_Face: 6
hookedoncanuck: 5
kiwinuck: 5
canuck89: 4
prairienucker: 4
Tim Burke: 4
bygfeete: 3
ChuckinNux: 3
Puckhead1: 3
Brock: 2
John Carroll: 2
pagnificent: 2
Smoboy41: 2
Vancouverguy: 2
Brobidus: 1
CombattlerV: 1
Kent Basky: 1
pheenster: 1
thesporteditor: 1