Time
Sunday 5:00 PM

TV
Sportsnet Pacific

Season Series
1-0 Canucks

Last Meeting


3-0 Canucks, Oct.17/13



The Enemy
Die By The Blade
Scoring Leaders
H. Sedin: 10-36-46
Ennis: 18-19-37

| | | |
| --- | --- | --- |
| SABRES | CATEGORY | CANUCKS |
| 20-42-8 | SEASON RECORD | 32-30-10 |
| 48 | POINTS | 74 |
| 16th | CONFERENCE POSITION | 10th |
| Won 1 | STREAK | Won 1 |
| 2-8-0 | LAST 10 | 4-6-0 |
| 8-22-3 | ROAD RECORD / HOME RECORD | 17-11-6 |
| 0.62 (30) | 5 ON 5 GF / GA DIFF. | 0.92 (20) |
| 14.4 (28) | POWER PLAY % | 14.8 (26) |
| 82.1 (15) | PENALTY KILL % | 83.2 (12) |
| 130 (30) | GOALS SCORED | 167 (27) |
| 202 (21) | GOALS AGAINST | 187 (13) |
HE'S THE MAN
The Canucks will honor Henrik Sedin on Sunday afternoon for playing his 1000th NHL game, all with the Vancouver Canucks. (Hank is actually at 1004 games now.) I am going to show some videos of our hero Hank. Ready?
A Hank Hatty??? Is that possible?
Hank scores in game 1 of his 679-game winning streak:
Some sick Hank passes from 2011-12:
Hank wins the Hart:
Gretzky-like pass:
Henrik becomes the Canucks' all-time leading scorer:
We will see a lot more Henrik gold prior to the Sabres game. Congrats, Captain Hank! The Province's Ed Willies has a great article up talking about the quiet grace and character of Hank. A lot of the perspective is gained from the long-serving Canucks trainers. Check it out. A couple key parts of that article that stood out to me: Trevor Linden and Markus Naslund never got down on the Twins, especially in the early stages of their careers.
But one of the most influential voices belonged to Mats Sundin in his half-year with the Canucks.

"He came in here and said right away, those guys are unbelievable hockey players," assistant trainer Brian Hamilton said. "That helped them, but I think it helped the people around them too. They just took off after that year."
Of course I am going to point that part out. Hank won the Hart and Art Ross the following season. Those were the days, huh?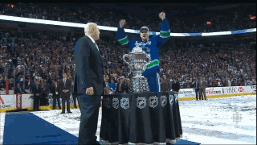 Yep...
GUESS WHO'S BACK?
Daniel Sedin. Who's playing with the Twins?
STARTING GOALIES
Eddie Lack: 13-14-4, 4 shutouts, 2.34 GAA and .915 save %
vs
Abbotsford's very own Nathan Lieuwen: 0-1-0, 2.22 GAA and .917 save %
Where the hell are the Sabres goalies? Jhonas Enroth and Michal Neuvirth are both injured. Matt Hackett got the win for the Sabres over the Oilers in their last game.
SCOREBOARD-WATCHING
The 8th place Coyotes are still 5 points ahead of the Canucks after losing 4-2 to Boston on Saturday night. They now only have 1 game in hand. 9th place Dallas are 3 points up on Vancouver with 2 games in hand. They beat the Senators 3-1 on Saturday night. So a win by the Canucks here will make things interesting....
THE LAST TIME THE CANUCKS AND SABRES MET:
The HODGSON VS KASSIAN DEBATE
I don't really want to get into this. It's too soon to really tell. Neither player is playing up to their potential. Hodgson is playing on a shit team in a scoring role and Kassian is playing on a mediocre team in a checking role so....yea, there's that.
The title of this preview post has been brought to you by Black Sabbath:
SCORE-PREDICTING WIZARDS UPDATE
Zanstorm: 21
Bobby Canuck:19
marcness52: 17
Nathaniel Perlow: 17
Passive Voice: 15
Geordie Nuck: 14
FormerHab: 13
gmonk33: 13
Coach Ryan: 12
Tengeresz: 12
nucksandpucks: 11
Azzy Mahmood: 10
seedvt: 10
Twitchy2010: 10
The list in its entirety can be seen here.
GO CANUCKS GO!!