INJURY UPDATES
When Alex Edler scored the 2-0 FU goal against the Predators last game, Shea Weber slashed Alex Burrows on the hand. Burrows did not return. While Tortorella claims he knows nothing of AMFB's status, Mike Gillis reportedly told a radio station that it does not look good. Just terrible news for a guy who has already suffered through a broken jaw and broken foot this season. He did not score any points in just over 13:00 of ice-time against the Preds, but had 5 goals and 4 assists in his last 6 games. Damn you, Shea Weber! This is a total drag, as Burrows was finally providing a spark for this team.
Ryan Kesler and Daniel Sedin returned to practice on Friday. Neither player is a lock to return in Sunday's game against Buffalo, but it would appear that Dank clearly has the edge to return first. Kesler suffered a leg injury after colliding with Winnipeg's Jim Slater on March 12. Daniel suffered a hamstring injury after an awkward collision with Ottawa's Marc Methot at the Heritage Classic.
It wouldn't even bother me if neither player returned anytime soon because:
SCOREBOARD-WATCHING
Play the kids, right? Here is what the Western Conference standings look like tonight: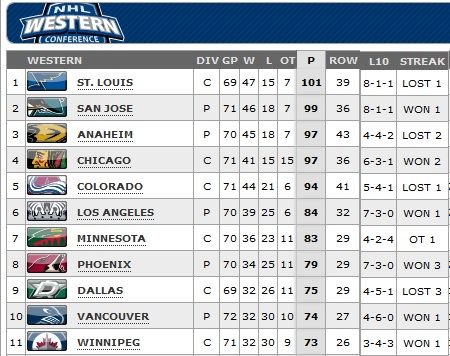 It's bleak. No, those 5 points that the Canucks trail 8th place Phoenix don't look too bad..but here are the upcoming opponents for the boys in blue and green:
Buffalo, Minnesota, Colorado, Anaheim, Rangers, Los Angeles, Anaheim, Colorado, Edmonton, Calgary. The Canucks have an 0-5-1 record in the combined games against the Kings and Ducks. (Does it not seem like an age since we played the Sharks?)  The Canucks have to win out the season to have a really good shot at making the playoffs. I hate being the guy to say "it ain't happening" but let's face it, you have a better chance of getting hit by satellite debris than seeing the Canucks in the playoffs this season. So play the kids! But that doesn't mean that I want to witness:
#TankNation
I made the mistake of spending too much time on Twitter and reading some idiotic fans' tweets about just tanking it to get a better draft pick. My bad. Twitter got my blood boiling a bit. My bad. I never should have been reading those tweets.
For the Canucks fans without brains on this matter, let me enlighten you: teams don't tank on purpose for draft pick purposes. Teams like the Canucks in this instance, hate f*cking losing and have a lot more pride than given credit for. The Canucks are not quitting. The team has to believe they have a chance to make the playoffs. The players are competitive by nature. Now, throw the kids like Jensen and Schroeder and Lack into the mix and you especially have no quit there. Those guys can't quit. Those guys are out to prove they belong in the NHL and they are not laying down. So give #TankNation a rest for god's sakes. Which leads me to my next rant:
FIRE TORTORELLA! FIRE GILLIS! CLEAN HOUSE!
Too much filth being spewed at those two people for this failure of a Canucks season. I get it though: when failure happens, fingers are quickly pointed at management primarily.
However, with both Gillis and Tortorella having 3 years left on their contracts after this season don't expect either person to be shown the door after this season. There are so many reasons for this. Let's start with Torts.
-I keep reading about how ill-timed Torts' rush to the Flames' locker room and suspension was part of the problem for the Canucks slumping. The foolish MSM people like to look at numbers in a narrow-minded sense. Not only did the Canucks win that game, they also won the next game against the Oilers. But then they lost 9 games in a row. HOWEVER, here's what none of the mainstream media points out: The Canucks had lost 8 of the 9 games leading up to the Tortorella fiasco. Yeah, they did! At the time I remember calling the incident a diversion by the coach. The team was playing uninspired hockey and Torts was trying to provide a spark. OK, maybe Torts just lost his cool, but how awesome was it that he did something like that amidst the team losing that many games leading up to the incident? I loved it. Remember, this was a time when Torts was accurately calling the team "fragile". And they were. Something...ANYTHING was needed at that point. Unfortunately it didn't work.
-The Torts defensive style suffocating the offence. I can understand the criticism of Tortorella for this one, mostly, even tough I can't explain it technically. The only players having an excellent season by their own standards under Torts is Chris Higgins and Mike Santorelli. The veteran players have all declined. Is using the Sedins on the power play really a wise idea? Shouldn't their energies be saved for power plays and 5 on 5's? In hindsight, yes. The Sedins have done excellent on the PK though. The Canucks were tops in the NHL on the PK for a long time earlier in the season and have only declined recently. But does that excuse Daniel Sedin not scoring a goal for 22 games? Not entirely! Did that excuse Burrows' insanely long scoring drought? Nope! How about Henrik's 1 goal and 1 assist in 17 game drought? Nope. Not entirely either. Hank does have 5 assists in his last 3 games though (and no, I am not yet buying into their age becoming a reason for decline). So here is what I see:
Tortorella had a vision for this club and made the players play it. It took a lot of time to adjust to it ( and still is), and even worked in December, where the Canucks went 10-1-2. Yet, through countless injuries and key-player scoring droughts it has faltered. So if we are looking to point fingers of blame, it's not just on coaching. It's a comedy of errors and shit happening.
Remember, as much energy as it takes to play the Torts system, he has been skating the players a lot less on off days all season long. Torts, Mike Sullivan and Glen Gulutzan are teachers through video when the players aren't skating laps and doing pushups. So, isn't it fair to say that they are doing their best to avoid the fatigue excuse to the point of eliminating the fatigue excuse?
The power play has been a massive issue this season and is now picking up (albeit too late). This also is a coaching/player issue. The coaches needed to adjust the strategy more and the players did not execute the laid out plans. Wanna blame the coach for guys missing the net? And that's not just on the power play. That's in all situations. Too many missed nets or shots to the opposing goalies' logo. Seen it all year. Was having Dan Hamhuis on the top PP unit wise, even though Torts called him a calming influence? Probably not because it didn't generate goals.
-OK, so not playing Luongo in the Heritage Classic was a bit taboo....but remember, that wasn't the reason why Luongo was traded. It was only a part of the reason. Still, wish he started Lou there. But Luongo's trade was inevitable because Luongo wanted out all along.
Mike Gillis....
Not getting canned. Got Shawn Matthias and Jacob Markstrom in return for a goalie that wanted out for almost 2 years. I see upside in both guys. Got 2 very effective players in Brad Richardson and Mike Santorelli in the summer of 2013 and both players have been terrific. Can you imagine how many more points the Canucks would have if Mike Santorelli had not been injured? THAT guy was a sparkplug extraordinaire. He had 28 points in 49 games prior to injury and was on pace to have a career year. And keep in mind that the salary cap went down after the lockout, so Gillis did a good job of getting 2 guys that made an impact for minimum price.
I am not even going to get into all of Gillis' deals as a whole from the past because I already did that here. I am looking at what this team is right now, and injuries and key-player droughts have decimated it.
If Ryan Kesler wants out and Gillis didn't pull off a deal at the deadline because the return wasn't there....then good for him. Has Gillis made bad deals in the past? Yes. But moving forward.....
Bo Horvat, Hunter Shinkaruk, Dane Cook, Nicklas Jensen, Brendan Gaunce, Cole Cassels, Jordan Subban...the kid cupboard looks full. Yes, they are quite young, but Gillis has made it clear that he wants to gain depth in players that are in the 25-ish year old range, where the Canucks are shallow. That can come via trade, as in a Kesler deal if he wants out.
The Canucks are rebuilding on the fly. There is no tanking with this team. Do I agree with this plan? Absolutely. I think the core of the team that was signed to various types of no trade clauses needs the youth to come in and not only play Tortorella's system, but provide that spark. The players that won't play Tort's system will be weeded out. Cool? Cool! I have thought the Canucks needed more composed defence all along. See: the 2011 Cup Finals and beyond. As much as the MSM wants to plant a seed of doubt between the GM and coach I am not buying it.
Oh geez, the Canucks don't have Luongo or Schneider anymore? So what? We got good assets in return for both and I like the Lack/Markstrom Swede combo moving forward.
A little patience is needed here. #TankNation is far too knee-jerking and shortsighted for my liking.
I see a bright Canucks future ahead in spite of this current shit show of a season.