The Canucks head into the Olympic break having lost 7 in a row, and now find themselves in 10th spot in the Western Conference.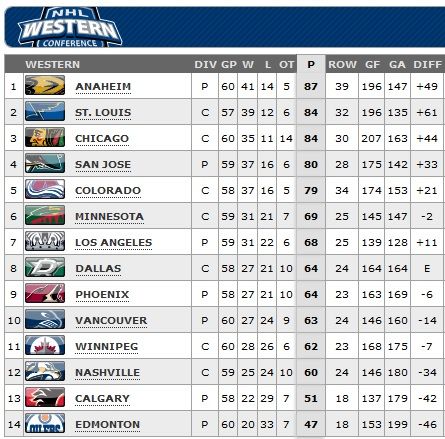 That sucks. But let's be realistic here. That looks bad in a general sense.. Here is a team that went 4-9-2 in January and is now 0-4-0 in February, yet is still in the thick of things for a playoff spot. It's not as dire as people think. You can thank the 10-1-2 record in December for that. That's OK! That means that this team knows what it takes to win....even though they look like a bunch of half-speed confused AHL'ers heading into the break. Players on struggling teams look about 50% anyway. If you have watched enough hockey you will have seen even top NHL teams go through funks like this.
Allow me to generalize... The young and/or fickle fans want to blow up the team NOW. Some want the Canucks to tank quickly in order to get a high draft pick and go for the rebuild phase. Well, the owner and General Manager of the team would like a few words with you.
OK, well I don't have very many quotes from those 2 people, but I do have to quote The Province's Jason Botchford, who, in my opinion, is the most connected guy with the team.
I saw speculation that Mike Gillis's job "could" be in trouble if the Canucks don't make the playoffs.

I can only write about my experiences and after talking to Francesco Aquilini on this trip, I left with the feeling that is not the case.

He is as upbeat as he's ever been, and is onside the line of thinking that what we've seen lately is not a true representation of where the Canucks are really at.

Gillis, for his part, remains very confident in his group.

"We'll be all right," he vowed.

I'm not saying he's not planning a move or two. He is.

But it's not going to be much more and he's not reacting to anything we've seen in the past six weeks.

"Trading your core is how you end up at the bottom of the league."
CBC had even mentioned that owner Acquilini met with the team after the loss to Toronto. I'm sure it was a meeting about patience and positivity over breaking shit and freaking out. So, all of you BLOW UP THE TEAM people: Feck off! Have a little faith. Embrace the importance of POSSIBILITY.
The fans that jump off the wagon? Well they have always been there. It's just that we have social media to further emphasize the jumping.
Even John Tortorella was saying that he has never coached a team with so many injuries. He also shouldered a lot of the blame after the loss to Toronto:
"It's pretty obvious that the coaching staff here has not done a good enough job teaching details of situational play," Tortorella said. "Third period, wall play, underneath the puck – we just have not done a good enough job (as coaches) because our guys are just not consistent enough. That's going to be a huge focus as we go through this break and get ready to play again."
More on that here.
I do believe that this is the bottom line: Management is going to be patient. They think injuries are playing a huge role in the team's collapse. They are not going to ask core players to waive their no-trade clauses in order to trade for help. That means that the top 4 Canucks defencemen will not be traded unless they ask to be traded. So all of us TRADE EDLER fanatics can forget about it and pop in an Enya CD. But i can assure you of this: Canucks' management does not currently rate this team much higher than 6th in the Conference. They just want to get into the playoffs and see what happens. Can't say I blame them. Gillis brought in Santorelli, Richardson, Stanton....I say he did an excellent job of doing so. So CAN the Gillis hate already FFS. He had no cap space.
You wanna know who the Canucks miss the most? No, it's not Tanev or Bieksa. It's Mike Santorelli. Sure, he was struggling before his injury occurred, but that guy generated a lot of scoring opportunities. That guy gave us a sweet second line of Higgins-Kesler-Santorelli. Santorelli did a lot of everything right. He played with balls. But he is done for the season. OK, so we miss the ice-cold Henrik Sedin too. But Santorelli was a catalyst. We need to find another guy like that, which is probably why Mike Gillis was trying to get Vaclav Prospal to sign here. I would expect him to keep searching in that field for a Santorelli replacement. He has no cap space to play with though, so it will be interesting.....
You can take consolation in the fact that Hank skipped the Olympics to allow healing time for his ribs. He will be back after Sochi and his failing brother Dank will be better for it. (What the hell ever happened to the Sedins thriving in the other's absence?)
Alexander Burrows can only go up from here. His jaw protector will be removed by the end of February. So, if there is any visual hindrance there, that excuse can be erased. Also, he is going to score eventually and when he does...look out.
Yes, the Olympic break is a blessing for Canucks fans. We get a mental break from watching a losing team. Imagine how much of a benefit this break will be for the players. If they don't believe in each other after this break the team is done like dinner.
What are your thoughts?