Time
Tuesday, 7:00 PST

TV
RDS, TSN5, SNP

Season Series
0-0

Last Meeting 

Heritage Classic Car Crash, L 4-2
The Enemy
Silver Seven
Scoring Leaders

H. Sedin 5-10-15
E. Karlsson 4-7-11
| | | |
| --- | --- | --- |
| | CATEGORY | |
| 11-5-0 | SEASON RECORD | 7-4-3 |
| 22 | Points | 17 |
| 2nd | Conference Position | 8th |
| Won 1 | Streak | Lost 1 |
| 2.94 (7th) | Goals For Per 60 (GF60) | 2.64 (15th) |
| 2.75 (17th) | Goals Against Per 60 (GA60) | 2.29 (10th) |
| 19.6 (17th) | Power Play % | 21.8 (11th) |
| 86.2 (7th) | Penalty Kill % | 84.9 (10th) |
| 47.4 (26th) | Faceoff Win % | 49 (18th) |
| 11.1 (17th) | PIM / GP | 12.5 (23rd) |
| 30.8 (T-10th) | Shots For / GP | 30.8 (T-10th) |
| 29.6 (14th) | Shots Against / GP | 35.2 (29th) |
Analytics

Senators

50.8 (13th)
Adjusted Fenwick
46.93 (27th)
50.0 (17th)
5v5 Close Corsi For %
45.4 (26th)
2.54 (9th)
5v5 Goals For / 60
1.92 (25th)
2.87 (27th)

5v5 Goals Against / 60
2.01 (9th)

29.98 (22nd)
5v5 Close OZS %
27.91 (27th)
8.45 (10th)
5v5 Shooting %
6.47 (24th)
90.74 (24th)
5v5 Save %
94.4 (5th)
99.19 (21st)
PDO
100.87 (9th)

H. Sedin +10.61

D. Sedin +10.50

5v5 Corsi Rel % Leaders

(50 min played)

E. Karlsson +9.59

M. Hoffman +9.74

R. Stanton -20.48

S. Matthias -5.54

5v5 Corsi Rel % Anchors

(50 min played)

C. Phillips -13.40

C. Ceci -9.02

Y. Weber 4.73

N. Bonino 4.44

5v5 Goals / 60 Leaders

(50 min played)

M. Hoffman 4.15

M. Stone 4.13
First off, thank you to all the vets out there on Remembrance Day and Veterans Day and to everyone with family members who have served, or are serving, to make sure the rest of us can relax enough to hate on Linden Vey's 5-on-5 stats.
The last time the Senators rolled into the town - in March for the zillionth Winter Classic - the Canucks iced a team that included David Booth, Zac Dalpe, Raphael Diaz, Jason Garrison, a disgruntled Ryan Kesler, an exceedingly disgruntled Roberto Luongo riding the pine and a seemingly clueless John Tortorella orchestrating the mess with a bearded Mike Gillis high in the sky above, presumably playing Candy Crush rather than watch his team implode on a grand stage. Isn't history fun?
Not too sure the dreaded California trip showed us anything we didn't already know about this year's team: they stole one in San Jose, got laughed out of the building in LA and rebounded to take the points in the SO against Anaheim. WD has them playing well and the fact they don't quit halfway through games is perhaps the most pleasant, "Ah I see Tortorella really is gone" facet of this season, but they're still a step behind the powerhouses in terms of talent which is why eating up points this early in the season is vital for the long stretch. With Kassian, Dorsett and Sestito all sidelined, the Canucks will roll out their kids on the fourth line again. The rookies had a rough outing in Anaheim, but back in the comfy confines of Rogers Arena WD will have more control over their line assignments.
Early in the season, the Senators are not unlike the 2006-07 Canucks which effectively rode Luongo as far as he could take their offensively anemic squad. In net Anderson has been their rock with a league-best .951 SV% and a top five 1.72 GAA. Ottawa has been poor on the possession side of the game thus far, and while their "Kid line" of Hoffman/Lazar/Stone (good post on Mr. Stone right here) has shown some offensive consistency, some of their other notables - Ryan, Legwand and Michalek - haven't been chipping at EV or the PP. Chances are the Kid line is broken up tonight to help kickstart  the rest of the top nine. Ottawa's defense has stepped up on the offensive end, lead chiefly by Karlsson which would explain the red in this shot chart:
The Sens may get Alex Chiasson back for the game tonight while Marc Methot remains sidelined with a back injury.
Expected Lineup
CANUCKS

Daniel Sedin – Henrik Sedin – Radim Vrbata Jannik Hansen
Chris Higgins – Nick Bonino – Alexandre Burrows
Brad Richardson – Shawn Matthias – Nicklas Jensen
Brandon DeFazio - Bo Horvat – Linden Vey

Alexander Edler – Christopher Tanev
Ryan Stanton – Kevin Bieksa
Dan Hamhuis – Luca Sbisa

Ryan Miller

SENATORS

Clarke MacArthur - Kyle Turris - Milan Michalek
Colin Greening - Mika Zibanejad - Bobby Ryan
Zack Smith - David Legwand - Chris Neil
Mike Hoffman - Curtis Lazar - Mark Stone

Mark Borowiecki - Erik Karlsson
Jared Cowen - Cody Ceci
Chris Phillips - Eric Gryba

Anderson
Key to the Game:
Vancouver has already played three goaltenders in the top ten SV%, beating Allen in St. Louis 4-1 but losing 5-1 to Jonathan Quick and 3-1 to Pekka Rinne, so this all comes down to solving a hot goalie. The Sedins will see plenty of Karlsson, but if WD can get them or Bones out against Phillips/Gyrba - the two worst players at Corsi Rel % - it would only help their chances at solving Anderson. A depth goal from the Matthias line may prove dividends and Jensen is the sniper on that line, so keep an eye there. On the flip side, Ottawa is a bottom ten team when scoring at evens, but a top ten team on the man advantage, so the comically elementary coach in me suggests staying away from the penalty box parade which, in that respect, means not having PIM leaders Dorsett (26) and Kassian (24) may be a good thing.
PREGAME BATTLE HYMN
After the emotional weekend seeing Kesler in that gross orange, we need to taper off  a bit and I can think of no better way to do that than...Duck Tales. Shut up, I can see your head bopping from here.
DRINK OF THE GAME
We're honoring vets today, so some class is recommended. Laphroaig is your god tonight, bow at its alter with respect.
Impromptu Drinking Games Rules
- 1 Drink: Still talking about Kesler-Bonino deal because, hell, why not?
- 1 Drink: Chris Neil levels someone behind his own net. Bonus drink: it's Hansen.
- 2 Drinks: They show Heritage Classic footage. Bonus drink: you see a sad Luongo on the bench.
- 2 Drinks: Not to be undone by Griffith, Vrbata scores between his legs while falling to ice and juggling axes on fire
- 3 Drinks: "...Something something Eugene Melnyk and a horse something something..."
- 3 Drinks: Stanton GWG
- CHUG: Someone mentions Mike Fountain. That includes Sens fans, everyone drink until you can't feel feelings.
Parting thoughts from Pam Poovey:
How else would you ride in an elevator?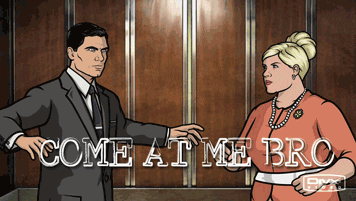 SCORE PREDICTION WIZARD UPDATE
Sean got this updated over the weekend. See, we all CAN get along.