From CBC's Elliotte Friedman:
Sounds like John Tortorella will have a hearing with the NHL on Monday in New York

— Elliotte Friedman (@FriedgeHNIC) January 19, 2014
John Tortorella was angered to no end when he saw what line Calgary Flames coach Bob Hartley was starting the game with. (The road team shows their starting line first). That would be Brian McGrattan, Kevin Westgarth and Blair Jones up front, and Ladislav Smid and Chris Butler on defence. Was it Hartley wanting to send a message that he wanted no BS from the Canucks after this incident last time the teams met?
That is likely the case. Anyway, Westgarth and McGrattan are the noted tough guys on Calgary. Tortorella had to adjust his likely planned starting lineup.
"Tortos told us they were starting their idiots over there, so we had to match that," a thing Tom Sestito actually just said

— Katie Strang (@KatieStrangESPN) January 19, 2014
And so Torts put Tom Sestito, Dale Weise, Kellan Lain (in his first NHL game in front of his family too yet), Jason Garrison and Kevin Bieksa out there. Beautiful things ensued:
Reminds me of the 70's and early 80's. Great stuff! But John Tortorella doesn't appreciate it. He was yelling at Bob Hartley during the brawl:
(Photo by Jeff Vinnick/NHLI via Getty Images)
Torts lost his cool. I'm sure Hartley ignoring him just made him come unglued. So when the first period ended, Torts tried to get at Hartley in the Flames' dressing room:
And that's where he went too far. It's entertaining for us, yes! But now Mr. Tortorella will have a hearing with the NHL (likely Executive Vice President and Director of Hockey Operations Colin Campbell. Gary Bettman too?) Torts could be looking at a suspension here for coming into contact with opposing players.
Tortorella only talked about the issue briefly post game:
Not happy with himself for putting Lain out there in his first NHL game (which lasted 2 seconds for him). I thought he answered it all honestly. He doesn't like the staged or "manufactured" fights like that. Of course he's not going to throw the Sedins out there! That would be absolutely stupid.
Torts has been through this before, when coaching the Rangers, when Devils coach Pete DeBoer started a tough guy line in the past:
Here was the brawl that ensued at the start of that game:
Eerily similar aren't they?
If Tortorella is suspended, Mike Sullivan can coach the team in his absence. As far as Torts' actions go, even though illegal by approaching the Flames' dressing room, I personally love it. Torts sticks up for his players. How can you not like that? It's almost shades of Roger Nielson. A tactic to rally your team.
RANDOM FUN
0:02 into the game: pic.twitter.com/7aDzmZplNM

— Marc Dumont (@Dr_Habs) January 19, 2014
This from NM member jimmi.cynic: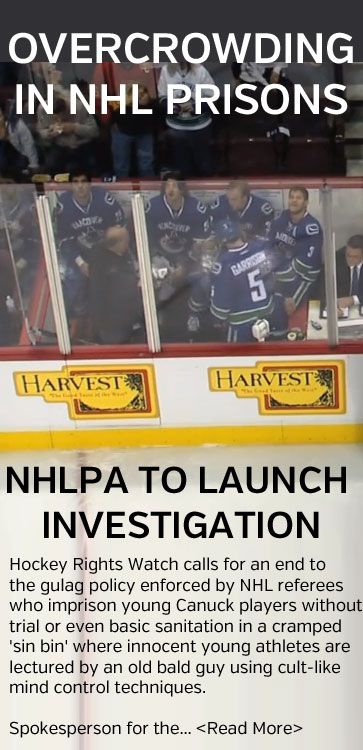 Good question:
Does anyone know who won the face off in #Vancouver? @VanCanucks @NHLFlames @NHL @hockeynight @CoachsCornerCBC #letsgo #couplegoodguys

— Willie Mitchell (@Willie_Mitch33) January 19, 2014
Fine job, sir:
We are proud to welcome John Tortorella as Head Coach of the Vancouver Canucks.

— Mike Gillis (@GMMikeGillis) June 25, 2013
Fuck you, Larry:
This just in: Sean Avery recommending that Tortorella go away for anger management counseling.

— Larry Brooks (@NYP_Brooksie) January 19, 2014
Clint's anger in response was so funny. I swear he was going to start stroking Torts if he could get to him:
#Flames goalie coach Clint Malarchuk mean mugging #Canucks coach John Tortorella like he's about to eat his flesh. pic.twitter.com/yrNcRG83P2

— Daniele Alcinii (@danielealcinii) January 19, 2014
Wait, this isn't fun:
In NY probably means multiple-game suspension. RT@FriedgeHNIC Sounds like Tortorella will have hearing with NHL Monday in NY.

— Iain MacIntyre (@imacVanSun) January 19, 2014
Remove the dildo from your ass:
Honestly, even if he won the Stanley Cup every year what #NHL team wants John Tortorella representing their organization?

— Jim Toth (@JimTothSports) January 19, 2014
There's a french joke here somewhere (not that I have anything against any French people):
#Flames Hartley on Tortorella's hallway visit in first intermission: "I got out of there. I don't need to get suspended or fined."

— Wes Gilbertson (@SUNGilbertson) January 19, 2014
Let's predict, shall we? What kind of penalty will Tortorella receive? BoosheyGross has a prediction:
My over/under for Tortorella suspension is 8.5. Coaches have to held to higher standard than players.

— John Buccigross (@Buccigross) January 19, 2014
Made me laugh:
John Tortorella right now: pic.twitter.com/bJiZrr66DA

— Mike (@NJDPrime) January 19, 2014
OK enough. I'm out.