Time
Saturday, 7:00 PST

TV
CBC

Season Series
2-0 Canucks

Last Meeting

2-0

Canucks

Dec. 29/13

The Enemy
Matchsticks And Gasoline
Scoring Leaders
H. Sedin: 9-31-40
Hudler: 12-27-39

| | | |
| --- | --- | --- |
| FLAMES | CATEGORY | CANUCKS |
| 16-26-6 | SEASON RECORD | 24-16-9 |
| 38 | POINTS | 57 |
| 13th | CONFERENCE POSITION | 7th |
| Lost 2 | STREAK | Lost 3 |
| 2-8-0 | LAST 10 | 2-5-3 |
| 9-12-3 | ROAD RECORD / HOME RECORD | 12-6-5 |
| -46 | GOALS FOR/AGAINST DIFF. | -1 |
| 0.68 (28) | 5 ON 5 GF / GA | 1.01 (13) |
| 13.5 (27) | POWER PLAY % | 14.7 (24) |
| 80.5 (17) | PENALTY KILL % | 86.4 (3) |
| 1010 (19) | HITS | 967 (24) |
| 3-2-2 | RECORD: LEADING AFTER 1 | 11-4-1 |
| 5-17-12 | RECORD: TRAILING AFTER 1 | 4-9-5 |
| 170 (11) | MINOR PENALTIES TAKEN | 179 (18) |
| NHL.COM | | |
OK, so now...after getting back home after the abortion that was that 3-game road trip, the Canucks get to spend a bit of time at home to cozy up with their girlfriends, wives, children, dogs, cats, whores, whatever and hopefully get a new lease on NHL life. It also helps to play on home ice again, against the Calgary Flames! We can beat them, right? The Flames are:
2-8-0 in their last 10. 10 games ago they lost 2-0 to the Canucks.
3-11-2 in their last 16.
Calgary is a fair bit better on the road than at home this season. They are 4-4-2 in their last 10 away from the Saddledome.
The Canucks, however are 7-2-1 in their last 10 against the Flames. Dominance. The Canucks hold a 9-1-1 record over Calgary in their last 11 meetings at Rogers Arena. So uh..yea...if the Canucks lose this one, the trade brigade is gonna be that much bigger. Lots of dead bodies floating around in the Burrard Inlet.
WOUNDED SOLDIERS
Welcome back, Alexandre Burrows! Just in time! Is he here to save the day? Hell yes he is!
Unfortunately, injury list got a hell of a lot bigger after the game against the Coyotes because of one jagoff named Martin Hanzal.TSN lists:
-David Booth as "questionable" for Saturday's game with facial lacerations.
-Henrik Sedin as "questionable" with bruised ribs. Is the iron man streak over?
-Mike Santorelli as "expected to miss Saturday's game" with a sprained right shoulder.
-Roberto Luongo as "doubtful"
I f*cking miss Ryan Stanton, I'll tell you that much.
Does this mean that recently recalled Mountain of a Man Kellan Lain is going to play his first NHL game?
KNOW YOUR ENEMY
Matchsticks and Gasoline have a piece up called "Preparing For Rock Bottom." An excerpt:
So, in order to equal that return for the Flames, all Burke needs to do is turn the likes of Mike Cammalleri, Matt Stajan and Lee Stempniak (possibly Jiri Hudler and less likely Dennis Wideman) into a late 1st rounder and a 2nd rounder.

I'd say that should be easy and I do hope that those 3 are all moved for prospects/picks but we'll see what Burke has up his sleeve. In fact, for fun, you can include the trade of Robyn Regehr and the non-trade of Miikka Kiprusoff and Burke could equal Feaster's return for the Flames best assets of the last several seasons with one trade deadline and a trio of useful pieces.

Yes, indeed. The rebuild is really beginning. And with that will truly come-

ROCK BOTTOM
I am going to leave it that, in regards to the Flames. The Canucks, injuries or not, need to get that f*cking power play going and beat these lowly Flames into the ground. The Canucks have reached a bit of a rock bottom of their own, but are not yet in danger of missing the playoffs. Always be thankful for the good things that you've got, Canucks fans!
Oh hey look! A goalie stick bass guitar!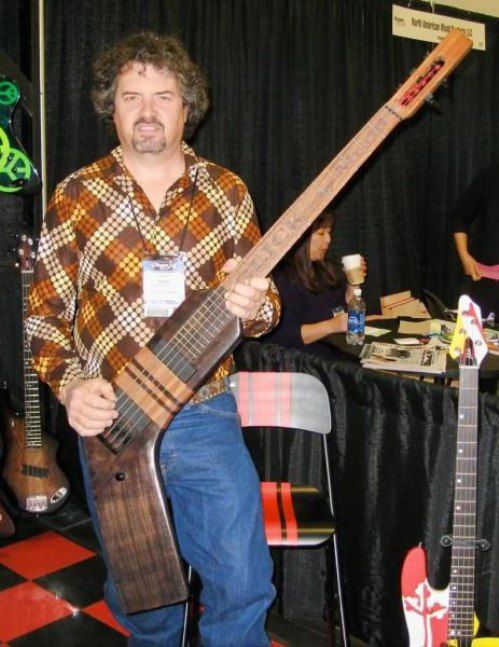 SCORE-PREDICTING WIZARDS LIST
No change! Nobody could foresee a 1-0 score with Boedker scoring the winner. Imagine that!
VIDEO
The last meeting:
They killed Alberts! Those bastards!
Are we ever going to see this type of shit from the Sedins again:
The title of this preview post has been brought to you by Eminem:
GO CANUCKS GO!
PLEASE! FOR THE LOVE OF ALL THINGS SANE!