CUTS LIKE A KNIFE
The Canucks cut their preseason roster by 5 players today.
Brandon DeFazio and Alexandre Grenier have been sent to Utica. Reclamation project Zach Hamill, Pascal Pelletier and Colin Stuart have been placed on waivers, where they will likely clear and report to Utica to provide leadership there. I was really hoping Hamill would impress, seeing that he was a first round pick that had not made the NHL cut. But he really did not impress in the first preseason game against San Jose. I saw a lot more from Pelletier than Hamill.
Now....when is Alexandre Mallet gonna play a game? This is the kid I am pulling for the most.
IN A PERFECT WORLD
In a perfect world, Zack Kassian would step on to a first line with the Sedins and give the team the 25 goals and 55 points they've come to expect from that spot.

Brendan Gaunce, meanwhile, would establish himself as a big-body presence on the third line and be a solid contributor throughout the season. Nicklas Jensen, for his part, would make the team and start developing along the lines of a Jannik Hansen. And while we're dreaming, Hunter Shinkaruk would emerge as a Calder Trophy candidate on the second line, while Bo Horvat — returned to London, Ont. — leads Canada to a gold medal at the World Juniors and the Knights to a Memorial Cup.

That, at least, is the dream for the Canucks. As for the reality, well, if one or two of those things come to fruition, they should consider themselves fortunate.
That from Ed Willies of The Province. I pretty much agree with everything he says here. And hey, it's like John Tortorella said a few days ago: you can't get too high on these kids, but can't get too low on them either.  However, there is one forward who I am getting stoked about, besides Hunter Shinkaruk:
2 goals in 2 preseason games. The puck is clearly following him around, but he is also going to the net and getting to the right places.
TOLL BOOTH
"I just want to get back to being the player that I know I can be. No one puts as much pressure on me than I do. I just want to help this team be the best it can be and that's my goal. If I am given the opportunity, I think I can really be a force in this league. I'm looking forward to the year and really showing my teammates, myself and the city what I can do."
David Booth looks to be ready for the Canucks' season opener on October 3. There is a lot of pressure on Booth from me, the fans, the media. He's gotta earn that $4.25 million paycheck.
MEANWHILE IN TORONTO:
MEANWHILE IN VANCOUVER: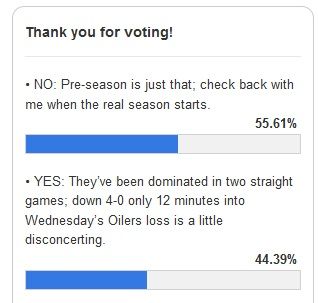 Unreal how silly some fans are. Oh noes! Lou is gonna suck! Find the highest bridge and jump!
FINALLY:
Canucks announced that the Canucks have renewed their affiliation with the Kalamazoo Wings of the ECHL

— Steve Erickson (@Sportswave) September 20, 2013