Who's this guy?
Jordan Schroeder
Position: Center
Shoots: Right
Height: 5'9''
Weight: 180 lbs
Born: September 29, 1990 in Prior Lake Minneapolis
History: Drafted by the Vancouver Canucks in the 1st round (22nd overall) in 2009.
What'd he do?
While the NHL was in lockout limbo, Schroeder played 30 games for the Chicago Wolves, scoring 9 goals and 19 points. With Ryan Kesler still recovering from surgery and not coming back any time soon, the Canucks needed help at center. So Shredder got the call and played his first NHL game on January 23rd. He scored no points in his first game. His faceoff winning percentage was 25%. He took a minor penalty, was an even +/-, had no shots. Alain Vigneault gave him 19 shifts and 14:49 of ice time. He registered an assist in his 2nd NHL game:
What a sweet dish that was! That is what Schroeder excels at the most.
Mike Gillis was giving the kid praise:
"He certainly looks quick enough and skilled enough to play at this level and his defensive play has been strong."
On February 1, the bastards from Chicago came to town. It was a close game that had to get solved in a shootout. Leave it to Schroeder:
Schroeder would get another assist over his next 6 games and then this beautiful shit happened:
And then this:
Atta boy, Jordan! The boys were nice enough to get the pucks for him: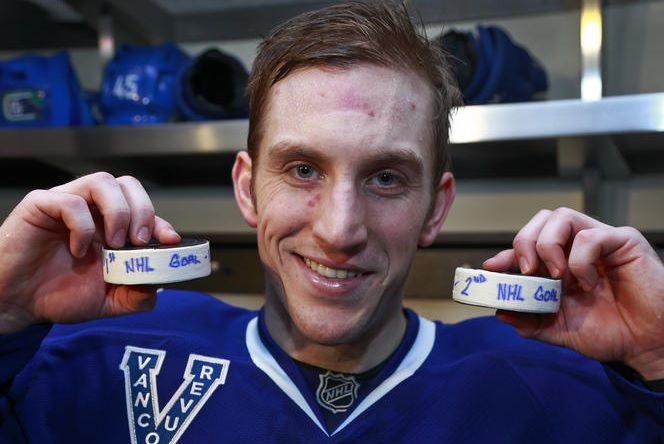 A Calgary killer. What's not to like?
Perhaps we were to see a lot more of that? Maybe he would become a power play beast? Nah. After that 2-goal game against Calgary, Schroeder would only manage 1 assist over his next 14 games. Naturally, his ice time went up and down like a bride's wedding pajamas as well. Vigneault did put Schroeder in some good situations to break the slump though, including on the point on the top power play unit with Alexander Edler. He finished 7th on the team on power play time on ice averaged. The Canucks decided to send him to the Wolves on March 11 so he could "get his confidence back" (in his own words).
That stint only lasted a week. On March 18 he was recalled. In his first game back, he scored no points and played a piddly 9:53. The next game he assisted on the winning goal by Dale effing Weise. The goal itself was cool, but the spinaround dish by Schroeder had us all wetting out pants. Check it out:
That sparked Schroeder. He would score 1 goal and 2 assists over his next 3 games. The goal was a game winner against the Coyotes:
After that 3-game point streak, Schroeder scored no points over his final 4 games of the regular season. He was even benched in there somewhere.
Soon after that the Canucks acquired Derek Roy at the trade deadline. With Roy and now Kesler back, Schroeder was sent back down to Chicago on April 2. He was recalled on April 30 so that he could watch the Canucks shit the bed from the cozy press box. Given the Canucks' need for a spark the San Jose series, many of us wanted him in the lineup. Apparently Schroeder had injured his shoulder and was not even able to play.
On May 21, he had surgery on his shoulder (labrum). His timeline for recovery is unknown, but hopes to be back for training camp in September.
"I've got a workout plan set up for the summer that will enable me to be on track and ready for camp," he said. "I'm going to get back at it (off-ice training) in a couple of weeks. Obviously, I can't do some of the upper-body stuff, but I'll be able to get the legs going."
So what now?
With Mike Gillis preaching "reset" and going with more youth next season, Jordan Schroeder has an excellent chance to stick with this lineup, right out of training camp should his healing timeline work out for him. The Canucks have the same problem with a kid that they had with another center who now plays for Buffalo: how the hell is the kid supposed to get decent icetime as a center behind Ryan Kesler and Henrik Sedin? Move him to the wing, perhaps. I think Schroeder needs a look in the top 6 somehow. Is he going to excel as a 3rd line checker? Well, I am going to assume that Maxim Lapierre and Andrew Ebbett will hit unrestricted free agency. And with Manny Malhotra no longer playing here, it seems Schroeder is destined for that 3rd line center....at this point.
I want to see more of the kid. He's only 22. A new coach may bring more out of him. But Schroeder needs to find a bit more consistency and confidence in his game as well. That will come with time. For a smaller player, I liked his strength, work ethic and his defensive play, most of the time. I loved the speed of Schroeder with Mason Raymond and Jannik Hansen. He...just....needs..more...time.
Oh, Schroeder will become a restricted free agent on July 1.
My grade for Schroeder this past season: C+.
-Schroeder's Game Log for the 2012-13 NHL season.
-Schroeder's career stats:
-Schroeder's advanced statistics compared to the rest of the team at Behind The Net. I didn't really notice anything spectacular there.