*** Good Lord, how low can player agents go? Ilya Bryzgalov will soon have his 9-year $51 million contract bought out by the Flyers. Ilya remained classy in his farewell speech and left it to his idiot agent Rich Winter to do the shit talking about the Flyers:
"It's terrible in Philadelphia for a goaltender. They block shots. They don't open up lanes. Goaltenders can't see the puck."The goalie coach has no authority. The head coach doesn't listen to him. It's an issue and it's made it a challenge."

"As you and I know, goaltending is about opening up lanes, and defensive communication with goaltenders. It's about backchecking. It's about speed. It's about transition game. It's not just about the puck…"
He then talks about how Edmonton would be an ideal spot for his client, even though the winters suck ass. Unreal. Was that the best damage control / promotion job you could do for your client, Richard? I'm not buying it. Also...too over the top. STFU.
***The Penguins re-signed Chris "I kick ass for Zandberg in Yahoo Pools" Kunitz to a 3-year, $11.5 million deal on Thursday. The bad news is that Kris Letang reportedly has turned down an 8-year, $54 million contract. Letang has one more year left on his current contract that pays him $3.5 million. In that same article Rob Rossi states:
If a trade was necessary, the Penguins would prefer to move Letang to the Western Conference, and they are intrigued by prospects with Anaheim and Vancouver, the sources said.
What? Are any of those sources looking at the Canucks' cap issues? The first 2 things that came to my mind when I read that were:
1. Wouldn't it be great to have a "Christian Ehrhoff on crack" in Letang on our team? He would generate a lot of offence, kickstart the power play, and play better defensively.
2. But then again, the only player we pay more than a Sedin (cap hit) is Mats Sundin, a God amongst men.
***Mark Messier left the Rangers organization on Thursday: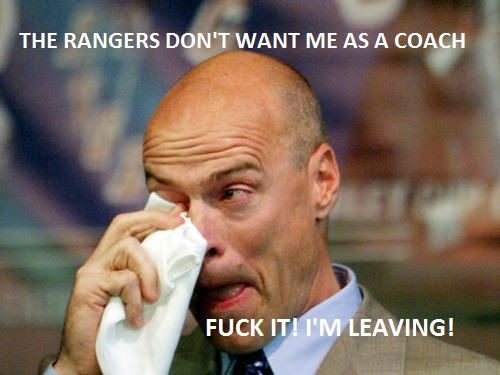 Bah! Anyway, it looks like sour grapes because he didn't land the coaching job, but apparently, according to Glen Sather, Messier is leaving to "expand the game of hockey in the New York area by developing the Kingsbridge National Ice Center.," which is a descriptive and charitable way of saying he cried his way out of the Rangers organization because he didn't get the coaching job. I kid.
****The Lightning will buy out the rest of Vincent Lecavalier's 11-year, $85 million contract. Vinnie has been mostly injured and far less effective on the scoresheet since he got that colossal raise, but in a new setting I am sure he will benefit another team greatly. People are already suggesting that maybe he could be reunited with John Torterella in Vancouver. I again refer to the Canucks' cap situation. Expect Montreal to be the forerunners in this as they always have been. Lecavalier wants a new contract that takes him to retirement. I say: you have sucked for a long time and earned a shitload of money. Maybe you should expect less and prove your worth all over again. He is 33 years old, and not worth over $7 million per season.
****The Flames traded Alex Tanguay and Cory Sarich to the Avalanche in exchange for David Jones and Shane O'Brien. So..this means the Flames will have both Tanguay and Olli Jokinen back on their roster 2 years from now? OK, in all seriousness I like this deal for both teams but especially for Calgary, who get bigger and meaner and a bit younger. They can use more of that. They could have used that a long time ago.
RUMORS
Apparently, playoff hero Bryan Bickell is willing to take a hometown discount to stay with Chicago. ESPN reports that the Hawks will do their utmost to re-sign him. After he gets his raise he will become the next Fernando Pisani. Book it.
Also, the Hawks are reportedly shopping the always dirty, feisty and candid center Dave Bolland. Now that is a player I would want here except:
The Bruins may be about to sign Patrice Bergeron to an 8-year extension worth something around $48-52 million. Bergeron is recovering from a punctured lung. Damn. I have had a collapsed lung before. It fucking hurts.
Speaking of Cup Final injuries, ESPN also reports that Marian Hossa is going to have back surgery. Pussy.
Jaromir Jagr will not be re-signed by the Bruins. But he is not ready to retire either. He told HockeyExpressen that maybe the Bruins would have re-signed him if he didn't score ZERO goals in the playoffs. No shit Sherlock. A Mark Recchi he was not.
According to The Fourth Period, the Leafs are actively looking to the trade market to acquire a top centerman and top 4 defenceman.
Luke Fox from Sportsnet.ca has an excellent list of buyout candidates for every team. Here are some examples:
-Ducks: Bryan Allen
-Hawks: Steve Montador, Rusty Olesz
-Panthers: Ed Jovanovski
-Canadiens: Tomas Kaberle (gonna happen)
-Islanders: Rick Dipietro (douche canoe)
-Rangers: Brad Richards?
-Flyers: Danny Briere and Ilya Bryzgalov
-Lightning: Vincent Lecavalier
-Leafs: John-Michael Liles and Mike Komisarek
-Canucks: Keith Ballard
OK, I have rambled on enough. There will be plenty more madness in the coming days.
Coming soon pre-July 5 on Nucks Misconduct: Assemble your 2013-14 salary-compliant Canucks team. Also, we will cover the Canucks on Draft Day, including any breaking trade news and profiles on players selected.