There were a few times during this shortened season where I thought: "you know, this Canucks team is pretty damn good. I think we can make another run at Lord Stanley." But that faded down the stretch, going 2-3-1 in their final 6 games of the season. Drawing San Jose in the first round left me concerned. Once again we were going to have to rely on the team to "flick the switch" for the post season against a team that you knew was out for revenge. It just did not happen, once again. We got a repeat performance in round 1. The Sharks beat the Canucks in almost every facet of the game. Their defence was generally impenetrable, reminding me of the Kings and Bruins teams that beat us in the past. The goal scoring was gone. I think the best 2 forwards in this series were Ryan Kesler, who had a strong period in Game 3, and Alexandre Burrows, who had a strong Game 4. Everyone else.....ugh. Failed.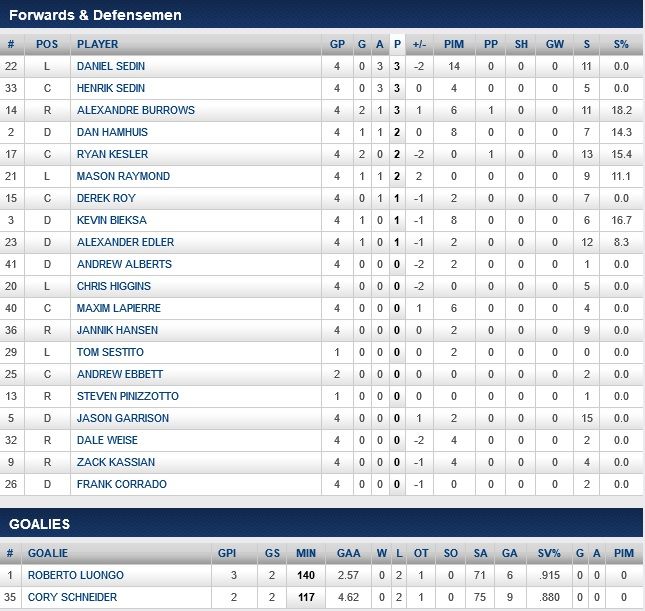 Those via Canucks.com.
OK, so the Sedins had 3 assists each. But they were not good enough. Henrik had an assist in each of the final 3 games...but had not scored a goal in 14 games. Daniel is even more head-scratching. He is the sniper. He is the finisher. He scored 1 goal in his last 11 games and / or 2 goals in his last 17 games! WHAT? It's true. To paint an uglier picture of Daniel, he has only scored 1 goal in his last 16 playoff games. That is unacceptable. And it will have people asking: can we build a winning team around the Twins? Do other teams have the book on "How To Stop The Sedins?" Are they slowing down? Well, I can assure you that the answers will vary. Public opinion will be divided.
The Sedins will turn 33 before the 2013-14 season starts. While there may be some slowing down from them...it can't be all THAT much. I think the other teams have run the video on these guys and have figured out how to stop them. The bigger, more physical players that cover them often succeed because they will not allow them to cycle. So...either the Sedins adjust, or they will not be effective top line players for this team. Especially not in the playoffs where it matters most.Keep in mind though that next season is the final year of their contracts. And you know what they say about contract years....
The counter to that argument is that you need a deep team to offset the heavy shadowing that the Sedins will face. Well, if you look at the stat above, you can see the Brothers had no support. But the bottom line is that the Sedins AND the supporting cast SUCKED in the 2013 and 2012 Playoffs. (Hey Higgins! Glad you re-signed with the team but **** you for the shitty effort in the playoffs!) Same with Hansen. And Raymond. And fuck it.
I found the Canucks' defence, much like what we saw during the regular season, to be porous. Solid at times, but prone to costly mistakes. Remember when we had a formidable duo in Bieksa and Hamhuis? What the hell happened to that? At least Jason Garrison improved as games went on. He would have looked even better had Alain Vigneault used him more on the power play, where he is golden.
A rough year for Alexander Edler. Strangely, he had his best game in Game 4, but he has been frustrating to watch all season. Didn't he sign an extension too? Fuck me.
Once again I ask you, how many huge saves can you remember Anttii Niemi making in this series? It was really THAT bad for the forwards and offensive defencemen alike. The puck movement by the Canucks? Spotty. Forced. Shady. Lacking confidence. Inconsistent. It looked its best in Game 4 but it was too late.
Roberto Luongo was the best Canuck in this series. Cory Schneider struggled in both games since his return. His bobbling of the puck, which caused the winning goal, was still indicative of his play in general. He was good, but inconsistent. Luongo played his heart out and performed well, and that's good for him. He needed a good performance to show other teams that he has what it takes. He will be dealt before next season. That is a given. Look to the NHL Draft for that to happen. And by god, thank christ when it finally does happen so that Schneider can be the guy with no more sideshow bullshit. Oh wait..have the minions lost faith in Schneider already? Fuck off! He'll be fine.
OK.....so......
What changes need to be made to this team? Are we looking at a massive change in player personnel (a shaking of the core)? A rebuild? A firing of the head coach?
Change is coming to the roster regardless. The NHL's salary cap will drop to $64.3 million in 2013-14. The Canucks are currently way over that limit (about 70.46 million in cap spending). With 2 compliance buyouts allowed before the start of next season, I think it's fair to say that Mike Gillis (who will remain the GM, by the way), will likely buy out Keith Ballard and David Booth. That's about $8.5 million in savings right there. There are several free agents-to-be on the current roster including:
-Derek Roy (UFA) Gone!
-Manny Malhotra (UFA) Gone!
-Mason Raymond (UFA) Gone!
-Maxim Lapierre (UFA) PERHAPS gone!
-Steve Pinizzotto (UFA) No clue. Would like to keep him.
-Andrew Alberts (UFA) Gone!
-Andrew Ebbett (UFA) Gone!
-Cam Barker (UFA) AHAHAHHAA
-Dale Weise (RFA) Uhhhhhhh
-Tom Sestito (RFA) Just go away!
-Chris Tanev (RFA) Show him the money!
-Derek Joslin (RFA) Adiose!
-If you head over to Capgeek.com you will see the rest of the unrestricted and restricted free agents that the Canucks have to make a decision on, including, most notably, Jordan Schroeder, who I think the Canucks need to keep.
So is it a rebuild? Probably not. I think the core will most likely remain in place.
As for the coaching staff.....fire every last one of them. It's very rare that a coaching staff has more than a 3-5 year shelf life. In this year's case of the Canucks, I think the head coach, the special teams coach, and the defence coach have all failed. I welcome a change in staff there, not to say I don't appreciate what they have done for the team. It sucks for them, but it's a results business and they are not getting the results. The coach gets canned before the GM. I think the Canucks need a new structure and a new voice. The "results" have now proven that repeatedly.
Is it fair to say that the Canucks' window to win a Stanley Cup is closed? Well, it's hard to argue that point. They have to get under the new salary cap next season with a current coach / core group that don't seem to know how to win anymore. The rookie cupboard is nearly bare. However, to say (for sure) that the Canucks' Staley Cup window is closed is silly. Anything can happen. Including the coach getting fired and some beauty return in a Luongo trade.