| | | |
| --- | --- | --- |
| CANUCKS | | SHARKS |
| | AT | |
TIME:

Tues. 7:00 PM PST

TV

TSN, CNBC, RDS,

CSN-C

SERIES:

3-0 Sharks


LAST MEETING

5-2 Sharks

THE ENEMY

SCORING LEADERS

Kesler: 2-0-2

Couture: 3-3-6
| | | |
| --- | --- | --- |
| CANUCKS | CATEGORY | SHARKS |
| 0-3 | RECORD | 3-0 |
| 5 | GOALS SCORED | 11 |
| 0.57 | 5 ON 5 GF / GA | 1.75 |
| 1 / 7 | POWER PLAY | 4 / 17 |
| 76.5 | PENALTY KILL % | 85.7 |
| 45.8 | FACEOFF WINS % | 54.2 |
| 126 | HITS | 115 |
| 39 | BLOCKED SHOTS | 57 |
| 21 | MINOR PENALTIES TAKEN | 10 |
Well then...


THE OPTIMIST
Only 3 teams in NHL history have come back from a 3-0 series deficit: The 1942 Maple Leafs, the Islanders in 1975, and the Flyers in 2010. But Han Solo once said: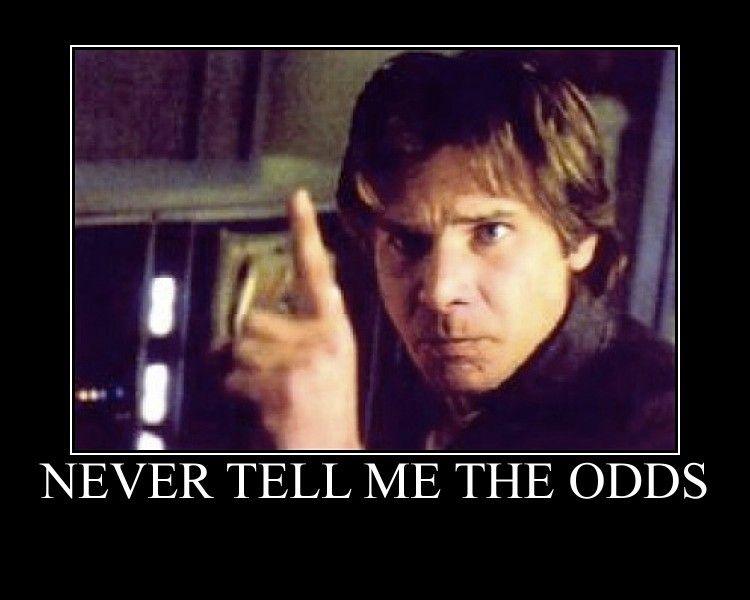 One game at a time. If the Canucks can pull out a win in San Jose in Game 4 maybe they can get some positivity and gel into their game, through their lines and take the positives back to Vancouver and make a series out of this. They have the talent there to do it.
I mean, hell, the vast amount of Canucks cannot finish this series with a doughnut behind their name in the points column. They have to come alive in a do or die situation. And they will. A few more bounces here and there, a more disciplined game, a more simplified, yet hard-fought road game with much-improved goaltending from (I assume) Cory Schneider, and a win is quite possible. Imagine if players not on line 1 heated up and well...took the heat off the Twins....
It's not over yet! Anything can happen. BELIEVE IN BLUE!
THE PESSIMIST
Oh yea, asshole? Well 8 of the 12 Canucks forwards have not registered a point in this series! Fucking 8!!!! Couture has 6 points to Kesler and the Sedins' 2! Where the fuck did all the butthead forwards disappear to? They have created a hole that is too deep to climb out of. Their game has been off and inconsistent for the majority of the season and into these playoffs. DOOMED! The defence keeps choking and giving up prime scoring opportunities at wrong times. The team folded in game 3 when Schneider struggled. No heart! No soul! No chemistry! No game 4 victory! In fact, once the Canucks give up the first goal, it's all downhill from there. This will be an embarrassing playoff exit.
#FIREAV
#CANUCKSPLAYINAWEAKDIVISIONANDITSHOWS
CONCLUSION
I have to say that I respect the Canucks fans that remain optimistic in any sense at this point in the series. Some may call you foolish but I don't think that's fair. I think it's a strength to stick by your team until the bitter end. It takes more strength to be that way than to give up, like I have. It's easier to say the boys in blue and green are done like dinner. But it isn't reality. Reality is that we don't know what is going to happen in game 4. Reality is the possibility of a comeback. Reality is the possibility of a sweep or series loss. Anything CAN happen. But I have no hope. I just have disappointment and anger. Fuck it all and fucking no regrets.
However, silliness is the mainstream media and fans already talking about next season and the off season when this series is not over yet. Yes, the boys are playing like they are toast. Yes, the Sharks are outmatching them. But it's a bit annoying to see people jump the gun that quickly. You know, I would laugh if the Canucks won the next 2 games, just to see all of us naysayers eat crow and do a 180. It's just very difficult to think that is going to happen. The team shows us no signs of doing this.
MISC
- I don't know what to make of Kevin Bieksa calling out Joe Thornton and Logan Couture being embellishers etc etc. I hope that was a diversion or an attempt to get a few more calls the Canucks' way for an advantage. If it wasn't...damn it, shut the fuck up, Juice! I have seen Canucks embellish in this series too. And this, peeps, is why players should not dive or embellish in the first place. Certain Canucks have that rep and they deserve it.
-I found the difference between Luongo and Hank's post game 3 comments kind of amusing yet telling:
Hank:
We're as good as them 5-on-5 or even better. Have their top guys play 5-on-5 instead of power plays and 5-on-3s, we're the better team and we're going to show that (Tuesday) and go from there. "
Luongo:
Well I can't find Luongo's quote. But the Province is saying that Luongo told the media that only 2 or 3 guys are playing their hearts out right now.
The title of this game preview post has been brought to you by Metallica:
GO CANUCKS GO!