CANUCKS




WILD



AT




Time
Sun. 5:00 PM PST

TV
Sportsnet Pacific

Season Series
2-0 Canucks

Last Meeting

2-1 Canucks Feb. 12/13

The Enemy
Hockey Wilderness
Scoring Leaders
D. Sedin: 8-15-23
Koivu: 4-15-19

| | | |
| --- | --- | --- |
| CANUCKS | CATEGORY | WILD |
| 11-6-6 | SEASON RECORD | 12-9-2 |
| 28 | POINTS | 26 |
| 3rd | CONFERENCE POSITION | 9th |
| Lost 3 | STREAK | Won 1 |
| 3-3-4 | LAST 10 | 6-3-1 |
| 5-3-3 | ROAD RECORD / HOME RECORD | 8-2-1 |
| 2.70 (17) | GOALS PER GAVE AVERAGE | 2.22 (27) |
| 2.52 (11) | GOALS AGAINST PER GAME AVERAGE | 2.44 (7) |
| 1.19 (8) | 5 ON 5 GF / GA | 0.88 (22) |
| 15.7 (22) | POWER PLAY % | 15.7 (23) |
| 80.7 (17) | PENALTY KILL % | 85.7 (6) |
| 48.6 (22) | FACEOFF WINS % | 53.0 (3) |
| 489 (22) | HITS | 447 (27) |
| 272 (29) | BLOCKED SHOTS | 295 (25) |
| 98 (15) | MINOR PENALTIES TAKEN | 77 (2) |
| NHL.COM | | |
OK, so it finally comes down to this. The Wild won their game tonight so if the Canucks lose to Minnesota on Sunday, in regulation, the Wild will take over #1 spot in the Northwest Division, as they have more wins. Yea, damn all those shootouts the Canucks have gone to and lost in.
So the Canucks feeble power play now goes up against the 6th-best penalty kill in the NHL. The Wild are also the 2nd-best disciplined team in the League, so we'll see how many PP chances the Nucks get. Vancouver is far better 5 on 5 than Minny is so it would be best for them to stay disciplined. Especially considering the Wild have an 8-2-1 record at home. Will the Wild be a bit fatigued in a back to back situation? I don't know. But that would favor the Canucks as the game goes on since Vancouver has had 2 days off.
Roberto Luongo dominates the Wild usually, but AV will ride the Schneid for this one. The Wild will likely play 23 year-old Matt Hackett, who, believe me, is no slouch.
Speaking of...
PROJECTED ROSTERS
Schneider
Sedin - Sedin - Burrows
Higgins - Raymond - Hansen
Booth - Lapierre - Kassian (let's see if the Booth-Kass chemistry can continue)
???? - Schroeder - Weise (Lepisto is day to day with a hip flexor)
Edler - Tanev
Hamhuis - Garrison
Barker - Ballard (Ballard a game-time decision) / Alberts
For the Wild
Matthew Hackett (likely starter)
Parise - Koivu - Coyle
Jason Zucker - Cullen - Setoguchi
Bouchard - Granlund - Heatley
Rupp - Brodziak - Mitchell
Suter - Brodin
Falk - Gilbert
Spurgeon - Stoner
TRENDS
Canucks are 42-13 in their last 55 vs. Northwest.
Canucks are 0-8 in their last 8 Sunday games. (Remember to blame Jesus, kids)

Wild are 4-1 in their last 5 Sunday games. DOOOOOOOMED THE CANUCKS ARE!

And that's the bottom line, cuz Stone Cold said so!
YOU MADE MY SHITLIST
Anyone not named Booth, Kassian, Hansen, Raymond, Higgins, Schneider and Alberts for that shit showing in Columbus.
I LOVE YOU, MAN
Ughhhhh. None of them. I would like to commend David Booth for his efforts against Columbus but most of them were selfish, probably because his sister was watching live in Ohio. If he was getting results from going in 1 on 2 and not passing I would sing a different tune. But if you are NOT getting results, you come across as a selfish - looking player. HOWEVER, at least Booth was playing balls-out for 60 minutes. Now put the bastard on the top PP unit, AV god dammit!
Henrik Sedin! Thank you for pointing him out and calming my anger, raincity. Hank has 4 goals and 5 assists in his last 8 games. I love this guy! Captain Hank for the win, motherfuckers!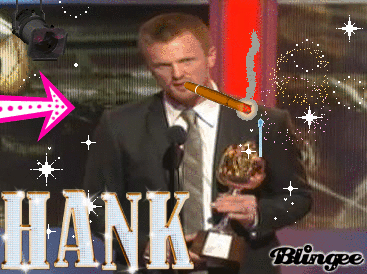 SCORE-PREDICTING WIZARDS UPDATED LIST
Once again, no change after last game. Not enough numbskulls out there, obviously.
VIDEO
The last meeting:
Clutterbuck fail never gets old:
What the fuck, man. Seriously:
The title of this preview post has been brought to you by Nirvana:
GO CANUCKS GO!