| | | |
| --- | --- | --- |
| DEAD WINGS | | CANUCKS |
| | AT | |
TIME:

7:00 PM PST

TV

CBC, NHLN-US

SEASON SERIES:

1-0 Red Wings


LAST MEETING

8-3 Wings, Feb.24/13

THE ENEMY

SCORING LEADERS

H. Sedin: 7-19-26

Zetterberg: 6-21-27
| | | |
| --- | --- | --- |
| WINGS | CATEGORY | CANUCKS |
| 13-10-5 | SEASON RECORD | 13-7-6 |
| 31 | POINTS | 32 |
| 5th | CONFERENCE POSITION | 3rd |
| Won 1 | STREAK | Won 2 |
| 5-3-2 | LAST 10 | 4-4-2 |
| 4-6-2 | ROAD RECORD / HOME RECORD | 7-3-3 |
| 2.54 (19) | GOALS PER GAVE AVERAGE | 2.77 (13) |
| 2.54 (10) | GOALS AGAINST PER GAME AVERAGE | 2.58 (11) |
| 1.12 (9) | 5 ON 5 GF / GA | 1.16 (7) |
| 15.3 (24) | POWER PLAY % | 14.4 (27) |
| 79.0 (21) | PENALTY KILL % | 81.4 (14) |
| 52.2 (6) | FACEOFF WINS % | 48.1 (22) |
| 490 (29) | HITS | 558 (19) |
| 337 (24) | BLOCKED SHOTS | 297 (29) |
| 110 (20) | MINOR PENALTIES TAKEN | 110 (22) |
| NHL.COM | | |
Ron Maclean: OK Don, we're almost out of time here but you wanted to say something about the Canucks and Red Wings...
Don Cherry: Yeah..how much time do I have left?
Ron Maclean: Two minutes.
Cherry: Are you kidding me? A Canadian Legend and this is all the time I get? Those idiots on the Hotstove get 15 minutes and this is how I get treated?
Maclean: Hey, it's not my decision. I'd give you twenty. Hurry up and make your point. You only have a minute and half left.
Cherry: Sheesh. I don't care. They can cut me off if they want to, I ain't stoppin' until I'm done. What were we talking about again?
Maclean: The Canucks and Red Wings.
Cherry: Right. Now kids, lemme tell you something right now. You don't embarrass other teams in their home rink. Let's go back to, what was it, February of last year when the Canucks ended the Wings' home winning streak of 23 games? Now, it was an excellent game. Couple of sweetheart teams going at it. The Canucks went into Detroit and you could tell they really wanted to kill the streak, eh? Anyways, a great game that ends up going to a shootout. Now watch what happens after Burrows scores the winner:
Now that was a beauty goal and all that, but kids, I'm telling you right now, don't put on a hotdog show like that after scoring the winner in the home team's rink.
Maclean: I don't know, Don, it was a 23 game home winning streak that they just ended. They were happy about...
Cherry: Doesn't matter! Get your hand out of the way! Wait, are YOU defending Burrows what's the matter with you? Breaking his stick over his leg like that...
Maclean: Well, he pretended to break his stick..
Cherry: Doesn't matter! Are you gonna let me finish or what? Anyways, that was disgraceful. Now let's take a look at what Lalongo does right after Burrows scores that goal:
I mean, are you kidding me? Who was he saluting? Nobody. He was mocking the Wings fans with that little dance right there. Two French-Canadian kids acting like that too yet.
Maclean: Wait wait...what does being French Canadian have to do with it?
Cherry: Well, you didn't see Bieska act like that. Ain't he a beauty? You didn't even see the Sedins do that. Stop interrupting me! I'm running out of time here! Now kids lemme tell you something right now. Do you think the Wings forgot about the Canucks embarrassing them like that? In their own rink? You're an idiot if you think they didn't. They circled that date on the calendar when Vancouver would play them on their ice again. And look what happened: They blow them out of the water a couple weeks ago in Detroit. You don't think they pinned a picture of Burrows and Lalongo acting like that last year? You don't think they watched the highlights again and went out for revenge? Kids, how many times do I have to tell you this? You don't embarrass a team like that on their ice by acting like idiots. Don't be a Burrows or Lalongo. If they did that in Boston back in the day we had a few guys that would have taken care of them. Set them straight. I would have jumped over the boards and smacked them on the side of the head. Don't be a Burrows. Be a Bieska. A warrior. Show some class, because teams don't forget when you embarrass them like that. And that's all I got to say about that.
Maclean: Don Cherry, clipping the Canucks' wings, on Hockey Night In Canada.
PROJECTED ROSTERS
Luongod
Sedin - Sedin - Burrows
Raymond - Ebbett - Hansen
Booth - Higgins - Kassian (out, sore back) - Weise
Sestito - Lapierre - Pinizzotto
Edler - Tanev
Hamhuis - Garrison
Bieksa - Alberts
FOR THE WINGS:
Howard (maybe, he played against Edmonton Friday night)
Filppula - Zetterberg - Brunner
Gustav Nyquist - Datsyuk - Franzen
Abdelkader - Andersson - Cleary
Miller - Emmerton - Tootoo
Kronwall - Ericsson
Quincey - Smith
Kindl - Lashoff
TRENDS
Red Wings are 8-2 in their last 10 in the fourth game of a 4-in-6 situation.
Red Wings are 3-8 in their last 11 Saturday games.
Red Wings are 4-11 in their last 15 road games vs. a team with a winning home record.
Red Wings are 2-6 in their last 8 in the third game of a 3-in-4 situation.
Red Wings are 6-20 in their last 26 road games.
Canucks are 37-14 in their last 51 home games vs. a team with a road winning % of less than .400.
Canucks are 39-19 in their last 58 Saturday games.
Stats from Covers.com.
My stat: Canucks are 6-1 in their last 7 Saturday games. BOOYA!
YOU MADE MY SHITLIST
Alexandre Burrows. Has not scored since February 21. Since then, he has 4 assists in 10 games and 0 points in his last 4. Hansen had kids and exploded offensively. Burrows had a new kid and dried up like a popcorn fart.
Close call...Booth. That was an empty netter last game. You had better build on that.
Zack Kassian: 1 assist in his last 14 games, but a much improved effort against Nashville. Very Bertuzzian.
I LOVE YOU MAN
Jannik "Beaker" Hansen. 1 goal and 3 assists in his last 2 games. 4 goals and 5 assists in his last 7 games! Beaker is on fire!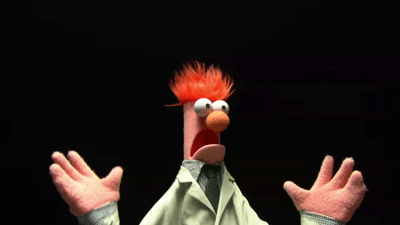 SCORE-PREDICTING WIZARDS UPDATE
From what I'm seeing, only Bobby Canuck and PeaceJo got a point each last game. Both predicting Hansen to score the winner.
Standings can be found HERE.
MY TAKE
Detroit erased a 2-0 deficit and beat the Oilers 3-2 in OT on Friday night. So this is a back-to-back for them and their 3rd road game in 4 nights. Canucks need to bring that same energy they brought against Nashville and stay on these clowns. Suck the life right out of them.
Detroit was sitting in 9th spot before the Oilers game. They can take as high as 4th spot with a win over Van. The Canucks need to fend off the Wild and keep their top spot in the NW. Can the Canucks keep the momentum going with all those players getting monkeys off their backs against Nashville? Should help the energy level.
I just really like the Canucks' record for Saturday games. It's a damned beautiful thing. I think they should take this one, Millionaire retro jerseys and all!
VIDEO
This preview post has been brought to you by Don Cherry:
GO CANUCKS GO!