CANUCKS




WILD



AT




Time
Thu. 5:00 PM PST

TV
Sportsnet Pacific

Season Series
2011-12: 4-2 Canucks

Last Meeting

2-0 Wild Mar.19/12

The Enemy
Hockey Wilderness
Scoring Leaders
Edler: 3-4-7
Parise: 6-4-10

| | | |
| --- | --- | --- |
| Canucks | Category | Wild |
| 5-2-2 | Season Record | 4-4-1 |
| 12 | Points | 9 |
| 3rd | Conference Position | 9th |
| Won 3 | Streak | Lost 2 |
| 2-1-1 | < Road Record / Home Record > | 4-1-0 |
| 2.44 (18) | Goals Per Game Average | 2.22 (26) |
| 2.22 (7) | Goals Against Per Game Average | 2.67 (15) |
| 1.44 (6) | 5 On 5 GF/GA | 0.81 (22) |
| 15.6 (20) | Power Play % | 15.2 (21) |
| 76.9 (20) | Penalty Kill % | 82.8 (12) |
| 49.1 (20) | Faceoffs % | 51.5 (7) |
| 221 (12) | Hits | 163 (24) |
| 116 (22) | Blocked Shots | 136 (12) |
| 13.2 (12) | PIM's Per Game Average | 10.1 (2) |
| | | |
Wow. The Canucks are 2-6-0 in their last 8 games played in Minnesota. Sure, they can beat the Wild at Rogers Arena, but there's something in the water in Minny. Here are the losses at the Xcel Energy Center since January of 2010: 5-2, 6-2, 6-2, 4-0, 5-1, and 2-0. For those counting at home, that's a 28-7 goal differential. INSANE! No wonder why they are starting Cory Schneider in this one. Let the Wild shell him instead of Roberto Luongo! Perfect! Mike Liut is gonna love that!
Seriously though, I hope the Canucks can continue their improving defensive play and Schneider can provide lights-out goaltending. There's a lot of heat on C-Wall to have a super game here.
If we are using the stats above as any indicator, the Canucks and their sad power play are going up against another solid penalty-killing team who like to block shots. 5 on 5 the Canucks have them licked. Minny is killing it in the faceoff dot.
I don't have any keys to the game except to say the Canucks need to stop shitting the bed that badly in Minny.
As for Minnesota, well I hope they lose and the Canucks continue their winning streak. I don't dislike the Wild as a team at all except for Heatley and Clutterbuck. And speaking of Clutterbuck, what are the odds that there are some ugliness in this game? My guess is the odds are high except, once again looking at the stat chart above, the Wild are averaging the second-fewest penalty minutes per game in the NHL so far. What the fuck? Maybe Clutterbuck is aiming for the Lady Byng? On second thought, maybe this game will be a ballet. (Not a chance. No love between these 2 teams).
PROJECTED ROSTERS / LINES
---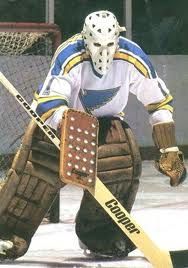 Mike Liut
6-2
350 lbs
A long, long time ago
From: Parts unknown
Good At: Saying stupid shit to the media.
---
Sedin - Sedin - Kassian
Raymond - Schroeder - Burrows
Higgins - Lapierre - Hansen
Weise - Malhotra - Volpatti
Garrison - Bieksa
Hamhuis - Edler
Ballard - Tanev
I would like to see the Raymond - Schroeder - Hansen combo get another look, though. Lots of speed. Lots of chances last game after Alain Vigneault shuffled the deck.
---
Niklas Backstrom
---
Parise - Koivu - Charlie Coyle
Bouchard - Cullen - Heatley
Mitchell - Brodziak - Clutterbuck
Granlund - Kenopka - Setoguchi
Suter - Jonas Brodin
Gilbert - Stoner
Scandella - Falk
The Wild recently acquired Michael Rupp from the Rangers in exchange for Darrell Powe, a very smart move I'd say as I am a big fan of Rupp and the leadership he brings. I am not sure if he's ready to join the team yet.
GETTING TO KNOW A WILD PLAYER
Charlie Coyle looks to play on the Wild's top line with Zach Parise and Mikko Koivu. This 20-year-old center from Massachusetts was drafted 28th overall by the San Jose Sharks in 2010. In June 2011 he and Devin Setoguchi were traded to the Wild by San Jose in exchange for Brent Burns and 2 high picks. He won a bronze medal with the USA U-18 squad in 2011, scoring 6 points in 6 games in the tournament.
The Wild have only scored 2 goals in their last 2 games (both losses), so coach Mike Yeo has demoted Dany Heatley off the top line and is likely to play Coyle there. So prepare to hear his name a lot on Thursday night. That and a lot of close-ups of Luongo's face.


TRENDS
Canucks are 5-1 in their last 6 Thursday games.
Canucks are 13-3 in their last 16 after allowing 2 goals or less in their previous game.
Canucks are 39-12 in their last 51 vs. Northwest.
Canucks are 2-5 in their last 7 vs. a team with a losing record.
Wild are 4-0 in their last 4 Thursday games.
Wild are 4-1 in their last 5 home games.
Wild are 8-17 in their last 25 after allowing 2 goals or less in their previous game.
Wild are 10-31 in their last 41 after scoring 2 goals or less in their previous game.
Wild are 1-5 in their last 6 games playing on 2 days rest.
SCORE-PREDICTING WIZARDS UPDATE
Twin Terror: 5
andrew21nz: 4
FormerHab: 4
Meat Mayos: 4
raincity: 4
marcness52: 3
Bobby Canuck: 2
ChuckinNux: 2
patrik e (hugs kittens): 2
Sean Zandberg: 2
seedvt: 2
westy99: 2
beardstache: 1
Geordie Nuck: 1
KYCanuck: 1
radepalma: 1
Thursday: 1
Vancouverguy: 1
VIDEO
Jordan Schroeder returns home:
The first thing I think about when someone says the Minnesota Wild is this:
WOOOOOOEEEEE!!!
More Clutterf*ck gold:
The second thing is this:
Not exactly pleasant memories.
The title of this game preview post has been brought to you by Duran Duran:
Yea, I just went there, shut up!
GO CANUCKS GO!