Henrik Sedin made another one of his golden passes, this time to Alexandre Burrows, who buried it. With that, his second assist on the evening, Henrik has passed Markus Naslund as the all-time points leader for the Vancouver Canucks. 757 points! And since he will be playing here for a while, it's going to be a long, long time before anybody ever catches him.
Via Wiki: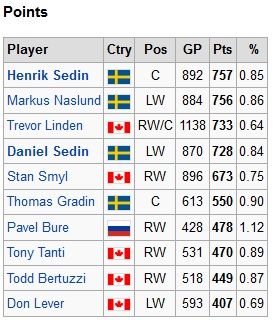 Here is the play:
Super ovation from the crowd after it was announced that Hank is king! (h/t missy)
How about some congrats from Trevor Linden and Markus Naslund:
Not pre-recorded or anything.
Here are Hank's post-game comments:
Is this guy the epitome of class or what? No jumping around or showboating. Just a classy skate on the ice clapping to the fans as a salute. Much like Mats Sundin and Markus Naslund. They let their play do the talking. I love the sincerity of humbleness of these types of players.
Congrats Hank! We love ya!