Time
Monday, 7:00 PST

TV
Sportsnet Pacific

Season Series
1-0 Canucks

Last Meeting

3-2 Canucks Dec. 1/13

The Enemy
Canes Country
coring Leaders
H. Sedin: 8-21-29
E. Staal: 7-16-23

| | | |
| --- | --- | --- |
| CANES | CATEGORY | CANUCKS |
| 13-12-5 | SEASON RECORD | 17-10-5 |
| 31 | POINTS | 39 |
| 8th | CONFERENCE POSITION | 8th |
| Won 3 | STREAK | Won 4 |
| 5-4-1 | LAST 10 | 6-2-2 |
| 6-6-1 | ROAD RECORD / HOME RECORD | 7-5-3 |
| 2.33 (23) | GOALS PER GAME AVERAGE | 2.66 (14) |
| 2.70 (17) | GOALS AGAINST PER GAME AVERAGE | 2.44 (11) |
| 0.82 (23) | 5 ON 5 GF / GA | 1.02 (17) |
| 12.7 (27) | POWER PLAY % | 14.4 (25) |
| 80.6 (21) | PENALTY KILL % | 89.3 (1) |
| 28.6 (21) | SHOTS/GAME AVG | 32.4 (5) |
| 50.5 (15) | FACEOFF WINS % | 50.8 (14) |
| 692 (16) | HITS | 610 (21) |
| 412 (16) | BLOCKED SHOTS | 482 (6) |
| 114 (16) | MINOR PENALTIES TAKEN | 116 (20) |
| NHL.COM | | |
After shutting down a very highly skilled and fast Colorado team on Sunday night the Canucks are faced with another tough task: beating a suddenly-hot Hurricanes team while playing their 3rd game in 4 nights.
Hey! Check it out: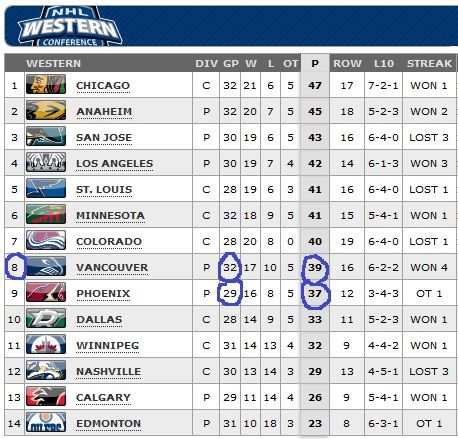 I can't remember the last time they were in 8th and outta 9th. Yea, look at the 3 games in hand the Coyotes have over the Canucks right now. Vancouver just has to keep winning. Ironically, the Coyotes don't play until Tuesday....against the Avalanche, for all you scoreboard-watchers keeping track at home. No 3-point games, dammit!
KNOW YOUR ENEMY
The Hurricanes have won 3 straight since losing to Vancouver last Sunday, beating the Capitals, Predators and Sharks. If you are a Shark hater like me, then you will love HOW the Hurricanes beat the Sharks in that one. All good things come to an end, SJ. Coach Kirk Muller said it was Carolina's best game of the year.
-They have not played since Friday (the win over SJ). Keep that in mind with the Canucks' fatigue factor in this one.
As per Canes Country, the Hurricanes have a goaltender dilemma.
Khudobin has yet to lose a game this season and was playing better than either Ward or Peters, in the small time frame before he was injured.

So what should the Hurricanes do? They could try to trade one of the goalies for another needed asset. They could try to keep three goalies on the roster for awhile, which really is cumbersome for practices and a waste of a spot for games. They could try to package one of the goalies along with another player, for a needed asset.

If they did trade a goalie, which one should they try to trade? Peters is hot right now, but can he keep up his solid performances?

Khudobin has not been around enough to give a true reflection of his ability. Should the Canes consider trading him if they can get a good return?
Read more on that here. And then check out the poll results at the bottom of the post. Yeah, more than 50% of people want Cam Ward traded. But if he's not playing well enough to be earning $6.3 million per season, who the hell would want him?
Let's not even talk about Eric Staal and his $8.25 million cap hit. Holy crap. Or the $7 million crap hit for Alexander Semin. Yikes.
But the Canes are hanging in there, in 8th spot in the East, battling to stay in a playoff picture much like the Canucks.
PROJECTED HURRICANES ROSTER
Skinner - Staal - Ruutu
Gerbe - J. Staal - Lindholm
Westgarth - Riley Nash - Zach Boychuk
Tlusty - Malhotra - Dvorak
Sekera - Faulk
Gleason - Harrison
Hainsey - Murphy
Cam Ward
Injured: Joni Pitkanen (heel surgery), Alexander Semin (concussion), Mike Komisarek (lower body), Anton Khudobin (lower body), Brett Bellemore (concussion, questionable for Monday) and Drayson Bowman (ankle, questionable for Monday)
TRENDS
Hurricanes are 6-0 in their last 6 after scoring 5 goals or more in their previous game.
Hurricanes are 4-1 in their last 5 games playing on 2 days rest.
Hurricanes are 8-21 in their last 29 when their opponent allows 2 goals or less in their previous game.
Hurricanes are 8-21 in their last 29 vs. a team with a winning record.
Hurricanes are 0-6 in their last 6 Monday games.
Canucks are 5-1 in their last 6 vs. Metropolitan.
Canucks are 4-1 in their last 5 Monday games.
Canucks are 1-7 in their last 8 when their opponent scores 5 goals or more in their previous game.
The Last Meeting:
Wow, let's see if some of that rough stuff carries over into this one!
OT: Break's Best Wins of 2013:
The title of this game preview post has been brought to you by the letter F, as in Fergie and FormerHab:


SCORE-PREDICTING WIZARDS UPDATE
marcness52: 12
Passive Voice: 12
gmonk33: 11
Nathaniel Perlow: 11
Bobby Canuck: 10
FormerHab: 9
Zanstorm: 9
Coach Ryan: 8
Geordie Nuck: 8
Azzy Mahmood: 7
nucksandpucks: 7
Tengeresz: 7
Twitchy2010: 7
jwolf0: 6
Nose_Face: 6
itsahardknocklife: 5
Nathan k: 5
Tim Burke: 4
vancitydan: 4
westy99: 3
AK_nuk: 2
Brock: 2
ChuckinNux: 2
John Carroll: 2
kiwinuck: 2
prairienucker: 2
seedvt: 2
Smoboy41: 2
Vancouverguy: 2
canuck89: 1
Kent Basky: 1
patrik e: 1
Puckhead1: 1
thesporteditor: 1
GO CANUCKS GO!