Time
Thursday, 7:30 PST

TV
Sportsnet Vancouver

Season Series
1-0 Sharks

Last Meeting

4-1 Sharks, Oct. 3/13

The Enemy
Fear The Fin
Scoring Leaders
H. Sedin: 3-17-20
Pavelski: 6-11-17

| | | |
| --- | --- | --- |
| CANUCKS | CATEGORY | SHARKS |
| 10-5-2 | SEASON RECORD | 10-1-4 |
| 22 | POINTS | 24 |
| 6th | CONFERENCE POSITION | 3rd |
| Lost 1 | STREAK | Lost 3 |
| 6-2-2 | LAST 10 | 5-1-4 |
| 6-2-2 | ROAD RECORD / HOME RECORD | 5-0-2 |
| 2.76 (14) | GOALS PER GAME AVERAGE | 3.73 (1) |
| 2.47 (10) | GOALS AGAINST PER GAME AVERAGE | 1.93 (3) |
| 1.13 (10) | 5 ON 5 GF / GA | 1.76 (4) |
| 10.9 (26) | POWER PLAY % | 20.3 (11) |
| 87.9 (3) | PENALTY KILL % | 85.1 (10) |
| 52.1 (9) | FACEOFF WINS % | 52.1 (8) |
| 311 (20) | HITS | 243 (30) |
| 244 (6) | BLOCKED SHOTS | 233 (11) |
| 63 (17) | MINOR PENALTIES TAKEN | 47 (3) |
| NHL.COM | | |
The Canucks have not beaten the Sharks in 8 straight regular season and playoff games. You could say 10 games overall but preseason doesn't count. The last time the Canucks beat the Sharks was January 21, 2012. Who scored the winner?
The last time they beat San Jose in San Jose was December 28, 2011. It was during a time the Canucks had beaten the Sharks 5 straight times. I guess the Sharks had enough. The beating we gave them in the 2011 Playoffs? Yea, they had enough.
It seems as though the Canucks' new biggest rivalry is with the Sharks. There is no love here.
The Sharks are looking pretty damn good right now, even though they have lost 3 straight games in an OT and 2 shootouts. I wanted to get to know the Sharks better so I asked Shark superfan Harry McKrakken a few questions and she didn't disappoint.
Zanstorm: Harry, since when was that a girl's name?
Harry: Well, my parents are from San Fransisco, and they don't believe in stereotypes.They also said I was really hairy at birth. I think my parents are related too. There's a lot of that here in California.
Z: Ok then. Glad I asked! So, when did you become a Sharks fan?
H: Um...around 1998. I think. I was 15.  The Sharks had Mike Ricci and I thought he was soooo hot. The Canucks had Brent Sopel and I thought he was hot too. So I almost cheered for the Canucks. I just thought Ricci was hotter so I picked San Jose.
Z: Was there anything else about the Sharks that caused you to like them?
H: Ummmmmmmm no. Just Mike Ricci.
Z: So you were a puck bunny.
H: What's a puck bunny? It's sounds cute! Can I have one?
Z: No. You know what, I thought you were a big Sharks fan. I wanted some insight on the team, not on Ricci's lovely head of hair.
H: Oh sorry! Well, ask me about the last few years. After Ricci left I slowly started paying attention to the rest of the team and learning what hockey is all about.
Z: What did you think of the Canucks' ass-kicking of the Sharks in the 2011 Playoffs?
H: I don't know. What did you think of the Sharks kicking your ass in the 2013 Playoffs?
Z: I may have underestimated you a little bit. Can't explain why, exactly. Maybe it's the hair sticking between the top 3 buttons of your shirt. So tell me what you think of Joe Thornton.
H: He plays with such intensity and integrity. He's so strong! When he gets hit he never falls down! I love him!
Z: I was asking you about Joe Thornton....
H: I know! Isn't he awesome?
Z: He's a floating, diving jackass!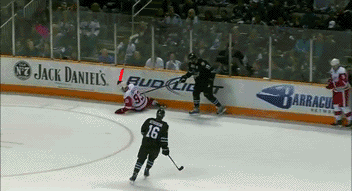 H: Oh my gawd I can't believe that! Is he still alive? I didn't read about it on Twitter! And I get live updates! Oh gosh!
Z: That was in the 2011 Playoffs.
H: Wow! He didn't even miss any games, did he? How did they sew his legs back on so quickly?
Z: You know what, that's it. F*** off, Harry! F*** you and that joke of a team you cheer for!
PROJECTED ROSTERS
CANUCKS
Sedin - Sedin - Kesler
Higgins - Santorelli - Burrows
Archibald - Richardson - Kassian
Sestito - Welsh - Weber
Edler - Garrison
Hamhuis - Tanev
Stanton - Bieksa
Luongo
DINKS
Hirtl - Jumbo Diver - Kennedy
Marleau - Couture - Havlat
Nieto - Pavelski - Wingels
Sheppard - Desjardins - McCarthy
Vlasic - Braun
Stuart - Boyle
Hannan - Demers
Auntie Niemi
I'm not gonna lie, I hate the Sharks, but I do find that roster of theirs impressive. No Brent Burns and it still looks good to me.
NEWS AND LINKS
The Canucks' new-look power play:
Line 1:
Sedin - Sedin - Kesler
Burrows - Hamhuis
Line 2:
Kassian - Santorelli - Higgins
Garrison - Edler
Hamhuis has gone from goat to hero lately, even drawing praise from Tortorella on Wednesday:
"As far as quarterbacking and settling it down and getting the middle of the ice — which is very important for a power play — he's one of our best. He's really helped us in getting it set up and puck control. He fits the bill. And he adds that dimension as far as composure in the zone and if we have some breakdowns defensively."
That's is true of Hammer lately. More on that here.
Jeeziz, and here I thought Garrison would remain on the top PP unit and score 40 goals.... (see below)
For a third consecutive game, the Sharks played the kind of sloppy hockey they avoided earlier in the season, gift-wrapping goals and finishing the night with one point instead of two.
Woo! Keep it up, Sharks! (San Jose Mercury News)
So who scored the winning goal for the Sabres in the Sharks' last game?
Hodgson the Shark-killer.
YOU MADE MY SHITLIST
A new shitter! Jason Garrison! Jason has no points in his last 7 games, or, 1 assist in his last 9 games. He has 24 shots in that 9-game span but they just are not going in. No longer on the top power play unit as Tortorella is trying something new. To me, and maybe I am full of it, it seems that Garrison may be ailing a bit. He looks slower. He's having trouble in his own zone getting beaten to pucks a fair bit more than earlier in the season. Hate to put JayGar on the shitlist though. He's a good kid.
SCORE-PREDICTING WIZARDS UPDATE
We have a new player making the list: thesporteditor! Congrats and welcome!
Passive Voice: 10
Coach Ryan: 6
marcness52: 6
Nathaniel Perlow: 6
Tengeresz: 6
Zanstorm: 6
Bobby Canuck: 5
FormerHab: 5
gmonk33: 5
nucksandpucks: 5
Twitchy2010: 5
Geordie Nuck: 4
jwolf0: 4
Tim Burke: 4
Nose_Face: 3
westy99: 3
kiwinuck: 2
Nathan k: 2
vancitydan: 2
Vancouverguy: 2
Azzy Mahmood: 1
Brock: 1
Kent Basky: 1
patrik e: 1
seedvt: 1
Smoboy41: 1
thesporteditor: 1
VIDEO
Dick.
Golden Globe Award.
Integrity.
Logan Couture honed his skills at a young age:
Sharks' practices look like this:
The Canucks never dive. Ever.
Blast from the past: Luongo robs Clowe:
The title of this preview post has been brought to you by Slayer:
The first 30 seconds of that song have been stuck in my head for months. That's a good thing!
GO CANUCKS GO!