Time
Sunday, 5:00 PST

TV
Sportsnet Pacific

Season Series
2012-13: 1-1

Last Meeting

5-1 Stars, Apr. 18/13

The Enemy
Defending Big D
Scoring Leaders
H. Sedin: 3-18-21
J. Benn:: 7-15-22

| | | |
| --- | --- | --- |
| STARS | CATEGORY | CANUCKS |
| 10-7-2 | SEASON RECORD | 11-7-3 |
| 22 | POINTS | 25 |
| 10th | CONFERENCE POSITION | 9th |
| Won 2 | STREAK | Lost 3 |
| 6-2-2 | LAST 10 | 5-3-2 |
| 7-5-0 | ROAD RECORD / HOME RECORD | 4-3-1 |
| 2.79 (10) | GOALS PER GAME AVERAGE | 2.57 (17) |
| 2.84 (19) | GOALS AGAINST PER GAME AVERAGE | 2.57 (14) |
| 1.08 (12) | 5 ON 5 GF / GA | 1.03 (13) |
| 11.9 (26) | POWER PLAY % | 10.9 (28) |
| 82.3 (16) | PENALTY KILL % | 88.6 (1) |
| 50.1 (15) | FACEOFF WINS % | 51.6 (12) |
| 381 (26) | HITS | 398 (23) |
| 277 (15) | BLOCKED SHOTS | 316 (6) |
| 72 (10) | MINOR PENALTIES TAKEN | 78 (14) |
| NHL.COM | | |
It appears that John Tortorella is going to mix up the lines to generate a stumbling offence that has only generated 3 goals total in 3 straight losses. Though he is saying nothing, the lines at practice on Saturday were:
Sedin - Sedin - Burrows
Higgins - Kesler - Hansen
Booth - Santorelli - Kassian
Sestito - Richardson - Welsh
So it appears the loaded top line experiment is done for now. But don't completely kiss it goodbye. Torts will change lines any time the team struggles. There was a time when Torts said he saw a winger in Kesler.  Now he puts him back at center on line 2, potentially. I wanted the Higgins - Santorelli - Burrows line to last forever... until they cooled off. Santorelli was not going to maintain his rapid offensive pace anyway, unless you expected 80-100 points from him. The whole forward corps cooled off at the same time and this is what happens. So, I'm stoked about the changes. Burrows back with the Sedins. Nice. I expect that to pay immediate dividends given their familiarity with each other. Speaking of familiarity, Santorelli was Booth's centerman when Davey Boy had his career year.
KNOW THINE ENEMY
The Stars are one of the hottest teams in hockey lately, winning 5 of their last 6.
Tyler Seguin had a monstrous 4 goals and 1 assist in a 7-3 win over the Flames in the Stars' last game. That puts him at 6 goals and 1 assist in his last 3 games. Cover him!
Jamie Benn, Seguin's winger, had 1 goal and 5 assists in that ass-kicking of Calgary. He has 3 goals and 6 assists in his last 5 games. Yikes.
PROJECTED STARS ROSTER
Benn - Seguin - Valeri Nichushkin
Cole - Eakin - Chiasson
Horcoff - Fiddler - Peverley
Roussel - Morin - Garbutt
Daley - Robidas
Dillon - Goligoski
Benn - Gonchar
Lehtonen
Speaking of Lehtonen: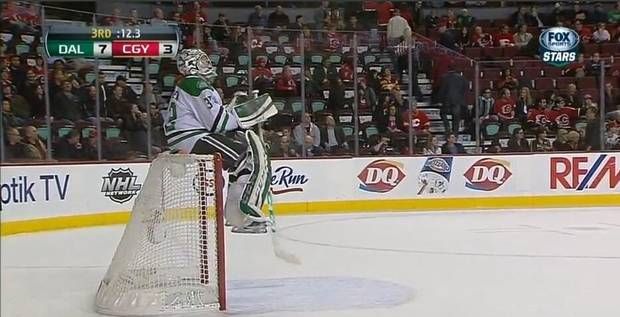 I can assure you that is not gonna happen on Sunday, Kari.
How dare the Stars not play Aaron Rome? FOOLS! You will regret this complete lapse of reason! I believe the Stars sent him to their minor league affiliate for a conditioning assignment in mid - October and may not have called him back up. FOOLS! You will pay for this treachery!
TRENDS
Stars are 5-0 in their last 5 road games.
Stars are 3-10 in their last 13 after scoring 5 goals or more in their previous game.
Stars are 1-5 in their last 6 vs. a team with a winning record.
Stars are 0-5 in their last 5 when their opponent allows 2 goals or less in their previous game.
Canucks are 6-1 in their last 7 vs. Central.
Canucks are 1-4 in their last 5 vs. a team with a winning record.
Canucks are 3-13 in their last 16 Sunday games. What the fuck? Why? Because they'd rather be in church?

Canucks are 0-5 in their last 5 when their opponent scores 5 goals or more in their previous game.
YOU MADE MY SHITLIST
Jason Garrison. Now NO POINTS IN HIS LAST 11 GAMES. Unreal. Alexander Edler. 2 assists in his last 12 games. The Canucks' defence needs to provide a secondary punch to the offence and those 2 guys need to do more. Period.
SCORE-PREDICTING WIZARDS UPDATE
Not this time. Will be updated before the next game.
VIDEO
READY? FIGHT!
Still funny to watch Fiddler here:
The title of this preview post has been brought to you by Moby:
GO CANUCKS GO!