Time
Monday 7:00 PST

TV
Sportsnet Van.

Season Series
-

Last Meeting

7-4 Canucks, Oct. 29/11

The Enemy
Japers' Rink
Scoring Leaders
H. Sedin: 3-13-16
Ovechkin: 10-5-15

| | | |
| --- | --- | --- |
| CAPITALS | CATEGORY | CANUCKS |
| 5-6-0 | SEASON RECORD | 8-4-1 |
| 10 | POINTS | 17 |
| 11th | CONFERENCE POSITION | 4th |
| Lost 1 | STREAK | Won 3 |
| 5-5-0 | LAST 10 | 6-3-1 |
| 2-3-0 | ROAD RECORD / HOME RECORD | 2-2-0 |
| 2.73 (17) | GOALS PER GAME AVERAGE | 2.85 (14) |
| 3.18 (26) | GOALS AGAINST PER GAME AVERAGE | 2.77 (17) |
| 0.73 (24) | 5 ON 5 GF / GA | 1.08 (12) |
| 26.8 (3) | POWER PLAY % | 11.8 (25) |
| 89.2 (2) | PENALTY KILL % | 84.1 (7) |
| 49.7 (18) | FACEOFF WINS % | 51.0 (16) |
| 280 (10) | HITS | 252 (12) |
| 128 (25) | BLOCKED SHOTS | 186 (6) |
| 44 (14) | MINOR PENALTIES TAKEN | 47 (17) |
| NHL.COM | | |
Here comes one of my favorite sections of the Canucks' schedule: a 3-game home stand against the Capitals, Red Wings and Maple Leafs. Let's see how well the boys play at The Library after a 5-1-1 road trip from Paradise.
The Canucks will play 3 home games in the next 6 nights. The Canucks will play only 8 games over the next 20 days! The quality of the opponents, in regards to their records so far, can be rated as difficult.
Superstars in action: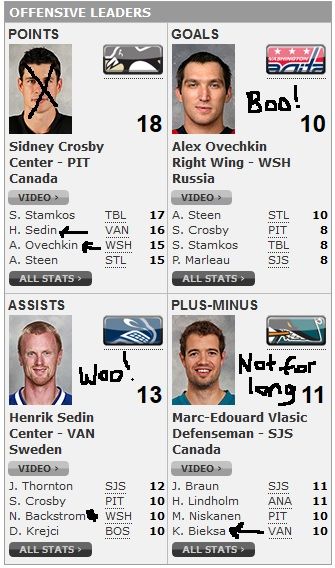 PROJECTED ROSTERS
CANUCKS
Sedin - Sedin - Kesler
Higgins - Santorelli - Burrows
Sestito - Richardson - Kassian
Archibald - Pelletier - Welsh
Edler - Garrison
Hamhuis - Tanev
Bieksa - Stanton
Luongo
CAPITALS
Johansson - Backstrom - Ovechkin
Erat - Laich - Brouwer
Chimera - Grabovski - Ward
Volpatti - Fehr - Tom Wilson
Nate Schmidt - Green
Alzner - Carlson
Erskine - Olesky
Holtby
Peppermint Volpatti scored his first goal as a Capital last game:


KNOW THINE ENEMY
From Japers' Rink:
Slow starts have been the bane of the Caps' existence so far this season, and tonight was a perfect - and extreme - example of that, as they found themselves down 1-0 less than two minutes into the game. Nothing good is going to happen when you're trapped in your own zone for over a minute and the Caps repeatedly failed to clear the puck, leading to Kris Russell's opening tally just 1:04 into the game. Bad omen? Bad omen.
With the Caps down by two, they were given a bit of a jumpstart when

Jason Chimera

- check that, red-hot goal-scorer Jason Chimera - scored on a pretty backhand play right in front of the net to get the Caps back into the game. For all the other stuff going on with the Caps right now, Chimera has been a bright spot, and he picked up his third goal in two games.
Chimera has 2 goals and 1 assist in his last 2 games. Alex Ovechkin had no points vs Calgary last game, but still has scored 5 goals and 3 assists in his last 6 games. Somebody stop him!
I also hear through the grapevine that the Caps' defence sucks.
TRENDS
Capitals are 4-0 in their last 4 after allowing 5 goals or more in their previous game.
Capitals are 2-6 in their last 8 road games.
Capitals are 3-10 in their last 13 Monday games.
Capitals are 1-5 in their last 6 vs. a team with a winning record.
Capitals are 0-4 in their last 4 when their opponent allows 2 goals or less in their previous game.
Canucks are 20-7 in their last 27 home games following a road trip of 7 or more days.
Canucks are 16-7 in their last 23 vs. Eastern Conference.
Canucks are 2-5 in their last 7 home games.
Thank you, Covers.com.
YOU MADE MY SHITLIST
Nobody that isn't injured. What a killer win over the Blues to end the road trip! Here's a rock vid instead:
SCORE-PREDICTING WIZARDS UPDATE
Nathaniel Perlow: 6
gmonk33: 5
Passive Voice: 5
Tengeresz: 5
Bobby Canuck: 4
Coach Ryan: 4
marcness52: 4
nucksandpucks: 4
Tim Burke: 4
Twitchy2010: 4
Nose_Face: 3
Zanstorm: 3
Geordie Nuck: 2
jwolf0: 2
vancitydan: 2
Vancouverguy: 2
westy99: 2(.5, Backes IS a DICK, but you only get that 0.5 for 24 more hours, westy!)
Azzy Mahmood: 1
Brock: 1
Nathan k: 1
patrik e: 1
seedvt: 1
Smoboy41: 1
Nose_Face gets the hat tip and kick in the privates for calling the correct score and GWG dude in the Canucks-Blues tilt. Getting a lot of perfect 3's this season. Most impressive!
VIDEO
The last time these 2 teams met was a long time ago, but so many good things happened:
Blast from the distant past: Scott Stevens fights twice against the Canucks:
The title of this game preview post has been brought to you by Boney M:
I can see why many hated disco. But Boney M gets a pass from me. How about you, FormerHab?
GO CANUCKS GO!