Time
Sun. 3:00 PST

TV
Sportsnet Van.

Season Series
-

Last Meeting

1-0 Canucks, March 26/13

The Enemy
The Cannon
Scoring Leaders
H. Sedin: 1-10-11
Gaborik: 2-5-7

| | | |
| --- | --- | --- |
| CANUCKS | CATEGORY | JACKETS |
| 5-3-1 | SEASON RECORD | 2-5-0 |
| 11 | POINTS | 4 |
| 6th | CONFERENCE POSITION | 14th |
| Lost 1 | STREAK | Lost 4 |
| - | LAST 10 | - |
| 3-1-1 | ROAD RECORD / HOME RECORD | 0-2-0 |
| 2.89 (12) | GOALS PER GAME AVERAGE | 2.14 (23) |
| 2.78 (18) | GOALS AGAINST PER GAME AVERAGE | 3.00 (23) |
| 1.00 (16) | 5 ON 5 GF / GA | 0.69 (24) |
| 8.3 (29) | POWER PLAY % | 24.0 (9) |
| 90.0 (1) | PENALTY KILL % | 77.3 (26) |
| 50.5 (15) | FACEOFF WINS % | 52.7 (7) |
| 170 (17) | HITS | 181 (15) |
| 142 (2) | BLOCKED SHOTS | 87 (27) |
| 32 (11) | MINOR PENALTIES TAKEN | 22 (1) |
| NHL.COM | | |
Vancouver's PK has been awesome. Their powerplay? Ineffective. So when I see that Columbus' penalty-killing is ranked 26th overall I get my hopes up a little. But then, the Blue Jackets have taken the least amount of minor penalties in the NHL so far. So I wonder how many chances the Canucks will get. Hopefully more than what was given against the Penguins. It's just a matter of time before the megapowers explode.
Both teams are playing their second game in as many nights. Columbus lost 4-1 to the Capitals Saturday night. The Canucks lost a heartbreaker to the Penguins Saturday morning, but played very well.
PROJECTED ROSTERS
CANUCKS
Higgins - Hank - Kesler
Dank - Santorelli - Hansen
Booth - Schroeder - Kassian
Sestito - Richardson - Weise
Garrison - Bieksa
Hamhuis - Edler
Tanev - Stanton
Eddie Lack is back!
I shouldn't even bother posting the Canucks projected lines because Torts will change them at any given second, which I completely admire. What he is doing with the guys is phenomenal. It helps that Mike Santorelli has been so damned good, giving Torts the option of employing a stacked Sedon-Sedin-Kesler line.
BLUE JACKETS
Atkinson - Dubinsky - Gaborik
Anisimov - Johansen - Umberger
Jenner? Collins - Letestu - Comeau
Craig - Mackenzie - Boll
Johnson - Tyutin
Murray - Wisniewski
Nikitin - Savard
Bobrovsky? McElhinney?
Injured is Nick Foligno. So is Nathan Horton, Matt Calvert, Cody Bass. Those are all key players. Poor BJs. But they do have Gabby, who is notorious for being a Canucks killer:
He has been "suffering" with the flu lately, so hopefully he still feels like shit. Maybe he'll shit his pants and leave. One can only hope.
YOU MADE MY SHITLIST
My shitlist has been very effective in motivating Canucks players lately: Kesler, Higgins, and now this guy: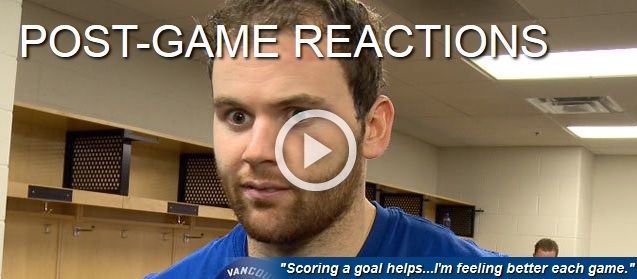 He looks like he escaped special ed class. Great game against the Pens tho! Just needs to drive to the net more in my opinion.
So who to put on the list this time? I know I said I had given up on him, but screw it....DAVID BOOTH! Stop missing the net! Get your shit together! I believe in you. Smokey the Bear believes in you. Oh, and there is this:
And this:
So you're saying there's still a chance???
Also on the shitlist is Dan Hamhuis, who is struggling out there. Just not making the right decisions to the point of me losing some trust in his defensive abilities, and me getting nervous whenever he has the puck in his own zone. I don't know where Dan's head is at lately, but let's all hold hands and pray for him. Come on! Cyber prayer circle!
SCORE-PREDICTING WIZARDS UPDATE
Nathaniel Perlow: 4
marcness52: 3
nucksandpucks: 3
Tengeresz: 3
Twitchy2010: 3
Coach Ryan: 2
Geordie Nuck: 2
gmonk33: 2
Passive Voice: 2
Tim Burke: 2
vancitydan: 2
Vancouverguy: 2
Zanstorm: 2
Brock: 1
FormerHab: 1
Nathan k: 1
westy99: 1
Marcness52 got the perfect 3-pointer last game predicting 4-3 Pens with Malkin scoring the winner. Well done sir!
VIDEO
The last time these 2 teams met:
Hopefully we don't see THAT Bobrovsky again.
Hopefully we see THIS Dan Hamhuis:
The title of this preview post has been brought to you by AC/DC:
GO CANUCKS GO!