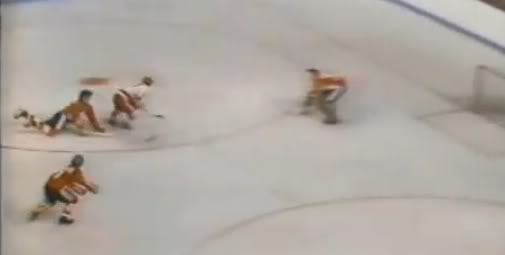 Kharlamov zips into the Canadian zone to score.
Venue: Winnipeg Arena
Attendance: 9800
Series: 1-1
I am writing these posts as I watch the games on DVD.
The biggest question heading into this game was which Canadian team would we see this time around, after 2 polar opposite efforts in Games 1 and 2.
As Terrace, BC native Joe Pelletier writes on his website 1972SummitSeries.com: Bobby Hull was not playing in this series. In 1972 he had made the jump to the WHA (World Hockey Association, an NHL rival back in those days), and so was not allowed to participate in this series according to the NHL. Hull was no slouch. He had a masterful shot, much like his son Brett. His presence would have been magic. Alas, he had to watch this game from the stands in his home town Winnipeg, where he played for the Jets, then of the WHA.
The Russians made significant lineup change for this one, including creating a "Kid Line" consisting of Alex Bodunov, Yuri Lebedev and Viacheslav Anisin. Bodunov and Anisin were new to the series. Notable scratches: the veteran Vyacheslav Starshinov and the speedy skilled Yevgeny Zimin.
The Canadians, who had basically promised all 32 (or so) forwards and defencemen that they would get a chance to play in this series, added Jean Ratelle and benched the wily Bill Goldsworthy.
No changes in goal by either team. Vladislav Tretiak vs Tony Esposito, who was super in Game 2.
Prior to the game, head coaches Vsevold Bobrov and Harry Sinden (the bench pacer, I swear he walked miles back and forth each game) received gold medallions. All of the players received silver medallions.
PERIOD 1
The Russians got off to a quick start but a great chance was thwarted by Esposito. 1:54 in the Canadians attack the Soviet zone and J.P. Parise bangs in
a garbage goal off a rebound in close past Tretiak. Assists to Bill White and Phil Esposito, who keeps being a factor on the scoresheet). 1-0 Canada!
Valery Vasiliyev takes an elbowing penalty right after the goal and what happens? The Canadians cough the puck up in their own zone to Vladimir Petrov, who blasts a long shot past Esposito (five-hole) at the 3:16 mark. Another shorthanded goal in this series for the Soviets. YEESH. 1-1 tie, just like that.
The Canadians start throwing checks near the mid part of the period. I saw a Soviet helmet go airborne. A hip check was thrown. A spank along the boards. Once in a while the Russians step into a Canadian player, but the physicality is mostly one-sided.
The Soviets show super passing work during a power play but the Canadians hold them off. Ooo! Who was that crosschecking Kharlamov in the chest? Filthy play.
Big stop by Tretiak on Phil Esposito...that was the best chance in a while. Keep in mind there is no running clock on the tv screen for these games. Not in those days. Otherwise I would give you more time frames.
At the 15:47 mark Wayne Cashman takes an interference penalty, and it really looks like Gusev dove there. Not uncommon for Russian players to do that and I am sure we have not seen the last of it. The Soviets do not capitalize on that power play. Canada is playing really well. As soon as Cashman gets out of the box a beauty passing play by Yvan Cournoyer and Gary Berman sends Jean Ratelle in on a breakaway. He goes backhand-forehand on a sprawling Tretiak and buries a beauty high! 2-1 Canada!
Canada smells blood and keeps attacking but Tretiak is holding them off. Canada has had a solid 1st period.
Shots after 1:
Canada 15, Russia 9. That really tells the story.
PERIOD 2
Great chances start the second period, but Esposito stops Gusev and Tretiak stops two great chances by Phil Esposito.
It looks like temperatures are heating up out there....The Canadians are still playing quite physical.
Esposito makes a great save on Alexander Maltsev as the Russians finally sustain some pressure. But no matter. The Canadians do excellent work in the corner and Wayne Cashman passes the puck out front to his buddy and Bruins teammate Phil Esposito who buries it from about 15 feet out. 3-1 Canada! Espo from Cashman and Parise at 4:19.
The Canadians continue to own the play as they receive a power play. But solid Soviet D and goaltending by Tretiak keeps the Russians in this game.
The play by play guy mentions that Canada's hitting is more obvious then what the Russians do. He says that the Russians hack and slash on the sly often, and get their gloves in the Canadians' faces often. I don't notice that.
Woa! Tretiak stacks the pads and makes the best save of the game! This was on a delayed penalty to Yuri Lebedev, who absolutely dumps Stan Mikita. On the power play, Tretiak makes a massive glove save on Cournoyer. All of a sudden, from out of nowhere the puck gets shot out of the Soviet zone and banked off the opposite boards to Valeri Kharlamov, who is traveling as fast as a Lufthansa jet. He blows by everybody, including goalie Tony Esposito, who was far out of his net and buries it. Now it's 3-2 Canada. Assist by Gennady Tsygankov at the 12:56 mark. Yes, once again the Soviets score a bloody shorthanded goal. Damn, they really strike from out of the blue. They are badly being outplayed in every area but are still in this!
However, moments later at the 13:47 mark, Bobby Clarke backhands the puck into the Soviet zone and a speeding Paul Henderson gets to it and blasts it by Tretiak low blocker side. Boom! 4-2 Canada! Clarke and Ron Ellis get the assists. That'll show them!
No it won't. About a minute later the Russian Kid Line strikes! If I'm seeing in right, Anisin passes the puck to Valeri Vasiliev at the point who shoots it towards the goal. It then appears that Lebedev gets his stick on it for a deflection and Tony Esposito has no chance on the redirect. 4-3 Canada.
Now the Russians have the momentum. Mostly. You can see the Red Machine gathering steam. Sure enough, at the 18:28 mark, the Kid Line strikes again! Anisin passed it out front to Bodunov, who was right in front. No mistake was made. 4-4 tie! These Russians won't die.
Shots in the 2nd: Canada 17 Russia 8.
Canada has outshot the Soviets 32-17 so far and have a 4-4 tie to show for it. Much credit goes to Soviet goalie and super kid Vladislav Tretiak.
PERIOD 3
After a scoring frenzy in Period 2, the 3rd period settles down scoring wise. But the physical part of the game and the tempers are heating up. Three slashing penalties are called overall. After Wayne Cashman takes a slashing penalty and gets tossed for it, Esposito gets a little frustrated at the refs and tries to hard to make his voice heard. He gets a 10:00 misconduct as well.
The Canadians are fortunate. The Russians just could not convert on the few good chances they had in this period, or beat Tony Esposito. And really, there were not a whole lot of chances for either side. But the Soviets had the better ones, and they seemed to have far more puck possession. Were the Canadians tired at this point? It looked like it. Valeri Kharlamov was a standout in that period. Unreal. He's magic to watch, much like Canada's Cournoyer. Serge Savard said years later that Kharlamov was the best player he ever played against.
The game ends in a 4-4 tie.
Shots in the 3rd: Russia 8 Canada 6.
Overall: Canada 38 USSR 25.
Canada twice had 2 goal leads and lost out in this one, because a tie game sucks when you blow leads like that. Much of the credit goes to the 20 year old Tretiak as I said earlier. He ended up being the Soviet player of the game, while Paul Henderson was named Canada's best player of the game. (I would have picked Phil Esposito). All Tretiak though.
This series remains closer than anyone thought it would.
-Game 3 recap and more at 1972SummitSeries.com.
-Game 3 Highlights:
On to Vancouver for Game 4, and the final game of the series played in Canada.