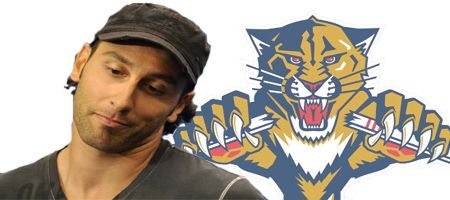 Quickly, here's what we know, have heard from Roberto Luongo / Mike Gillis, or read from people in the know since the Canucks' elimination from the 2012 NHL Playoffs:
1. Nick Kypreos reported that right after the Kings series loss, a series that Cory Schneider finished, Luongo had asked for a trade.
2. On July 6, Luongo told the media that it was "time to move on". Cory Schneider had just been signed to a new 3 - year $12 million contract and was/is clearly the Canucks new starting goaltender.
3. In late July, Mike Gillis said: "We've been given solid offers. Nothing we would do today. We're going to continue the process with the teams that are interested."
4. Throughout the summer, Luongo is linked to teams like Toronto, Chicago, Columbus and primarily Florida. Luongo had already said back in July the Florida made sense.
5. On September 4, Luongo told the South Florida Sun Sentinal: "[Florida] makes sense for myself, for my career and my family. That being said, there's obvious other options as well. This is a preferred location for obvious reasons but I'm not shutting the door on other possibilities if it comes up."
That's good that he's not shutting the door on other possibilities. Personally, I don't see the Panthers making this deal. But before I get into what I think, I wanted to talk to somebody who closely follows Florida and has great insight on the team and its current status. After all, they are Lou's destination of choice. For that, I called upon Donny Rivette, who founded and is the managing editor of SBN's Florida Panthers blog, Litter Box Cats. Mr. Rivette was a New England / Hartford Whalers fan since 1978, and has been a Panthers fan since their inception into the NHL in 1993.
Sean Zandberg: Let's talk about the current goaltending situation in Florida. Jose Theodore is the number 1 goaltender, and he had a pretty solid season there. I thought he looked pretty good in the playoffs as well, which is great for him, seeing all the adversity he has faced in the past. What was your take on
Theodore? What is your confidence level in him that he can repeat last season's performance where he backstopped the Panthers to their first playoff appearance since 2000?
Donny Rivette: I hesitate in bringing forth the obvious "well he ain't getting younger" thing (to provide a bit of context, I vividly recall his first victory over Hartford - the NHL version), but he'll be turning 36 this week. Outside of legends such as Hasek, Roy, and a scant few others, this is typically not a milestone to be taken as anything more than a heavy anchor on a building team, even with only a year remaining on his current contract of $1.5M for the season (all numbers per CapGeek). Add in the two years Scott Clemmensen recently signed on for - not to mention in-the-wings 'minder Jacob Markstrom - and Florida has itself a goaltending issue. Of the good sort.
Instead of claiming his age is a potential impediment leading to an expected and rapid career downward spiral, this situation may work out as a plus: can you name a hockey observer who wasn't stunned by the numbers (2.46/.917/22-16-11) Theodore brought on a pretty regular basis to the Panthers in 2011-12? I myself was taken aback when Florida GM Dale Tallon chose to pursue Theo's (admittedly affordable) services a summer ago. That said, he's reportedly looked up to in the dressing room, and is happy to be here, which hasn't always been the case in a non-traditional market such as this.
SZ: I have read that Panthers backup goaltender Scott Clemmensen looked inconsistent last season. What was your take on him?
DR: He's never been classified as a genuine "starter", so small stretches of inconsistency should be expected, but they were few and far between. Though he finished the year with a sparkling 14-6-6 record, a few of those losses occurred when relied-upon scorers were out of the lineup, and it showed. Questions will always hover over a netminder who recently entered his 36th year (on Earth, not in the league), but he continues to be a positive influence on the young guys scattered within the lineup. Essentially there is no question the club is ultimately clearing the deck for Markstrom - under the tutelage of veteran heavy-hitters at his position - a season from now.
SZ: Panthers fans talk about the solid goaltending prospect Jacob Markstrom being the goalie of the future. Firstly, where is Markstrom in his progression? Is he ready for the NHL? Do you believe that he will become the Panthers' starting goaltender in the coming years and if "yes", give us a guess as to when that will happen.
DR: As can be seen from my answers above, yep...they're hot on him. His progression is that of an ordinary goaltender at his age, the only difference being where many observers slot him among fellow prospects from around the world at his position. No reason whatsoever to rush his development, which has already been pushed back thanks to dual knee injuries a year apart upon hitting North American shores. He gets a "good" grade from me personally regarding his performance in the AHL playoffs this spring; was honestly expecting a bit more but all things being equal the Rampage took AHL Western Conference champion Oklahoma City to Round Two of the Calder Cup playoffs. A few soft goals at key times in the postseason showed the need for another trip through the "A", but he was also the likely difference-maker in getting that far.
SZ: What is your take on the possibility of Dale Tallon making a trade for Roberto Luongo? Why do you believe he will or will not make a trade that brings Roberto back to Florida?
DR: He'll do it because he feels it will improve his team's chances of making a deep run into the playoffs, but only at a bargain rate. There is absolutely no need to go that route - which includes ingesting 10 additional years at a high salary and cap hit - if he and his scouting circle are certain Markstrom will be The Man within two or so seasons. Is Luongo a better option than Theodore? Unquestionably, but not as much as has been speculated. Is Lou worth upsetting the organization's long-range plan established two years ago? Yet to be seen.
He won't do it for all of the above reasons, along with whatever the team benchmarks as an internal salary ceiling. This point is likely to be the determining factor in any deal, i.e. if $6M+ are already earmarked for a single player, which portion of the roster needing attention gets the short shrift to accommodate it? With a new CBA yet to be signed, it remains very early to speculate how absorbing such a contract would affect the club, but in a perfect world he comes "home".
However...if the Cats continue quick development of their defensive prospects, they could delay the need for a goaltender beginning to slide north of his prime. Bottom line: does anyone believe Luongo is the Final Step in a Stanley Cup run? Probably not yet (though the window is closing), and regardless the plan has always been to build with Jacob Markstrom.
SZ: If Tallon does pull the trigger on a deal, what pieces do you see going both ways? What are the Panthers needs? What assets do you see improbable / unwise to part with? If you were GM, what deal would you make, (with "no deal" being an option, but that's no fun)?
DR: Ah, the expected "name your trade" question. Being outside of the loop, and without knowledge of a lockout "Plan B", I'm very cool with Theo and Clemmer for another season, whether it be 82 games or 48. Jose is off the books in July, while Scotty remains for another year; Florida could be in far worse shape.
Having said that I'm going the lowball route, as the Panthers are truly in the driver's seat in this situation. Don't wish to offend Canucks management or fans with the typical Matthias/Ellerby/Santorelli for Lou drumbeat, so stand down. I see it as far more likely VAN ultimately receives a first-round selection and little else, or some variation of early-round picks, but no prime prospects; call me overly conservative but that's the market today. This is a massive salary dump on the Canucks' end and should be seen for what it is. In addition, every guy outside of the Panthers' first round since 2010 is off-limits. Just not worth the leap for a club which has targeted the kids they feel are needed to carry them into the late 20-teens.
A huge thanks to Donny for taking time to answer my questions.
I tend to agree with Rivette saying that he prefers the lowball route, from a Panthers perspective. They are clearly in the driver's seat in this situation, as it is known that this is Luongo's top choice. It's a good thing Roberto included that he's open to other options in his statement in the Sun Sentinel.
Several others things stood out to me in Rivette's responses, but most notably:
Is Lou worth upsetting the organization's long-range plan established two years ago? Yet to be seen.
I was not aware of Dale Tallon's plan. That's why it's good to ask a Panthers guy.
Florida just won the Southeast Division and went 7 games with the Devils in Round 1. I'd say Tallon is on the right track. Do they need Roberto Luongo? In my opinion, yes because he's an upgrade in goal for them. But at what Mike Gillis is most likely asking for him? No. They don't need to be depleting their farm system or current roster. They can stay the course for reasons Rivette mentioned above.
With a lockout seeming more and more a reality, there is most likely not going to be a Luongo trade in the foreseeable future. Everything is at a standstill on the trade front. And even if there is hockey, are there any teams out there willing to give up whatever Mike Gillis is asking (which we can assume is a lot)? This saga could draw out into a season with the teams playing hockey, including Luongo in Vancouver.
Wouldn't that be awkward.