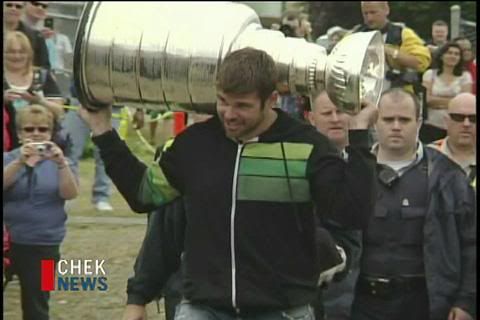 Yea, yea, he plays for the damned LA Kings, but I was very happy for BC-Boy and former Canuck Willie Mitchell when he won that Cup. Here are a few clips of his celebrations in Port McNeill.
Port McNeill celebrates as the Kings win the Cup:
Willie explains just how small the community of
Port McNeill is:
More after the jump.
Mitchell lands in Port McNeill in a chopper and the locals are thrilled (fan cam):
More of Willie walking through the crowd (fan cam):
Respect shown to the First Nations (Namgis) people Alert Bay. That tribe gave him a name of "Xan'yadzam" which means "Amazing":
Here is a quick clip or Mitchell and Lord Stanley from NHL.com:
A great image of Willie with the Cup at the top of Mount Waddington:
Great stuff. Congrats again, Willie.
And just for old times' sake:
He's a beauty, make no mistake.