Russia vs Slovakia Gold Medal Game
TIME: 10:15 AM
TV: TSN
Usually I pay no attention to this event. But since my father-in-law is here, and he's straight out of St. Petersburg, Russia and is watching this competition, I will watch this game. Finally, he gets to watch it on my big screen TV on TSN as Canada is eliminated. So I am pulling for Russia, of course. They look absolutely dominant and are the favorites. Evgeni Malkin is smokin': 9 games played, 10 goals and 8 assists and a +14. Scoring leaders can be found here. Patrick Thoresen....WTF??? Malkin has been so dominant. He can do no wrong right now.
Time: 12:00 PM PST
TV: CBC, NBC, RDS
3 goals in 3 games for the Coyotes against the Kings. Yeah, it's over. Maybe they squeak out a 1-0 or 2-0 game here to live another day but I seriously doubt it. Is the Kings' focus amazing or what? And their depth is speaking volumes. They are the youngest team still in the playoffs yet they play / act like seasoned vets. Dwight King has 4 goals in the 3 games in this series. Anze Kopitar has 2 goals and 2 assists as he continues to roll.
The Coyotes will get Martin Hanzal (suspension) and Adrian Aucoin (injury) back into their lineup.
PS: A big thanks to Kings fan (and photoshop wizard) ho5le for providing the following Looney Tunes image. Nice work!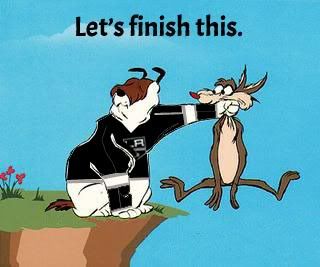 PPS: For people living in the Pacific Time Zone, there will be a solar eclipse at around 5:20 PM. Hopefully your current weather conditions allow you to view this. Personally, I have only seen a lunar eclipse so...yeah I will be watching.