CANUCKS




KINGS



AT




| | | |
| --- | --- | --- |
| Canucks | Category | Kings |
| 51-22-9 | Season Record | 40-27-15 |
| 1st | Conference Position | 8th |
| Lost 2 | Streak | Won 2 |
| - | < Road Record / Home Record > | - |
| 4 | Goals For | 8 |
| 8 | Goals Against | 4 |
| 2.0 | Goals Per Game Average | 4.0 |
| 4.0 | Goals Against Per Game Average | 2.0 |
| 2.0 | 5 On 5 GF/GA | 0.50 |
| 0 | Power Play % | 25.0 |
| 75.0 | Penalty Kill % | 100 |
| 55.2 | Faceoffs % | 44.8 |
| 71 | Hits | 60 |
| 28 | Blocked Shots | 39 |
| 17 | Giveaways | 11 |
| 19 | Takeaways | 18 |
| 29.5 | PIM's Per Game Average | 12.0 |
| NHL.com | | |
What's wrong with the Canucks? Many are asking without answers. Many are giving their own reasons. I'll give you mine. It's not coaching. It sure as hell isn't goaltending. It looks like lost team confidence/chemistry in almost every part of their game. Especially the special teams. You don't win a series by scoring no power play goals and allowing several against. I can tell it's a confidence issue because of the lack of crisp passing. They are not moving the puck quickly and effectively. The power play is a bunch of passing around the perimeter and lack of shooting, perhaps afraid of their shot being blocked. when the puck is moved quickly you can see how the Kings outman the Canucks on the puck when down a man. They clear it with ease. It doesn't help confidence when you allow a shorthanded goal against either. When you get lack of confidence / chemistry it becomes a domino effect. The whole game suffers.
It doesn't help that David Booth, Chris Higgins, Mason Raymond, Alex Edler have dried up offensively. Ryan Kesler has a pair of assists but still cannot find the net. Too many issues at the wrong time of the year.
Perhaps getting out of fickle Roger's Arena, hanging out together in Lotus Land is just what the doctor ordered for our team. They were awesome on the road this year. They just have to calm the hell down and get back to what made them successful all year. That's why I don't blame coaching. There's a plan in place, but the players are not executing. They have to trust eachother again. They need to create the bounces. Maybe somebody needs to hip check Drew Doughty to hell to create a spark. Maybe that first power play goal in an eon swings the momentum. Chemistry / confidence is an amazing thing by how quickly it can change.
Kudos to the Kings for playing so well and stealing 2 games out of Vancouver. But I want their mother****ing heads on a platter.
PROJECTED ROSTERS
CANUCKS
---
Roberto Luongo
6-3
217
Apr 04, 1979
The only Canuck with any heart so far. **** you, haters.
---
Would not be surprised to see Cory Schneider get the call in an attempt to wake the boys up. Is that fair to Roberto? No. But it's all about winning and Lou I'm sure is proud of his performance so far.

Mason Raymond - Henrik Sedin - Alexandre Burrows
David Booth - Ryan Kesler - Andrew Ebbett
Jannik Hansen - Sammy Pahlsson - Chris Higgins
Dale Weise- Manny Malhotra - Maxim Lapierre
Dan Hamhuis - Kevin Bieksa
Alex Edler - Sami Salo

Keith Ballard - Chris Tanev

KINGS
---
Jonathan Quick
6-1
212
Jan 21, 1986
Can we test this guy more, please?
---
Dustin Brown - Anze Kopitar - Justin Williams
Dwight King - Mike Richards - Jeff Carter
Dustin Penner - Jarret Stoll - Trevor Lewis
Andrei Loktionov? - Colin Fraser - Jordan Nolan
Rob Scuderi - Drew Doughty
Wille Mitchell - Slava Voynov
Alec Martinez - Matt Greene
INJURIES
-Via TSN:No Daniel Sedin for Game 3.
Kyle Clifford, who Byron Bitz wrecked, is questionable for Game 3.
THE CANUCKS' BIG GUNS
-Henrik Sedin has 1 goal and 4 assists in his last 5 games.
-Alexandre Burrows has 5 goals and 2 assists in his last 8.
-Ryan Kesler has 2 assists in his last 2 games.
-David Booth has 1 goal and no assists in his last 13.
-Chris Higgins has 1 goal and no assists in his last 6.
-Kevin Bieksa has 1 goal and 4 assists in his last 7 games.
-Dan Hamhuis has 4 assists in his last 5 games.
-Alex Edler has 1 goal and 3 assists in his last 6.
-Maxim Lapierre has 3 goals and 3 assists in his last 7.
-Mason Raymond has 2 assists in his last 8.
THE KINGS' BIG GUNS
-Anze Kopitar has scored 1 goal and 12 assists in his last 8 games.
-Justin Williams has 4 goals and 4 assists in his last 8.
-Dustin Penner has 1 goal and 1 assist in his last 2.
-Mike Richards has 3 goals and 5 assists in his last 7.
-Dustin Brown has 3 goals and 1 assist in this series.
-Jeff Carter had 2 ashttp://www.sbnation.com/admin/entries/new?community_id=199&entry_type=Story#htmlsists in this series.
-Drew Doughty has 1 assist in his last 6 games.
-Willie Mitchell has 5 assists in his last 4 games.
VIDEO
Highlights from Game 2....EW:
Compilation of hits from Game 1:
Remember when the power play was awesome?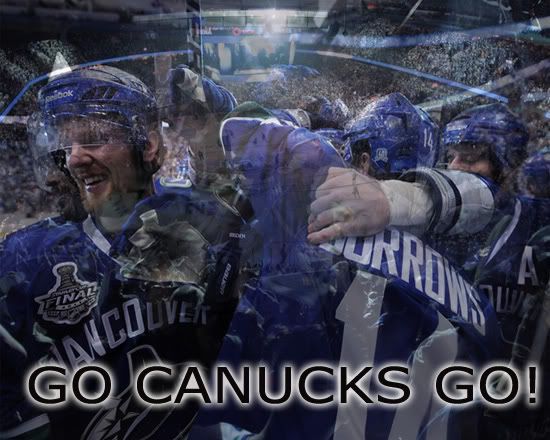 IT AIN'T OVER.