KINGS




CANUCKS



AT




| | | |
| --- | --- | --- |
| Kings | Category | Canucks |
| 40-27-15 | Season Record | 51-22-9 |
| 8th | Conference Position | 1st |
| Lost 2 | Streak | Won 1 |
| 18-13-10 | < Road Record / Home Record > | 27-10-4 |
| 5-2-3 | Last 10 | 8-1-1 |
| +15 | Goals For / Against +/- | +51 |
| 2.29 (29) | Goals Per Game Average | 2.94 (5) |
| 2.07 (2) | Goals Against Per Game Average | 2.33 (4) |
| 0.98 (17) | 5 On 5 GF/GA | 1.19 (4) |
| 17.0 (17) | Power Play % | 19.8 (4) |
| 87.0 (4) | Penalty Kill % | 86.0 (6) |
| 51.5 (7) | Faceoffs % | 52.2 (3) |
| 2274 (2) | Hits | 1826 (18) |
| 969 (29) | Blocked Shots | 1019 (27) |
| 770 (6) | Giveaways | 582 (19) |
| 452 (28) | Takeaways | 539 (16) |
| 11.3 (17) | PIM's Per Game Average | 12.8 (25) |
| NHL.com | | |
I'll be honest. This was not the Pacific Division team I preferred the Canucks to face in Round 1. But no matter. I am not worried that Jonathan Quick can steal this series because I think our goaltending is just as good / better. I think we have more depth at all positions actually. However, my 2 main concerns are the Canucks' 2nd line being ice cold right now and an anemic-looking power play. These 2 things need to be remedied quickly immediately.
The Kings are a big grueling team to face in the first round. Dustin Brown, Dustin Penner, Dwight King, Mike Richards, Colin Fraser, Willie Mitchell, Matt Greene, Drew Doughty come to mind. They are going to grind. This is going to be a rough and dirty series, make no mistake.
The Kings scored 7 goals in their last 2 games of the regular season against the Sharks. 6 of those goals came on the power play. Yeah. They scored 3 power play goals out of their 8 goals scored in regulation against the Canucks this season. Vancouver scored 3 PPG's out of their 7 regulation goals against Los Angeles this season. But that was the regular season. Chuck it out the window. The playoffs are a new beast with new surprises, right John Druce? Right Fernando Pisani / 2006 Edmonton Oilers?
Want a comical/informative perspective from Kings fans? Check out Kingscast. The two hosts predict the Canucks to win in 5 and 6 games.
Many, including Chris Higgins, think this is going to be a low-scoring series. I say it's quite possible that we may see more goals than projected. We'll see. If our power play and Line 2 get going and Mike Richards-Jeff Carter stay cooled off, the Kings will be doomed. Oh please don't get on a roll, Richards. Think of all the extra time you'll get to spend on the beach, chasing the ladies around.
Side note: Congrats to HockeyFanInColorado for kicking our asses in the regular season score predicting contest. A new score-predicting wizard contest commences immediately for the playoffs.
Also, in cased you missed them, check out Yankee Canuck and DanTheStatMan1's Canucks-Kings series previews here and here. Gold and gold.
PROJECTED ROSTERS
CANUCKS
---
Roberto Luongo
6-3
217
Apr 04, 1979
The much-maligned goalie will be under the gun again.
---
Mason Raymond - Henrik Sedin - Alexandre Burrows
David Booth - Ryan Kesler - Andrew Ebbett
Jannik Hansen - Sammy Pahlsson - Chris Higgins
Dale Weise- Manny Malhotra - Maxim Lapierre
Alexander Edler - Kevin Bieksa
Dan Hamhuis - Chris Tanev
Sami Salo - Aaron Rome
Raymond practiced on the top line on Tuesday. I guess that's his spot if Daniel is not ready.
KINGS
---
Jonathan Quick
6-1
212
Jan 21, 1986
Under siege, let's see what Quick can do.
---
Dustin Brown - Anze Kopitar - Justin Williams
Dwight King - Mike Richards - Jeff Carter
Dustin Penner - Jarret Stoll - Trevor Lewis
Kyle Clifford - Colin Fraser - Jordan Nolan
Rob Scuderi - Drew Doughty
Wille Mitchell - Slava Voynov
Alec Martinez - Matt Greene
INJURIES
-Via TSN: We'll see what happens with Keith Ballard and when he slots in. At this point there is no point in putting him in with the success of the current 6. Daniel Sedin appears ready, but the team is saying squat about if he's actually ready. Mason Raymond will be back after missing time due to a new addition to his family. Zack Kassian is pretty much ready, but I'm not sure if he'll slot in.
The Kings should be getting Jeff Carter back for game 1. Simon Gagne remains out with a concussion. He has not played since December 27.
THE CANUCKS' BIG GUNS
-Henrik Sedin has 1 goal and 7 assists in his last 5 games.
-Daniel Sedin had 2 goals and 1 assists in 9 games before Duncan Keith whacked him.
-Alexandre Burrows has 4 goals and 2 assists in his last 5.
-Ryan Kesler has 2 assists in his last 12. Let's see him crank it to the next level.
-David Booth scored last game, but that was his first point in 10 games.
-Chris Higgins has no points in his last 2 games, but 6 goals and 5 assists in his last 16.
-Kevin Bieksa has 1 goal and 4 assists in his last 5 games.
-Dan Hamhuis has 4 assists in his last 3 games.
THE KINGS' BIG GUNS
-Anze Kopitar has scored 1 goal and 10 assists in his last 6 games. Woa. Shut this punk down!
-Justin Williams has 4 goals and 2 assists in his last 6.
-Dustin Penner has 0 points in his last 9.
-Mike Richards has 2 goals and 3 assists in his last 5.
-Dustin Brown has 3 goals and 4 assists in his last 6 games.
-Jeff Carter had 0 points in his last 4 games before going out with a concussion an ankle injury late March.
-Watch out for Dwight Kings. A beast of a man. He has 1 goal and 3 assists in his last 5 but is getting to play in the top 6.
-Drew Doughty has 0 points in his last 4 games.
-Willie Mitchell has 4 assists in his last 2 games. God damn I miss that guy.
TRENDS
Kings are 10-2 in their last 12 Wednesday games.
Kings are 9-4 in their last 13 vs. Western Conference.
Kings are 2-7 in their last 9 Conference Quarterfinals games.
Kings are 1-4 in their last 5 when their opponent allows 2 goals or less in their previous game.
Kings are 0-4 in their last 4 vs. a team with a winning record.
Canucks are 7-0 in their last 7 after allowing 2 goals or less in their previous game.
Canucks are 4-0 in their last 4 vs. Pacific.
Canucks are 8-1 in their last 9 overall.
Canucks are 21-5 in their last 26 games playing on 3 or more days rest.
Canucks are 13-5 in their last 18 Conference Quarterfinals games.
More at Covers.com.
VIDEO
How about a pump up video? Hell yes:
Thank you sir, may I have another?
ONE MORE:
Canucks-Kings Game 6 highlights from 2 years ago: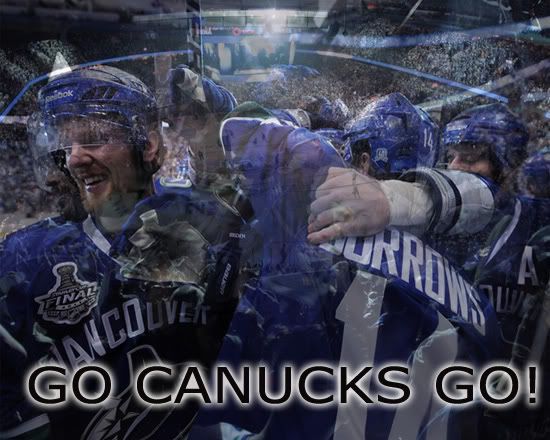 LET'S GET IT ON!