"The players view has always been that we ought to keep negotiating until we find a way to get an agreement," the NHLPA's executive director Donald Fehr said today before the meeting. "You sort of stay at it day by day -- so it's very good to be getting back to the table. We hope that this time it produces more progress that we've seen in the past and we can figure out a way to make an agreement and to get the game back on the ice as soon as possible."
Yeah yeah yeah. I don't know the extent of what the NHL and NHPA will discuss in their private meetings today, but you hope that they can get closer on a big issue like revenue sharing. Even so, there are much more items to negotiate. UPDATE: The two sides will meet again on Wednesday.
>>>Want a solid read? Check out the chronology of the 2004-05 NHL lockout. It may have you believing that the current lockout really isn't so bad and that we may have hockey this season. Can you believe the 2 sides went 3 months without even talking back then? Good god. My least favorite part of that article:
Feb. 14 — The NHL schedules a news conference for Feb. 16 during which it plans to cancel the season. Then, what looks like a breakthrough: The league drops its demand for a link between league revenues and player costs, and the players' association agrees to accept a salary cap during talks in Niagara Falls, N.Y.

Feb. 15 — The sides trade a flurry of proposals and letters, but could never agree on a cap. The owners bump up their offer of a $40 million cap to $42.5 million; the players counterproposal is for $49 million, which the league rejects out-of-hand.

Feb. 16 — Bettman holds news conference as scheduled, cancels season.
>>>Martin Brodeur is concerned about NHL fans losing interest in the NHL.
"I just came back from Montreal and I was surprised how it wasn't talked about much by the fans," he said. "In New Jersey, it's even worse. People have kind of forgotten about us a little bit and that's not a good thing. This should be a prime conversation for people who are sports fans to worry about what's going on and right now they have kind of forgotten about it. That's not a good sign. I don't like that at all."
Ah, the fans will come back, Marty. Well maybe not as much in New Jersey. The second that team falters the seats are empty at the Prudential Center. Wait, the seats are empty even when they win...And by the way, what the fuck are we supposed to be talking about in regards to hockey right now, Martin? That it sucks? That we want hockey back? How about you guys iron out a deal and then we the fans will start talking hockey again. Fuck it, we are not sitting around and moping. At least, the wise ones are not.
>>>Sports Illustrated recently did a feature highlighting the 100 greatest sports photos of all time. The best hockey picture made #9 on their list:
Isn't it great how Wayne Gretzky made history against the Canucks? That goal above is where he surpassed Gordie Howe's all-time goal record (way to over commit to the shooter, Kirk). I can see the historic significance of the image and the moment, but my all time fave hockey picture is this one: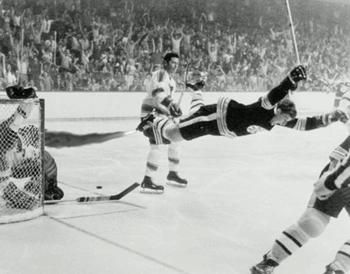 Number 4 Bobby Orr. Enough said.
>>>Check out the 54 second mark of the highlights below. Zdeno Chara absolutely smokes Miroslav Satan, the Prince of Darkness with an open ice hit. Satan needed stitches and was furious about the hit. I liked it actually.
MISC
>>>Star Wars 7, 8 and 9? SQUEEEEEEEEEEEEEEE!!!
>>>A crazy cool restaurant brawl in Toronto last weekend. Apparently the people were arguing who was a better goalie: James Reimer or Jonas Gustavsson. Look at that chick getting hit in the face with the flying plate! Wow.
>>>Five guys take the same photo at the same spot every 5 years for the span of 30 years. Nice work. Aging fucking sucks.
>>>Oh great. Diving in baseball. There is no hope anymore for integrity in sports:
>>>How's that election coming along, America? Hopefully better than my give-a-damn-meter is doing. Ha!