It was a great day for hockey and the Canucks - Bruins game lived up to / exceeded the hype. It turned out to be arguably the game of the year so far. Am I past it now and looking ahead to the back to back games in the state of Florida? Nope. I am strutting and gloating still that our boys beat the Beantown Bastards. Hey Bruins fans, we know this wasn't a Cup victory yadda yadda, but it was a "small victory". It is about feeling appeased. It is about feeling like some form of revenge was handed out. It is about numbing the pain of the defeat in June a little.
After a slobber knocker like that, there is a lot of news to pass on. More after the jump.
Sami Salo will be re-evaluated today in what Mike Gillis has said is a possible concussion after Salo was clipped or low-bridged by that rat Brad Marchand. I feared a separated shoulder but will breathe a sigh of relief as apparently Sami is still traveling with the team to Florida.
Andrew Ebbett will require surgery to repair a broken collarbone. He sustained the injury earlier in the game when he skated in the corner at mach 200 and ran into a freight train named Dennis Seidenberg. I remember seeing it. BOOM! What a gutsy little guy that Ebbett is though. He fears nothing. I wish him a speedy recovery and appreciate his efforts.
With Ebbett out and David Booth not quite ready yet the Canucks will announce that they have called up Mike Duco from Chicago. Duco was the guy they gave up Sergei Shirokov to get from Florida. It's not official yet but Nolan Baumgartner tweeted earlier:
Congrats to Mike "Mick" Duco for the call up to the show. Going in to Florida to play against his old team. #good luck #Buzzin.
I liked what I saw of Duco in preseason with the Canucks but he never made the team. Check this out:
Woo! A total shit disturber too:
-Duco fighting stats at hockeyfights.com.
-Duco has 8 goals and 5 assists and 35 penalty minutes in 33 games with the Wolves this season. He had a hat trick in his last game and was a healthy scratch on Saturday because of his impending promotion.
Somebody in the game thread had mentioned that Tim Thomas had butt-ended Manny Malhotra with his stick. Sure enough, he did right after Nathan Horton knocked Manny into the B's goaltender:
Chalk up another dirty one on those dirty Bruins. Personally though, I don't mind it so much. It's not like he gaffed him. Some would disagree with me. Everybody has opinions. With all the damned social media out there I find it's opinion overload at times. So I avoided Twitter for the most part on Saturday except to bash or troll a few haters that were being unrealistic. I even trolled Stanley Cup Of Chowder, but in a respectful way because I like those guys. But hey, there are many who like to spend vast amounts of time on these social media sites and so I am going to reluctantly dive in right now to give you as many links and quotes as possible in the aftermath of the Canucks-Bruins game. I aim to please.
It was, in fact, just a game in early January; a non-conference one-off with little long-term meaning. It was also, symbolically at least, the most meaningful regular season game of the Alain Vigneault era and it could mark a watershed moment in the Canucks' evolution.
That from Ed Willes at the Province. He may have a point there. Or, the Canucks will shit the bed against the Panthers on Monday and.....
__________________________
-Random question for discussion: Don't you think that Roberto Luongo would have fared just as well or better than Cory Schneider in Boston on Saturday? I do. Remember when Schneider was going to play the puck behind the net and put the puck off the side of the net instead? Yeah, that was when I started wondering. haha
But having said that, it was a solid gesture by Alain Vigneault (intentional or not) to play Ginger Jesus in Boston.
"It was a great feeling," Schneider said of playing on familiar ice. "As a college player I didn't know if I would ever get the chance to play here again, so to be able to come back and have this opportunity in front of a lot of friends and family and people at home watching, it was really cool."
That and more from the Boston Globe.
__________________________
Given the Bruins' dominance lately and..all the assholes that live out east (jj), this shouldn't surprise you: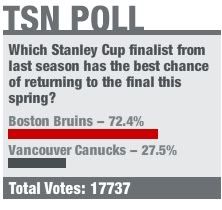 - It doesn't hurt my feelings that the Bruins lost Milan "Sasquatch" Lucic so early in the game, but it hurt the Bruins fans' feelings that they lost one of their best players due to a reffing error:
The Game Misconduct penalty assessed to Boston Bruins forward

Milan Lucic

during NHL Game #598 this afternoon in Boston has been rescinded, National Hockey League Senior Vice President and Director of Officiating Terry Gregson announced today. Lucic was assessed a Game Misconduct 3:54 into the first period for violating National Hockey League Rule 70.1 — Leaving the Bench. However, a video review of the incident revealed that Lucic did not leave the bench to join or start an altercation but rather had entered the ice legally over the boards and was about to step back onto the bench through the door when he changed course and joined a scrum.
Why the hell would I care? I love it. We won. Win at all costs. Sometimes you catch a break. And sometimes a jackass gets what he deserves. I use insults because it makes me feel good. Lucic is an excellent competitor yet I shouldn't insult donkeys that way.
-
Six Canucks players ganged up on him in front of the Canucks bench in a chain gang-style attack more appropriate in a prison laundry room rather than an NHL rink. The order of events was pretty simple: Thornton saw somebody slash at Daniel Paille as he exited the ice for a line change, he went to investigate the situation and then got tangled with the biting Burrows.
Ladies and gentlemen that is from Joe Haggerty from CSSNE.COM. Check out that link for a laugh. Hey Joe. Where are you going with that gun in your hand? Homer. I shouldn't even provide a link for that candy ass. But I did. It is what it is. And Joe has Burrows penis envy.
-Kevin Bieksa on the game:
"I don't think we really wanted to go head to head with them, but we are certainly not going to back down from them. We showed that from the beginning and we stood our ground. You know, big fight by Weise. And, Max (Lapierre) is a character guy, and if somebody asks him to fight, he is going to fight and stick up for himself. He did a great job there. After that we played hockey. I think hockey wise we are a better team than them."
And I agree, Juice. Just that some things are better left unsaid.
-Claude Julien's stance on Marchand's hit on Salo is laughable:
''I always told my players they need to protect themselves,'' Julien said. ''The last thing I want my players to do is get hit and end up with a concussion. They have to protect themselves. Whether it's the right way or the wrong way, it will depend on how the league looks at it. ''I'd rather have a guy take a two-minute penalty than turn his back to the play, stand up straight, then get his face knocked through the glass and be out the rest of the year with a concussion. Or maybe end a career like [Marc] Savard.''
I suggest he watches the tape. And since he had not seen the tape yet I will pardon him.
Speaking of "the tape" how about some more videos to celebrate the joyous occasion?
Here is that big scrum early in the 1st:
Best fight of Weise's NHL career I am sure.
The KesLORD makes it 1-0 before taking 2 dumb penalties in the first:
Looked like Boom Boom Hodgson got this one but it was credited to Alexandre Burrows to tie the game at 2:
I generally didn't like the play of the Sedins in this game, but when Hank made it 3-2, I started forgiving:
Cody Hodgson...wow is he impressing or what? All the bullshit chatter over the reffing and other dramatics out there on the web overshadowed the play of Godson, or "Boom Boom" as he was tabbed today. Most goalies nowadays go down as per the butterfly position. Tim Thomas doesn't always but did on this one and Cody buried it just under the bar. WOW. This is the winning goal. This was effing awesome as it was the game winner. His 10th goal of the season:
Not gonna lie...I jumped outta my chair and screamed beautiful obscenities in ecstasy when he scored that one.
What an awesome game! I am still stoked!
OK, I have talked to a lot of Canucks fans online and on the streets today and one topic came up several times: the Sedins don't do as well when facing bigger and tighter checking teams (yeah, here we go again). I saw a bit of a push back from them against the Bruins. I also saw mediocrity. So I will leave you with this poll, and feel free to express your opinions more thoroughly in the comments section.