Time
Tues. 7:00 PM PST

TV
TSN

Season Series
1-1

Last Meeting

5-1 Chicago Nov.16/11

The Bastards
Second City Hockey
Scoring Leaders

H. Sedin

: 11-41-52 Hossa: 20-33-53

| | | |
| --- | --- | --- |
| Hawks | Category | Canucks |
| 29-15-6 | Season Record | 30-15-4 |
| 6th | Conference Position | 2nd |
| Lost 2 | Streak | Won 2 |
| 10-9-2 | < Road Record / Home Record > | 14-6-3 |
| 5-3-2 | Last 10 | 6-2-2 |
| +18 | Goals For / Against +/- | +36 |
| 3.16 (4) | Goals Per Game Average | 3.16 (3) + |
| 2.82 (20) | Goals Against Per Game Average | 2.41 (7) |
| 1.04 (10) | 5 On 5 GF/GA | 1.18 (6) |
| 19.0 (9) | Power Play % | 23.0 (1) - |
| 77.9 (28) | Penalty Kill % | 85.4 (6) - |
| 52.4 (3) | Faceoffs % | 51.5 (7) - |
| 917 (26) | Hits | 1091 (17) - |
| 620 (25) | Blocked Shots | 572 (28) |
| 360 (16) | Giveaways | 343 (18) + |
| 505 (2) | Takeaways | 310 (20) + |
| 10.4 (11) | PIM's Per Game Average | 13.9 (27) + |
| NHL.com | | |
I don't know about you peeps, but that All-Star break put me to sleep. What was the last time the Canucks played again? SEVEN days ago. Apparently that's not a long enough layoff for Roberto Luongo, who will not play in this one. Cory Schneider will face what is sure to be an onslaught of Chicago shots. Actually, the reasoning behind Ginger Jesus getting the start is here. Makes sense. This is a terrific rivalry that pretty much took the passenger seat since the whole Canucks / Bruins debacle. But the feelings of hate will return on Tuesday night. There's a rat in Chicago too. His name is Bolland.
The Hawks suck on the road. They have lost their last 4 straight there, but have had the luxury of playing a ton of home games. That all changes now. They play their next 9 games in a row away from the Madhouse on Madison. They need to keep pace with the Red Wings, who
have 3 points on them for the Central Division lead. The Central is insane right now.
It will be interesting and a tad sickening to see Brendan Morrison in a Hawks jersey. He brings some needed depth and versatility to Chicago's center position. He may play with Marian Hossa right away. We'll see.
As for the Canucks....well they had better not come out of the break slow. They'll get burned if they do.
Anything can happen when these 2 teams face each other. Each team has defeated each other once this season, both by wide margins and both in the opposing team's arena. Time to buck that trend. Two matchups remain between them this regular season.
PROJECTED ROSTERS
---
GP
MIN
W
L
EGA
GA
GAA
SA
SV
SV%
SO
2011 -

Cory Schneider

19
1016
10
5
39
2.30
534
495
.927
2
---
NO COMMENT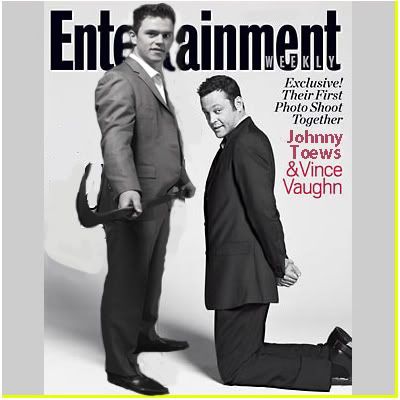 I am about as evil as Vince Vaughn is a bad actor. So I guess I will see you in hell.
PREDICTIONS
-NHL12 sim says: 1-0 Canucks, Hank FTW. Yeah right.
-Zandberg thinks 3-2 Canucks with Higgins scoring the winner, because..you know...he has not scored a goal in January and this is his last chance.
ARE YOU READY? GO CANUCKS GO!