The Vancouver Canucks' in-house reporter / interviewer has gone from:
THIS:
TO:
THIS: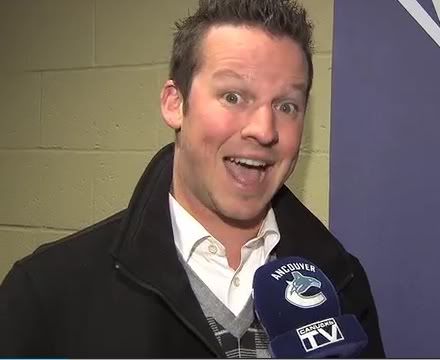 From the Vancouver Sun a few days ago:
Rick Quinton has landed the primetime morning sports run on CKNW. Dave Sheldon, who has resigned as play-by-play man of the AHL Abbotsford Heat, takes over Quinton's weekend SportsTalk chair . Joey Kenward moves from Team Radio to full-time employment with the Canucks, replacing Kristin Reid as the hockey club's in-house reporter/interviewer. Kenward remains the No. 3 man on the Canucks' depth chart of play-by-play broadcasters behind John Shorthouse and Rick Ball.
Many kids have a sad. Grown men will cry. It doesn't matter how good of a job that Kenward does. He could interview Brad Marchand and call him a prick. He could say to Tim Thomas that Luongo's style is better. He could punch Patrick Kane in the mouth or make Pavol Demitra jokes and it won't matter. He simply does not have the beautiful looks and presence that Mrs. Reid has. So he's already doomed. Pre-game threads simply won't be as fun. Reid did an excellent job setting us up for Canucks games and performing interviews and will be missed. Best of luck to her. Kenward..YOU SUCK! haha
How about these slow Canucks news days? I almost feel like Jack Nicholson in The Shining. OK, not really.