Valeri Bure was pissed off about his brother Pavel being passed over for a Hockey Hall Of Fame Induction. But that wasn't all that was bothering him. He also took a mad stab at Mike Gillis (Pavel's former agent) as well on the Team 1040 on Tuesday. "I think Mike Gillis not retiring his number is pathetic, without him they might not have a GM place now," Valeri said. "The way that Mike Gillis handled himself when the people asked him why Pavel Bure's jersey is not up he said something like 'I'll decide when his jersey goes up' And I thought who gives you the authority to decide. Who are you? You are an ex-agent who got paid by my brother a lot of money, got paid by a lot of players a lot of money, now those players got you that job and now you've got to decide who's jersey is going up or not. This is just absolutely crazy, crazy talk by him and that's one of the things that bother me."
"(Gillis) has been great for the organization, and it's not that Markus Naslund's jersey went up, so, well my brother's should go up.

"His jersey should be up for what he's done." Valeri then ran and hid under Candace Cameron's skirt. Mike Gillis offered his rebuttal to the Globe and Mail here. I think we have kicked the "Bure jersey retirement" issue to death but what are your thought on being passed over on the HHOF induction by Gilmour, Nieuwendyk, Mark Howe and Belfour?

The Boston Fan In Vancouver is at it again and this one's pretty funny..
What are the Green Men doing to kill off the summer? Getting back stage passes for a Kiss concert / scoping out Shannon Tweed / comparing spandex prices with Gene...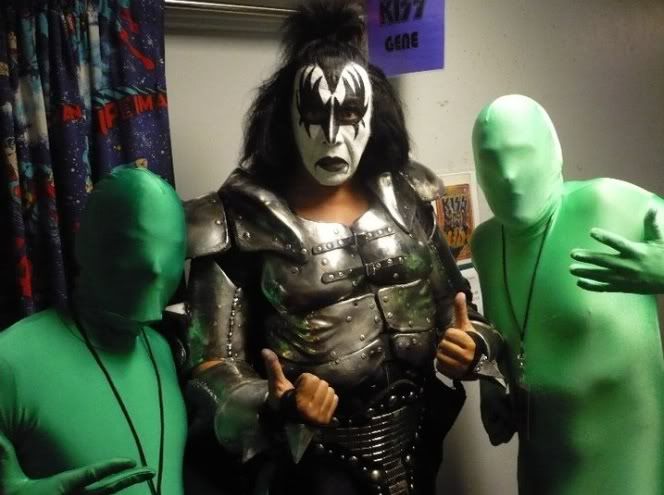 I dunno..I can see a resemblance (can we please re-sign this guy? I wonder what kind of $$$ he is after):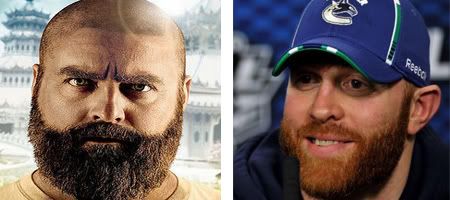 Just a hunch..I think the Canucks will sign Sami Salo today.


AROUND THE NHL