CANUCKS


BRUINS



AT




| | | | |
| --- | --- | --- | --- |
| Time | Mon. 5:00 PM PST | TV | CBC, NBC, RDS |
|  Series | 3-2 Canucks | Last Meeting | 1-0 Canucks |
| The Enemy | Stanley Cup Of Chowder, Days Of Y'Orr | Scoring Leaders | H. Sedin: 2-19-21 Krejci: 11-11-22 |
| | | |
| --- | --- | --- |
| Canucks | Category | Bruins |
| Won 1 | Streak | Lost 1 |
| 5-5 | < Road Record / Home Record > | 9-3 |
| -4 | Goals For / Against +/- | +21 |
| 2.44 (13) | Goals Per Game | 3.13 (6) |
| 2.61 (7) | Goals Against Per Game | 2.22 (1) |
| 0.97 (8) | 5 On 5 GF/GA | 1.72 (1) |
| 21.2 (6) | Power Play % | 9.8 (14) |
| 81.7 (7) | Penalty Kill % | 84.1 (6) |
| 31.9 (8) | Shots Per Game | 32.0 (7) |
| 31.9 (9) |  Shots Against Per Game | 33.7 (12) |
| 84.6 (3) | Winning % When Scoring First | 90.9 (2) |
| 7-2 | Record When Leading After 1 | 6-2 |
| 3-5 | Record When Trailing After 1 | 3-3 |
| 8-1 | Record When Leading After 2 | 8-1 |
| 771 (1) | Hits | 601 (2) |
| 334 (4) | Blocked Shots | 345 (1) |
| 50.6 (6) | Faceoffs % | 51.5 (4) |
| 17.3 (15) | PIM's Per Game Average | 15.5 (12) |
| NHL.com | | |
Back into the B Hive the Canucks go and if they can bring the same intensity level from Game 5 there they could win the Stanley Cup on enemy turf. The proper physicality and compete levels were sorely lacking in Games 2 and 3 in Boston and the Bruins ate them for dinner.
Is Roberto Luongo ready to steal another one? He's going to have to if guys named Sedin, Burrows, Kesler, Raymond and Higgins don't snap out of their funks. And if the (I believe) 1-for-26 power play doesn't bag one, which is really where the Sedins and Kesler can get it going because they play the majority of the power plays. We can't be relying on Line 3 to bail our collective asses out every game. The top line needs to persevere past all the physicality thrown their way. Get up off your asses and play! The refs are not biting on the dives so cut it out!  I think we can all agree that Ryan Kesler is playing on one leg so we can cut him some slack. But what if he could find it within himself to hit beast mode one more time? (He took a maintenance day Sunday). What if Mason Raymond could actually capitalize with all that speed that he uses? Higgins needs to get to the net and bury his chances as well.
I thought the Canucks' D as a unit really settled down on home ice. They need to keep that composure on the road or they're going 7. If this turns into another scoreless chess match then so be it. Unless they are going to find more ways to beat Tim Thomas they don't really have a choice. The patience game. Stressful to watch but oh did it work in Game 5. And the hits...keep 'em coming!
C'mon boys, finish them in 6! Score first, get the rowdy crowd out of it!  I wanna see Bobby Orr and Cam Neely crying. DO THIS! FIGHT DAMN IT!
LINKS
-Aaron Rome talks to the media for the first time since his suspension (TSN).
-Kerry Fraser is sick of the embellishing in the Finals and I don't blame him. He writes a golden article at TSN about it.
-Baiting baiting baiting. Shut the f*** up already.
PROJECTED FORWARDS DRESSED
CANUCKS
Daniel Sedin-Henrik Sedin-Alexandre Burrows
Mason Raymond-Ryan Kesler-Christopher Higgins
Raffi Torres-Maxim Lapierre-Jannik Hansen
FANNER Glass-Manny Malhotra-Victor "Has this guy been good or what?" Oreskovich

BRUINS
Milan Lucic-David Krejci-Rich Peverley
Brad Marchand-Patrice Bergeron-Mark Recchi
Michael Ryder-Chris Kelly-Tyler Seguin

Daniel Paille-Gregory Campbell-Shawn Thornton


STARTING GOALTENDERS
---
Roberto Luongo
6-3
217
Apr 04, 1979
Profile: The Rodney Dangerfield of Vancouver
---
---
GP
MIN
W
L
EGA
GA
GAA
SA
SV
SV%
SO
2011 -

Roberto Luongo

23
1359
15
8
55
2.43
683
628
.919
4
---
---

Tim Thomas

5-11

201

Apr 15, 1974

Profile: Mr. Bankshot, also Mr. Conn Smyth...IMO

---

---

GP
MIN
W
L
EGA
GA
GAA
SA
SV
SV%
SO
2011 -

Tim Thomas

23
1423
14
9
49
2.07
774
725
.937
3

---



WHO IS HOT / COLD
CANUCKS
HOT
-NONE, but I'd like to give a shout out to Maximus Lapierre and LUUUU!
COLD
-Henrik Sedin: 0 points in his last 5 games. Unacceptable.
-Daniel Sedin: 0 points in his last 3. Unacceptable.
-Ryan Kesler: 0 points in his last 4. Very obviously playing hurt.
-Christopher Higgins: 1 assist in his last 7. Unacceptable.
-Mason Raymond: 0 points in his last 7. ARGH
-FANNER Glass: 0 points in his last 30. Seriously, stop playing this guy.
-Victor Oreskovich: 0 points in his last 19.
-Jeff Tambellini: 0 points in his last 30 games. Benched in Game 4 and 5 = dog shite.
-Cody Hodgson: 0 points in his last 10 games with very limited ice time. (healthy scratch)
BRUINS
HOT
-Tim Thomas: 2 goals against in his last 3 games.
-David Krejci: 4 goals and 6 assists in his last 8.
-Zdeno Chara: 4 assists in his last 4.
-Michael Ryder: 2 goals and 2 assists in his last 3.
-Rich Peverley: 2 goals and 1 assist in his last 3.
COLD
-Tomas Kaberle: 1 assist in his last 6.
-Tyler Seguin: 1 assist in his last 9.
-
Dennis Seidenberg
: 0 points in his last 10.
INJURIES
CANUCKS
-F Mikael Samuelsson: surgery, out for playoffs. I miss this guy.
-D Dan Hamhuis: groin, day-to-day coach says. I say done for playoffs.
-D Aaron Rome: suspended 4 games.
BRUINS
-F Nathan Horton: concussion
-F Marc Savard: concussion, out for season
-F Trent Whitfield: achilles surgery. Sound familiar?
VIDEO
Highlights of Game 5:
Holy shit..Seriously..Holy shit!
The title of this post is brought to you by Metallica "Phantom Lord":
This picture says it all about the Bruins' defence. Not that they suck because Lappy scored, but that there's 4 of the buggers collapsing in on Thomas! Yeesh: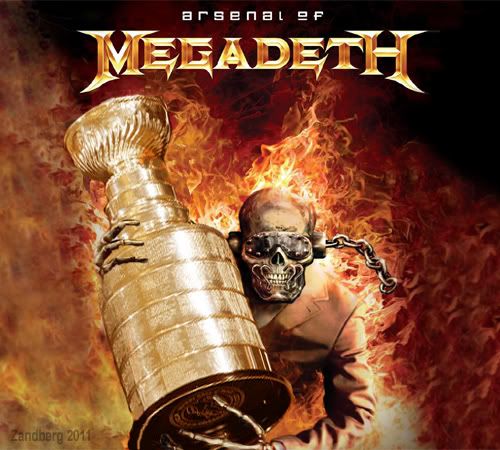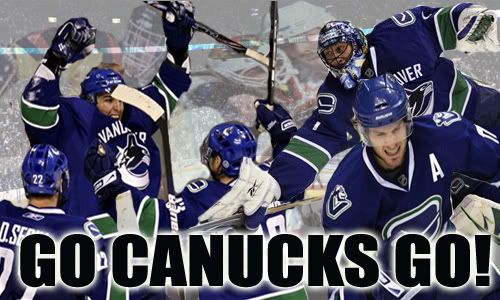 ONE MORE!