BRUINS


CANUCKS



AT




| | | |
| --- | --- | --- |
| Bruins | Category | Canucks |
| Won 1 | Streak | Won 2 |
| 5-3 | < Road Record / Home Record > | 7-3 |
| +13 | Goals For / Against +/- | +4 |
| 3.22 (5) | Goals Per Game | 2.78 (8) |
| 2.50 (3) | Goals Against Per Game | 2.56 (6) |
| 1.74 (1) | 5 On 5 GF/GA | 1.07 (5) |
| 8.2 (14) | Power Play % | 28.3 (3) |
| 79.4 (9) | Penalty Kill % | 80.6 (8) |
| 31.8 (7) | Shots Per Game | 31.2 (8) |
| 33.6 (12) | Shots Against Per Game | 31.6 (8) |
| 88.9 (2) | Winning % When Scoring First | 80.0 (T-3) |
| 6-2 | Record When Leading After 1 | 5-2 |
| 3-4 | Record When Trailing After 1 | 3-2 |
| 6-0 | Record When Leading After 2 | 8-1 |
| 445 (4) | Hits | 596 (1) |
| 262 (3) | Blocked Shots | 261 (4) |
| 52.3 (3) | Faceoffs % | 50.4 (6) |
| 11.9 (9) | PIM's Per Game Average | 15.2 (12) |
| NHL.com | | |
How long ago does it feel like when the Canucks ousted the Sharks from the playoffs? I feel like I have moved on with my life since then. Probably a self-defense mechanism so that the wait didn't drive me mad. Now, doing up this preview I can feel the excitement and anxiety building again. 17 years is a long wait. Now instead of a Cinderella Canucks team facing a stacked Rangers squad (1994) we have a top-seeded Canucks team with high expectations facing a Bruins team who many predict to lose this series.
Here's what I expect to see: A closer series than many think. Most of the games won by a single goal as this series resembles the Nashville series somewhat. A goaltending duo from hell. A bloody war.
What I don't want to see: Tim Thomas frustrating the Canucks offence. Raffi Torres "crossing the line" when demolishing guys. Clipping calls. Blow hard refs one game and whistle-in-the-pocket refs the next.
What I want to see: This series won by the Canucks as quickly as possible. Screw them winning on home ice. Just do it, without too many hindering casualties along the way. I want to see Thomas lit up like a straw hut. I want the Bruins power play to continue it's FAIL. I want the Canucks' special teams brilliance to carry over from the Sharks series. I want to see Manny Malhotra return and make a huge impact. I want a Stanley Cup win at all costs.
So much for keeping the anxiety at bay. I'm feeling the nerves now! Go Boys Go!!
Much more after the jump....
LINKS
-Manny Malhotra missed practice today and apparently saw an eye doctor. His status for Game 1 now seems unlikely. Or is it a smokescreen by management? (The Vancouver Sun) This now perhaps makes the image near the bottom of the post a little premature but whatevs. AV ran with a 4th line of Tambellini-Bolduc-Oreskovich at practice on Tuesday which I have absolutely no problem with because it excludes Tanner Glass. Oops did I say that out loud?
-Sami Salo draws inspiration from his late father (The Province)
-Canadian actress Cobie Smulders is stoked about the Canucks being in the Finals (L.A. Times)
-Cool, creative Canucks lawn (Kurtenbloggers)
-This is great: How the 2011 Canucks stack up against the 1994 Canucks (The Vancouver Sun)
-Watch out for Milan Lucic. The Vancouver native will have family and friends at the Rog watching him and he's pumped (TSN)
-Stanley Cup Of Chowder's Canucks-Bruins series preview.
-Mark Recchi's last stand (Boston Herald)
-Did you know that Nathan Horton is the first player in NHL history to score the winning goal in 2 Game 7's in the same postseason? The legend of Horton is growing in Boston. (Boston Herald)
-Potential line matchups for Game 1 (Boston.com)
-Dear Sports Writers From Across Canada...Screw You. An excellent rant from mfarough.
PROJECTED FORWARDS DRESSED
CANUCKS
Daniel Sedin-Henrik Sedin-Alexandre Burrows
Mason Raymond-Ryan Kesler-Christopher Higgins
Raffi Torres-Maxim Lapierre-Jannik Hansen
Jeff Tambellini-Alex Bolduc-Victor Oreskovich

BRUINS
Milan Lewcheech-David Kraychee-Nathan Hoe-tonne
Brad Marchand-Patrice Bergeron-Mark Recchi
Michael Ryder-Chris Kelly-Tyler Seguin
Daniel Paille-Gregory "I'll Tell My Daddy" Campbell-Rich "So They Packed Up All Their Bags And They Moved To" Peverley


STARTING GOALTENDERS
---
Roberto Luongo
6-3
217
Apr 04, 1979
Profile: Ass-kicker, critic-silencer (except for Ed Willies)
---
---
GP
MIN
W
L
EGA
GA
GAA
SA
SV
SV%
SO
2011 -

Roberto Luongo

18
1075
12
6
41
2.29
528
487
.922
2
---
---

Tim Thomas

5-11

201

Apr 15, 1974

Profile: Flopper, show-stopper, floor mopper

---

---

GP
MIN
W
L
EGA
GA
GAA
SA
SV
SV%
SO
2011 -

Tim Thomas

18
1124
12
6
43
2.29
603
560
.929
2

---



WHO IS HOT / COLD
CANUCKS
HOT
-Henrik Sedin: 2 goals and 14 assists in his last 8.
-Daniel Sedin: 4 assists in his last 2 games.
-Alexandre Burrows: 3 goals and 3 assists in his last 5.
-Ryan Kesler: 2 goals in his last 2 games.
-Kevin Bieksa: 4 goals and 1 assist in his last 5.
-Sami Salo: 2 goals and 1 assist in his last 2.
COLD
-Maxim Lapierre: 1 goal and no assists in his last 10.
-Tanner Glass: 0 points in his last 28.
-Victor Oreskovich: 0 points in his last 14.
-Jeff Tambellini: 0 points in his last 27 games.
-Cody Hodgson: 0 points in his last 10 games with very limited ice time.
BRUINS
HOT
-Nathan Horton: 2 goals and 2 assists in his last 3 games.
-David Krejci: 3 goals and 2 assists in his last 3.
-Milan Lucic: 1 goal and 2 assists in his last 3 games.
COLD
-
Zdeno Chara
: 1 assist in his last 8 games.
-Brad Marchand: 1 goal in his last 7.
-Mark Recchi: 1 assists in his last 9.
-Tyler Seguin: Kid exploded with 6 points in the first 2 games vs Tampa but has no points in his last 5.

INJURIES
CANUCKS
-F Mikael Samuelsson: surgery, out for playoffs.
-F Manny Malhotra: eye, day-to-day
BRUINS
-F Marc Savard: concussion, out for season
-F Trent Whitfield: achilles surgery. Sound familiar?
VIDEO
Highlights of the last time these teams met in February:
If you skipped the above clip, how about watching Torres smoke Kaberle?
One of the ugliest hockey incidents in recent NHL history happened in a Bruins-Canucks game:
Lai has some excellent guitar skills and wants to play the Canadian anthem at a Canucks game. First off, he needs a non-fail jersey and new pair of shades:
This is one of the best fan-made Bruins-Canucks series hype video that I could find and believe me, YOU NEED TO SEE IT. Gave me chills and made me weep openly:
This one's not to shabby:
The title of this post is brought to you by Metallica "Fight Fire With Fire":
"The Price is Wrong, Bitch!" (nice work, @darthchilli!)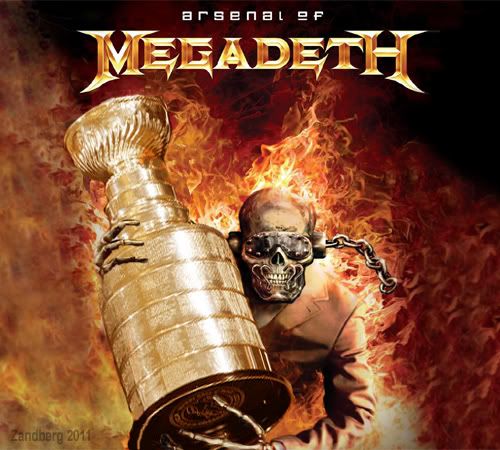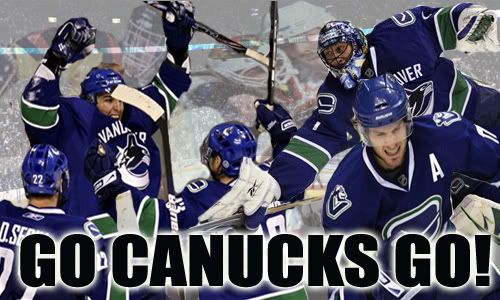 Are you ready?