SHARKS


CANUCKS



AT




| | | | |
| --- | --- | --- | --- |
| Time | Tues. 6:00 PM PST | TV | CBC, Versus, RDS |
|  Series | 3-1 Canucks | Last Meeting | 4-2 Canucks |
| The Enemy | Fear The Fin, Battle Of California | Scoring Leaders | H. Sedin: 2-17-19 Thornton: 3-14-17 |
| | | |
| --- | --- | --- |
| Sharks | Category | Canucks |
| Lost 1 | Streak | Won 1 |
| 4-4 | < Road Record / Home Record > | 6-3 |
| -6 | Goals For / Against +/- | +3 |
| 2.88 (7) | Goals Per Game | 2.76 (8) |
| 3.24 (12) | Goals Against Per Game | 2.59 (5) |
| 0.94 (9) | 5 On 5 GF/GA | 1.00 (7) |
| 18.8 (9) | Power Play % | 28.8 (3) |
| 76.0 (13) | Penalty Kill % | 80.9 (8) |
| 35.8 (3) | Shots Per Game | 31.1 (8) |
| 31.5 (8) |  Shots Against Per Game | 30.2 (4) |
| 63.6 (14) | Winning % When Scoring First | 77.8 (6) |
| 4-2 | Record When Leading After 1 | 4-2 |
| 2-3 | Record When Trailing After 1 | 3-2 |
| 5-2 | Record When Leading After 2 | 8-1 |
| 466 (2) | Hits | 566 (1) |
| 309 (1) | Blocked Shots | 232 (3) |
| 53.2 (1) | Faceoffs % | 50.6 (6) |
| 16.1 (15) | PIM's Per Game Average | 15.6 (13) |
| NHL.com | | |
Here we go again! The Canucks are in a position to finish off another team in the 2011 Playoffs. So far, against  Chicago and Nashville they have not been very successful at it. They were up 3-0 on the Hawks and 3-1 against the Preds. So they actually have a losing record in games which they can eliminate their opponent. Lesson learned? Maybe. Progressively speaking, it took them 4 games to close out the Hawks given the opportunity and 2 against the Predators. So if the trend (haha) continues this one should be over in Game 5. However, given the way this series is playing out, ANYTHING can happen, especially with all the damned penalties.
I've got Dany Heatley in the hot seat in the image above and rightfully so. No goals and 1 assist in his last 5 games. This guy is either being checked to hell, doesn't give a shit, playing through a nasty injury or a combo of some or all of the above. I really don't know. But his futility is killing the Sharks' chances. He's not even dangerous on the power play, which is his bread and butter. All I can say is that I hope he keeps up the lousy work.
Much focus will be on Joe Thornton, who is apparently not 100% after getting corked by Raffi Torres in Game 4.
If I'm the Canucks, I smack Jumbo Joe around any chance I get to test out/further damage this (I'm guessing) shoulder. Nothing wrong with Thornton's play against the Canucks and in these playoffs. But man oh man are there ever a lot of Sharks who have cooled off. See the hot/cold list below. It's time to turn off lights before they wake up. It's a testament to how great the Canucks have been playing. They shut down a (at the time) deep Preds lineup last series and the same is happening here. Love it.
For god's sakes, stop it with the barrage of penalties! The PK is cooking now but stop tempting fate. AV: If you put Glass out for the game's first shift again so help me..I will find you..Seriously though: WTF.
Come out balls to the wall, and draw penalties and score early in your home rink. Sink them. Drown them! Don't go back to San Jose. Please don't.
LINKS
-Yankee posted a heap of links to Canucks/Sharks news and more on Monday that you need to check out if you haven't already.
-Christian Ehrhoff is actually listed as day to day, according to Alain Vigneault. (TSN)
-Raffi the Wrecking Ball (Sportsnet)
-"When Joe Thornton comes to you and tells you he's playing, he's playing." -Todd McLellan on Monday (San Jose Mercury Times). Now we know who wears the pants in the family.
-A Fan Post about Dany Heatley at Fear The Fin. Makes you wonder.
-Jamie Baker, a former Shark and current Sharks analyst tweeted after Game 4: On the Sharks bird about to leave for Van. Mission is simple - Van fans love San Jose so much they want to come back for gm 6. #VANlovesSJ.
PROJECTED FORWARDS DRESSED
CANUCKS
Daniel Sedin-Henrik Sedin-Alexandre Burrows
Mason Raymond-Ryan Kesler-Christopher Higgins
Raffi Torres-Maxim Lapierre-Jannik Hansen
Tanner Glass-Alex Bolduc-Cody Hodgson

SHARKS
Patrick Marlohmygod-Joe Thornton-Devin Setoguchi
Ryane Clowe-Logan Couture-Dany Heatley
Torrey Mitchell-Joe "Donut" Pavelski-Sir Finebark of the Woodshire
Jamie "Cartwheels" McGinn-Jamal Mayers-Andrew Desjardins/Scott Nichol/Ben Ferriero


STARTING GOALTENDERS
---
Roberto Luongo
6-3
217
Apr 04, 1979
Profile: Ass-kicker, critic-silencer (except for Ed Willies)
---
---
GP
MIN
W
L
EGA
GA
GAA
SA
SV
SV%
SO
2010 -

Roberto Luongo

17
986
11
6
39
2.37
472
433
.917
2
---
---
Auntie Niemi
6-2
210
Aug 29, 1983
Profile: Has never lost a playoff series.
---
---
GP
MIN
W
L
EGA
GA
GAA
SA
SV
SV%
SO
2010 -

Antti Niemi

17
954
8
8
53
3.33
504
451
.895
0
---
WHO IS HOT / COLD
CANUCKS
HOT
-Henrik Sedin: 2 goals and 12 assists in his last 7.
-Alexandre Burrows: 2 goals and 2 assists in his last 4.
-Kevin Bieksa: 3 goals and 1 assist in his last 4.
-Dan Hamhuis: 1 goal and 3 assists in his last 3.
-Mason Raymond: 1 goal and 2 assists in his last 3.
-Sami Salo: 2 goals and 1 assist in Game 4. Congrats. Alive Undead!
COLD
-Alexander Edler: 1 assist in his last 5.
-Tanner Glass: 0 points in his last 27.
-Victor Oreskovich: 0 points in his last 13.
-Jeff Tambellini: 0 points in his last 27 games.
SHARKS
HOT
-Dan Boyle: 1 goal and 3 assists in his last 4 games.
-Patrick Marleau: 5 goals and 2 assists  in his last 5 games. So much for gutless.
-Joe Thornton: 1 goal and 6 assists in his last 5.
-Ryane Clowe: 2 goals in his last 2.
COLD
-Joe Pavelski: 1 goal and 2 assists in his last 10 games.
-Dany Heatley: 1 assist in his last 5 games.
-Devin Setoguchi: 1 assist in this series.

-Torrey Mitchell: 1 assist in his last 11.
-Scott Nichol: 4th line center has no points in his last 28. Benched last 2 games.

-
Kyle Wellwood
: 0 points in his last 6.
-Jamal Mayers: 0 points in his last 16.

INJURIES
CANUCKS
-F Manny Malhotra: eye, out for playoffs
-F Mikael Samuelsson: surgery, out for playoffs.
-D Christian Ehrhoff: shoulder, day-to-day
-D Aaron Rome: concussion
SHARKS
-D Jason Demers: day to day. Did not practice Saturday. Doubtful for Game 4.
VIDEO
Lots of highlights from Game 4:
A little trip down memory lane:
I want Sharks fans doing THIS after Game 5 (you gotta see this):
The title of this post is brought to you by Metallica "Disposable Heroes":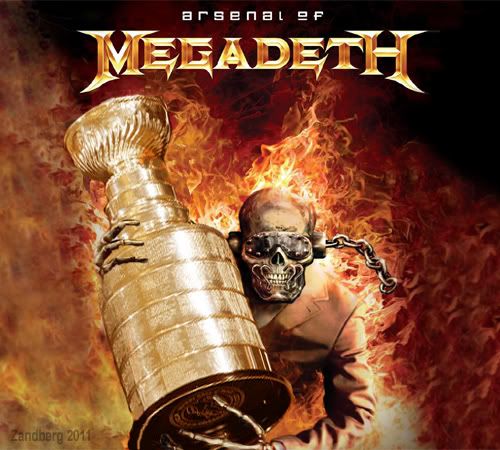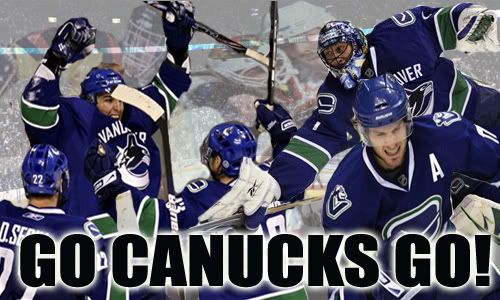 FINISH THEM!!