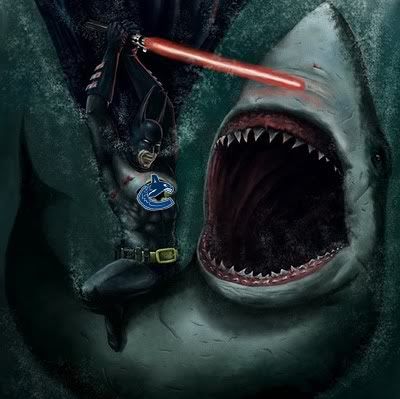 Image provided by a Ducks fan who goes by the handle cmatthew35. Too awesome not to post!
Good God. What a disastrously reffed game. Or was it? First off, here is the penalty summary: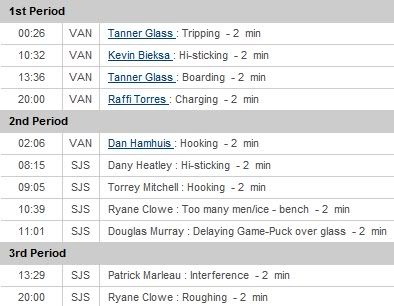 I've had to let some time pass in order to get over my anger on the matter. Now, after analyzing the first 5 Canucks penalties of the game, I can begin to understand. (In order) Tanner Glass' tripping call at the start of the game was the result of him losing his footing and then position on the Sharks player. He puts his stick in the player's feet and down the guy goes. Tripping. Kevin Bieksa caught Joe Thornton with a high stick. Joe embellished it but really the contact was made. Glass' boarding call was boarding. He rammed the guys head into the boards while he was on his knees. I DON'T LIKE the charging call on Raffi Torres when he smoked Douglas Murray. 2:00 for skating too fast on Raffi I guess. Let's take huge hits out of the game, shall we? Geez. Dan Hamhuis' hooking call was a direct result of he and his defensive partner getting blown away by Patrick Marleau's speed. Marleau flies between them and Hammer puts his stick into him to slow him up. Marleau seemingly embellished that play but really, this is what happens when players embellish. The refs have to be acting judges now too?
Honestly, I thought the Canucks were on their heels to start because of their lack of discipline. I didn't see the Sharks playing undisciplined at all in the first period. No, that happened when the Canucks killed the 5 consecutive penalties against and then got their legs under them. You could see the tide turn as all of a sudden the Sharks were on their heels. Bang bang bang the Sharks take 4 penalties between the 8:15 and 11:01 mark of the 2nd period and the Canucks make history by scoring 3 consecutive 5-on-3 goals in the span of 1:55.
I think that the refs could have put their whistles away on some of these calls and just let them play. That's the problem with all these stupid obstruction calls nowadays though. It opens up for this crap to happen and honestly, the players wanted these obstruction calls to exist in the first place.
Anyways, good thing Alexandre Burrows scored the 4-0 goal early in the 3rd period because the Canucks sat back after that and the Sharks bagged 2 in the end. No matter.
Henrik Sedin

is the first Canuck ever to tally 4 assists in a playoff game. He now leads the League in playoff scoring with 2 goals and 19 points. He has a long way to go to catch the NHL record for assists in one playoff year, which is 31 in 19 games held by Wayne Gretzky in 1988. Hell, Gretz had 14 assists in one playoff series in 1985. Oh well, keep it up, Hank!

Keith Ballard

played 10:34, including (only) 1:06 on the PK. I thought he looked pretty good. The best part? When he demolishes

Jamie McGinn

:
Whammo!!! Hey! Whatever happened to the "clipping" call, refs? Another inconsistency in officiating. Oh well, couldn't happen to a bigger anus on the Sharks squad.
The Sharks outshot the Canucks 35 to (effing) 13! In all that Luongo was solid but not stellar. That's how good the Canucks played in front of him for most of the game.

Sami Salo's 2 PP goals were awesome. There you have it..

Christian Ehrhoff

goes down to injury and Salo steps up to the plate and scores his first goal in 9 games. 2 cannons! (TWHS)
Torres was not to be silenced after his charging penalty. He remained a dominant physical force, bowling over 2 Sharks players in the corner and rocking Joe Thornton:
Thornton did not return and his status is uncertain. Looked like a shoulder injury, but we'll see. He was probably embellishing. Heheh.
The key words for the Canucks are resilient and opportunistic. And that they are. They look like penalty killing fiends now after all that practice in Game 3. The Sharks cannot stop their PP. Hell, the Canucks were even attacking the Sharks while down a man in this game. (The Mason Raymond golden SH chance early comes to mind). This one is a tough pill to swallow for San Jose in that regard. They just got schooled in the special teams department in a huge way. 
HIGHLIGHTS: