HAWKS


CANUCKS



AT




| | | | |
| --- | --- | --- | --- |
| Time | Thurs. 7:00 PM PST | TV | CBC, RDS |
|  Series | 3-1 Canucks | Last Meeting | 7-2 Hawks (sob) |
| The Enemy | Second City Hockey | Scoring Leaders | D. Sedin: 3-2-5 Bolland: 1-3-4 |
| | | |
| --- | --- | --- |
| Hawks | Category | Canucks |
| Won 1 | Streak | Lost 1 |
| 0-2 | < Road Record / Home Record > | 2-0 |
| -1 | Goals For / Against +/- | +1 |
| 3.0 (6) | Goals Per Game | 2.75 (8) |
| 2.75 (9) | Goals Against Per Game | 3.0 (12) |
| 1.14 (7) | 5 On 5 GF/GA | 0.88 (10) |
| 21.0 (9) | Power Play % | 40.0 (1) |
| 60.0 (16) | Penalty Kill % | 79.0 (8) |
| 31.2 (6) | Shots Per Game | 27.2 (12) |
| 27.2 (5) |  Shots Against Per Game | 31.2 (11) |
| 50 | Winning % When Scoring First | 100 |
| 0 | Winning % When Leading After 1 | 100 |
| 0 | Winning % When Trailing After 1 | 100 |
| 100 | Winning % When Leading After 2 | 100 |
| 143 (2) | Hits | 163 (1) |
| 48 (8) | Blocked Shots | 37 (15) |
| 45.8 (13) | Faceoffs % | 47.1 (13) |
| 12.8 (9) | PIM's Per Game Average | 21.8 (15) |
| NHL.com | | |
I would be less angry if the Canucks actually put up a solid effort in a loss in Game 4 but they threw it away. It could come back to haunt them. Yeah yeah not many teams come back from a 3-0 series deficit but that doesn't rule the possibility. With Brent Seabrook out the Canucks pissed away an opportunity. In losing by the huge margin of 7-2 they not only embarrassed themselves, they also allowed Dave Bolland to get red hot in his first game back. Frolik got the monkey off his back. Patrick Sharp is heating up. Brent Seabrook may play in Game 5. The momentum may now have shifted. And to think that Kane, Toews and Hossa aren't even scoring yet (but Kane and Toews are getting assists). This just gives them another opportunity to get going. Pathetic.
The Canucks have to come out crashing and banging and take control of this game early. As you can see above, the team with leads after the 1st and 2nd periods have won every game. They can't be giving Chicago all these golden chances from prime scoring areas. A lot of that had to do with them not hustling and playing like they were half dead. This series should not go back to Chicago for Game 6 and Vancouver had better do it's damndest to make sure that does not happen. The players say they have moved on from Game 4. Prove it.
Luongo is ready to go at 'em again
. How about every other swinging dick in front of him?
They need to revert back to what worked earlier. And the first thing that comes to my mind is to play physical. I want to see guys run over like a freight train hit them. And the Hawks can try to scrum afterwards and the Canucks should skate away. Composure. By the way, how about the Canucks power play? 40% win! That is just sick. Another shocker is the blocked shots by the Canucks. Lowest of any team in the playoffs. The Ranger's Dan Girardi may have more blocked shots by himself than the whole Canucks team! I guess the chances for that aren't there so much. The Hawks like to work it down low and are damned quick at it. Plus, Lou is seeing the shots anyway.
Burrows and Raymond, where have you gone? Especially Alex! I know he's playing well defensively but when you play on the top line you need to score more than 1 goal and 1 assist in your last 7 games. Raymond has 1 assist in his last 5 games. These guys gotta step up.
LINKS
-The Hawks fans-Canucks management joust (The Province)
-Mike Gillis a finalist for the top NHL GM award (Vancouver Sun)
-Duncan Keith shows his leadership in Game 4 (Bob McKenzie-TSN)
PROJECTED FORWARD LINES
CANUCKS
Daniel Sedin-Henrik Sedin-Alex Burrows
Chris Higgins-Ryan Kesler-Mikael Samuelsson
Raffi Torres-Mason Raymond-Jannik Hansen
Tanner Glass-Maxim Lapierre-Victor Oreskovich
BLACKHAWKS
Patrick Sharp-Jonathan Toews-Mary Hossa
Michael Frolik-Dave Bolland-Patrick Kane
Viktor Stalberg-Bryan Bickell-Ben Smith
Troy Brouwer-Marcus Kruger- Fernando Pisani
STARTING GOALTENDERS
---
Roberto Luongo
6-3
217
Apr 04, 1979
Profile: Ass-kicker, destroyer of dreams, Hawk-hater
---
---
GP
MIN
W
L
EGA
GA
GAA
SA
SV
SV%
SO
2010 -

Roberto Luongo

4
224
3
1
11
2.95
118
107
.907
1
---
---
Corey Crawford
6-2
200
Dec 31, 1984
Profile: Playoff virgin, virgin,  fear of Orcas
---
---
GP
MIN
W
L
EGA
GA
GAA
SA
SV
SV%
SO
2010 -

Corey Crawford

4
234
1
3
11
2.82
109
98
.899
0
---
WHO IS HOT / COLD
CANUCKS
HOT
-Daniel Sedin:  4 goals and 6 assists in his last 6 games
-Henrik Sedin: 4 assists in his last 3 games.
-Ryan Kesler: 4 goals and 3 assists in his last 6.
-Christian Ehrhoff: 1 goal and 3 assists in his last 3.
-Alex Edler: 1 goal and 2 assists in his last 3.
COLD
-Alex Burrows: 1 goal and 1 assist in his last 7. Get your shit together, Burr.
-Maxim Lapierre: 1 goal in his last 29.
-Mason Raymond: 1 assist in his last 5. It's time, MayRay.
-Tanner Glass: 0 points in his last 16 dating back to February 24.
-Jeff Tambellini: 0 points in his last 25. Go away. GONE

BLACKHAWKS
HOT
-Patrick Kane: 7 assists in his last 6 games.
-Bryan Bickell: 2 goals and 1 assist in his last 3.
-Dave Bolland: 1 goal and 3 assists in Game 4. God help us.
-Michael Frolik: 1 goal and 2 assists in Game 4.
-Duncan Keith: 2 goals in his last 2 games.
-Patrick Sharp: 3 goals in his last 2 games.
-Jonathan Toews: 3 assists in his last 2 games.
COLD
-Marriane Hossa: 1 assist in this series. Keep it that way.

-
Jake Dowell
: 1 assist in his last 17
INJURIES
CANUCKS
-F Manny Malhotra: eye, out for playoffs
BLACKHAWKS
-D Jordan Hendry: left knee surgery
-F Tomas Kopecky: upper body, (doubtful for Game 5)
-D Brent Seabrook: Has Raffi on the brain (possible for Game 5)
VIDEO
I'll let Red Foreman describe how I feel about the Canucks:
I thought I saw a Canuck player take the game puck away from Chicago at the end of Game 4:
The title of this post comes from a Faith No More song called "RV". It's comedic, check it out: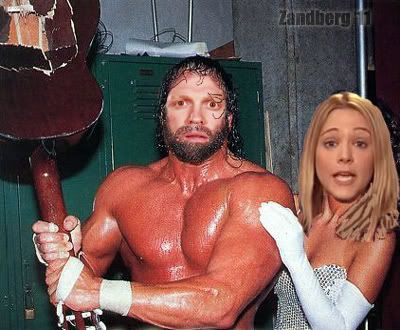 "Raffi Madness runnin' wild! Ooooo yeeaaahhh!"