CANUCKS


CHICKENHAWKS



AT




Time
Tues. 5:00 PM PST

TV
CBC, RDS

 Series
3-0 Canucks

Last Meeting

3-2 Canucks
The Enemy
Second City Hockey
Scoring Leaders

D. Sedin: 3-2-5

Ben Smith

: 2-0-2

| | | |
| --- | --- | --- |
| Canucks | Category |   Hawks |
| Won 3 | Streak | Lost 3 |
| 1-0 | < Road Record / Home Record > | 0-1 |
| +4 | Goals For / Against +/- | -4 |
| 3.0 (4) | Goals Per Game | 1.67 (13) |
| 1.67 (4) | Goals Against Per Game | 3.0 (13) |
| 2.33 (4) | 5 On 5 GF/GA | 0.43 (13) |
| 33.3 (2) | Power Play % | 16.7 (10) |
| 83.3 (7) | Penalty Kill % | 66.7 (13) |
| 28.7 (10) | Shots Per Game | 30.0 (8) |
| 30.0 (9) |  Shots Against Per Game | 28.7 (7) |
| 100 | Winning % When Scoring First | 0 |
| 100 | Winning % When Leading After 1 | 0 |
| 100 | Winning % When Trailing After 1 | 0 |
| 100 | Winning % When Leading After 2 | 0 |
| 130 (1) | Hits | 99 (4) |
| 30 (12) | Blocked Shots | 37 (8) |
| 45.8 (13) | Faceoffs % | 54.2 (4) |
| 8.7 (4) | PIM's Per Game Average | 4.7 (1) |
| NHL.com | | |
There is a good chance that Chicago could get both Bryan Bickell and Dave Bolland back for Game 4. The checker Bolland scored 15 goals and 37 points plus was a +11 in 61 games this season. He scored 2 points in the 4 games against the Canucks this season. He had the daunting task of shutting down the Sedins in last year's playoffs and this season. In 6 games against the Hawks last playoffs Daniel Sedin scored 1 goal and 4 points and Henrik scored 2 goals and 6 points. Bolland got under their skin then but it's a little late to do that now with the Hawks down 3-0.
He will give Chicago some needed punch at center, perhaps on the scoresheet, on the PK....bah screw it. The Canucks need to finish off the Hawks in 4. Make them go away. Kill them in their own barn. How satisfying would that be? It's time to squash their season before key parts of their offense (all of them) wake up from their collective slumbers.
Jonathan Toews was right about the Canucks in his interview today: The Canucks are a creative bunch but tend to open up too much defensively in the process, giving the Hawks some golden chances. Chances that Roberto Luongo is stopping mostly. Lou again is key for Game 4, but I'd like to see them tidy up on D.
How about not tempting fate and taking so many penalties again, Vancouver? Jeez. They offered up 7 power play opportunities for Chicago in Game 3 while the Hawks only gave us 2. The Hawks went 2-7 and the Canucks 1-2. Thanks Lou. Thank you Christian Ehrhoff for the PP goal.  Everything is going right for the Canucks. Samuelsson returns from illness and bags the winner in Game 3.
Key 3 is to stay physical. What a murderous series. I never knew the Canucks were so damned mean. They lead the NHL in hits in these playoffs as you can see in the chart above. Kind of shocking is the lack of blocked shots and the hugely decreased faceoff winning percentage from Vancouver that we saw in the regular season. Faceoffs can be overrated anyway. I've always said that. Especially when your goaltender is the second coming of Christ.
LINKS
-Hawks optimistic that both Bryan Bickell and Dave Bolland will play in Game 4. (Tribune)
-The Hawks look to draw from history in order to come back from a 3-0 series deficit. I think they should draw the credit cards out of their wallets and hit the nicest nearby gold course while they are still in the Central Time Zone.
-No I will not pass along any Raffi Torres links because I'm sick of the whole thing.
PROJECTED FORWARD LINES
CANUCKS
Daniel Sedin-Henrik Sedin-Alex Burrows
Chris Higgins-Ryan Kesler-Mikael Samuelsson
Raffi Torres-Mason Raymond-Jannik Hansen
Tanner Glass-Maxim Lapierre-Victor Oreskovich
BLACKHAWKS
Patrick Sharp-Jonathan Toews-Mary Hossa
Ben Smith-Michael Frolik-Patrick Kane
Viktor Stalberg-Dave Bolland-Bryan Bickell
Troy Brouwer-Marcus Kruger- Fernando Pisani
STARTING GOALTENDERS
---
Roberto Luongo
6-3
217
Apr 04, 1979
Profile: Ass-kicker, destroyer of dreams, Hawk-hater
---
---
GP
MIN
W
L
EGA
GA
GAA
SA
SV
SV%
SO
2010 -

Roberto Luongo

3
180
3
0
5
1.67
90
85
.944
1
---
---
Corey Crawford
6-2
200
Dec 31, 1984
Profile: Playoff virgin, virgin,  fear of Orcas
---
---
GP
MIN
W
L
EGA
GA
GAA
SA
SV
SV%
SO
2010 -

Corey Crawford

3
174:58
0
3
9
3.09
86
77
.895
0
---
WHO IS HOT / COLD
CANUCKS
HOT
-Daniel Sedin:  3 goals and 6 assists in his last 5 games
-Henrik Sedin: 4 assists in his last 2 games.
-Ryan Kesler: 4 goals and 2 assist in his last 5.
-Jannik Hansen: 2 goals and 2 assists in his last 5. Impressive for Beaker.
COLD
-Alex Burrows: 1 goal and 1 assist in his last 6. 1 assist in this series. Get your shit together, Burr.
-Maxim Lapierre: 1 goal in his last 28.
-Sami Salo: 1 assist in his last 15 games
-Mason Raymond: 0 points in his last 4. It's time, MayRay.
-Tanner Glass: 0 points in his last 15 dating back to February 24.
-Jeff Tambellini: 0 points in his last 25. Go away. GONE

BLACKHAWKS
HOT
-Patrick Kane: 5 assists in his last 5 games.
COLD
-Marriane Hossa: 0 points in his last 3 games. Keep it that way.

-
Bryan Bickell
: 1 goal and 1 assist in his last 16 games
-Jake Dowell: 1 assist in his last 17
-Chris Campoli: 1 assist in his last 7.
INJURIES
CANUCKS
-F Manny Malhotra: eye, out for playoffs
BLACKHAWKS
-D Jordan Hendry: left knee surgery
-F David Bolland: concussion (probable for Game 4)
-F Tomas Kopecky: upper body, (doubtful for Game 4)
-F Bryan Bickell: wrist, (probable for Game 4)
VIDEO
Highlights from Game 3:
Remember Dave Bolland?
Faith No More: Surprise! You're Dead!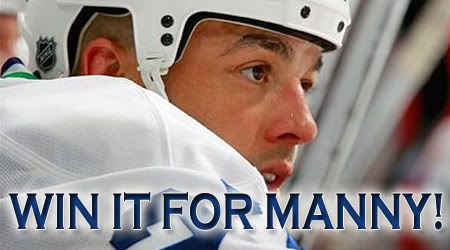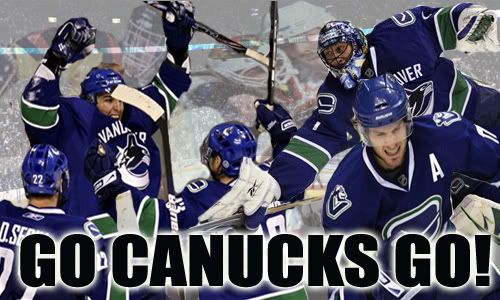 The latest Blackhawks logo featuring Vince Vaughn.