CANUCKS


CHICKENHAWKS



AT




Time
Sun. 5:00 PM PST

TV
CBC, RDS

 Series
2-0 Canucks

Last Meeting

4-3 Canucks
The Enemy
Second City Hockey
Scoring Leaders

D. Sedin: 2-1-3

Ben Smith

: 2-0-2

| | | |
| --- | --- | --- |
| Canucks | Category |   Hawks |
| Won 2 | Streak | Lost 2 |
| 2-0 | < Road Record / Home Record > | 0-0 |
| +3 | Goals For / Against +/- | -3 |
| 3.0 (3) | Goals Per Game | 1.5 (12) |
| 1.5 (5) | Goals Against Per Game | 3.0 (14) |
| 1.67 (5) | 5 On 5 GF/GA | 0.60 (8) |
| 25.0 (6) | Power Play % | 0 |
| 100 | Penalty Kill % | 75.0 (11) |
| 30.0 (9) | Shots Per Game | 29.0 (10) |
| 29.0 (7) |  Shots Against Per Game | 30.0 (8) |
| 100 | Winning % When Scoring First | 0 |
| 100 | Winning % When Leading After 1 | 0 |
| 0 | Winning % When Trailing After 1 | 0 |
| 100 | Winning % When Leading After 2 | 0 |
| 92 (1) | Hits | 61 (8) |
| 21 (11) | Blocked Shots | 30 (7) |
| 46.3 (15) | Faceoffs % | 53.7 (3) |
| 6.0 | PIM's Per Game Average | 6.0 |
| NHL.com | | |
The Canucks will have to play better in Game 3 than they did in Game 2 in order to take a stranglehold on the series. (Isn't it exciting that we are already talking stranglehold possibility?) While the forwards did an excellent job continually pushing after the Hawks would make it a 1-goal game and getting their 2 goal leads back in the face of adversity there were bad habits from Luongo and the defence in front of him that are unacceptable.
The Canucks now enter the Mad House on Madison where the Hawks are going to push even harder to avoid a 3-0 series deficit. When are their top players going to get on the scoresheet? 1 assist combined from Toews, Hossa, Kane, Sharp in this series is shocking. The Canucks would like to keep it that way. No need to get those guys rolling. The checking on those guys has been superb. They are getting smothered and smoked in this series. However, we now know who Ben Smith is.
The Canucks were the top NHL team at home AND on the road this season. Let's see if they can become road warriors in the playoffs.
The refs are really letting these 2 teams play. I am shocked at how few penalties have been called. Then I watch any other series and it's the opposite. Of course, the last thing I want to see here is a bunch of penalties. The 5 on 5 battle is most excellent.
LINKS
FORWARD LINES
CANUCKS
Daniel Sedin-Henrik Sedin-Alex Burrows
Chris Higgins-Ryan Kesler-Mikael Samuelsson
Raffi Torres-Mason Raymond-Jannik Hansen
Tanner Glass-Maxim Lapierre-Victor Oreskovich
BLACKHAWKS
Patrick Sharp-Jonathan Toews-Mary Hossa
Ben Smith-Michael Frolik-Patrick Kane
Viktor Stalberg-Jake Dowell-Troy Brouwer
John Scott-Balls-Tomas Kopecky(?) Fernando Pisani
STARTING GOALTENDERS
---
Roberto Luongo
6-3
217
Apr 04, 1979
Profile: Ass-kicker, destroyer of dreams, Hawk-hater
---
---
GP
MIN
W
L
EGA
GA
GAA
SA
SV
SV%
SO
2010 -

Roberto Luongo

2
120
2
0
3
1.50
58
55
.948
1
---
---
Corey Crawford
6-2
200
Dec 31, 1984
Profile: Playoff virgin, virgin,  fear of Orcas
---
---
GP
MIN
W
L
EGA
GA
GAA
SA
SV
SV%
SO
2010 -

Corey Crawford

2
116.3
0
2
6
3.08
60
54
.900
0
---
WHO IS HOT / COLD
CANUCKS
HOT
-Daniel Sedin:  2 goals and 5 assists in his last 4 games
-Ryan Kesler: 4 goals and 2 assist in his last 4
-Jannik Hansen: 2 goals and 2 assists in his last 4. A hero emerges!
COLD
-Maxim Lapierre: 1 goal in his last 27.
-Sami Salo: 1 assist in his last 15 games
-Mason Raymond: 0 points in his last 3.
-Jeff Tambellini: 0 points in his last 25. Go away. GONE

BLACKHAWKS
HOT
-Patrick Kane: 4 assists in his last 4 games.
-Ben Smith: 2 goals in game 2.
COLD
-
Bryan Bickell
: 1 goal and 1 assist in his last 16 games
-Jake Dowell: 1 assist in his last 16
-Tomas Kopecky: 1 goal in his last 10.
-Johnathan Toews: 1 goal in his last 9. It's still just a matter of time..right?
-Chris Campoli: 1 assist in his last 7.
INJURIES
CANUCKS
-F Manny Malhotra: eye, out for playoffs
-F Mikael Samuelsson: illness (questionable for Game 3). I hope it's not actually his hip flexor problem
BLACKHAWKS
-D Jordan Hendry: left knee surgery
-F David Bolland: concussion (Still feeling effects=not good news for ChiTown-doubtful for Game 3)
-F Tomas Kopecky: upper body, (doubtful for Game 3)
-F Bryan Bickell: wrist, to be evaluated Sunday
VIDEO
Highlights from Game 2
The Alex Edler hit on Kane has not found it's way onto YouTube but if you watch the beginning of this clip:
BAWANGO!! Is that the first time a Canuck has destroyed him lack that? Lovely. Kane was timid for quite a while afterwards. Any time he sees Edler coming now you know he'll cower.
your day has finally come -
so wear the hat and do the dance
and let the suit keep wearing you.

this year you'll sit and take it
And you will like it -
It's the gentle art of making enemies

FAITH NO MORE- Gentle Art Of Making Enemies: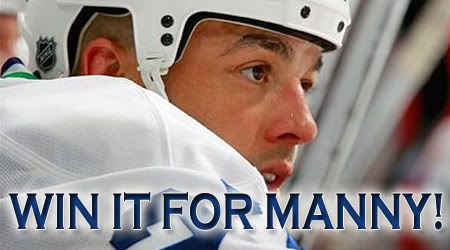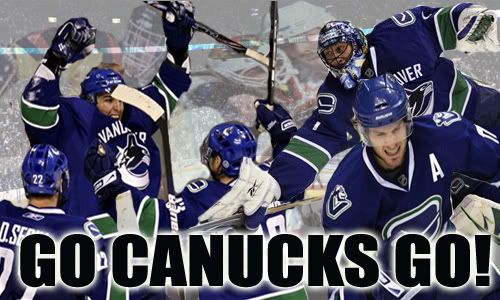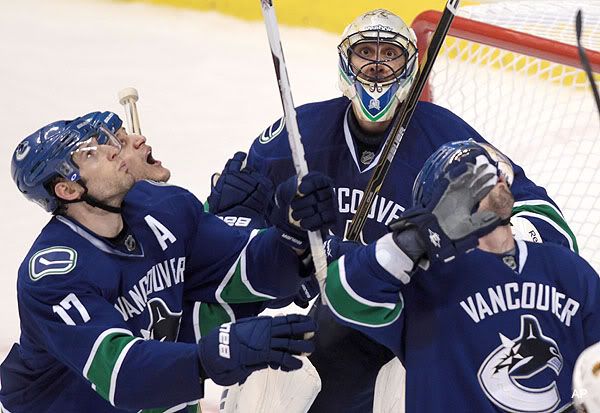 Canucks watch intently as Chicago's playoff hopes go up in smoke. Just kidding, it's only 2 games in. But here's hoping!