CAWKS


CANUCKS



AT




Time
Fri. 7:00 PM PST

TV
CBC, RDS

 Series
1-0 Canucks

Last Meeting

2-0 Canucks
The Enemy
Second City Hockey
Scoring Leaders

5 Players Tied:1 point

Toews & All His Bros: 0 points

| | | |
| --- | --- | --- |
| Hawks | Category |   Canucks |
| Lost 1 | Streak | Won 1 |
| 0-1 | < Road Record / Home Record > | 1-0 |
| -2 | Goals For / Against +/- | +2 |
| 0 | Goals Per Game | 2.0 (5) |
| 2.0 (12) | Goals Against Per Game | 0 |
| 0 | 5 On 5 GF/GA | 0 |
| 0 | Power Play % | 0 |
| 100 | Penalty Kill % | 100 |
| 32.0 (5) | Shots Per Game | 33.0 (3) |
| 33 |  Shots Against Per Game | 32 |
| 0 | Winning % When Scoring First | 100 |
| 0 | Winning % When Leading After 1 | 100 |
| 0 | Winning % When Trailing After 1 | 0 |
| 0 | Winning % When Leading After 2 | 100 |
| 21 (10) | Hits | 47 (1) |
| 18 (5) | Blocked Shots | 11 (9) |
| 51.7 (5) | Faceoffs % | 48.3 (6) |
| 6.0 (10) | PIM's Per Game Average | 8.0 (11)  |
| NHL.com | | |
The stats above are obviously strange-looking so be patient as the playoffs go along to get the increased sample size. Or in most of the Hawks' case, increased testicle size. Chicago got beaten down in game 1 but I expect a push back in Game 2. I saw frustration on their bench, especially from Captain Toews, shaking his head in disbelief or disgust or both. The Hawks' lack of depth was apparent. The skill is there, but is the tenacity and gel beyond line 1? We'll soon find out. The Canucks
need the same start to the game as Game 1. What a treat that was to watch. Crashing, banging, scoring, dominating. It's a tall order to repeat that but it is possible. Don't even let these f*ckers breathe. And there are still other demons to exorcise beyond the obvious one: Eliminating Chicago. The Canucks have won the first game in all 3 series against the Hawks.
Roberto Luongo looks like a man possessed to stab the demons in the heart. He has FU Chicago in his eyes and in his play. Confidence oozing.  Let's see how long he can keep this little shutout streak going. The longer he does this the more frustrated Chicago will get.
The Sedins need to get on the scoresheet soon, and that would really be appreciated on the power play where they went 0-for-2 in Game 1. Chicago was 0-for-3.  Wow, how long will the refs keep their whistles in their pockets? I thought they let a lot go AND the players played between the lines. I prefer this over a penaltyfest.
Looking for the Raymond-Hodgson-Hansen line to click even more. Liked what I saw in game 1 and it looks like AV made the right call there. Hodgson isn't getting any PP or PK time so it will have to be 5 on 5. Maybe we should call the Oreskovich-Lapierre-Glass line the Mafia Line. They are murdering everybody.
LINKS
FORWARD LINES
CANUCKS
Daniel Sedin-Henrik Sedin-Alex Burrows
Chris Higgins-Ryan Kesler-Mikael Samuelsson
Mason Raymond-Cody Hodgson-Jannik Hansen
Tanner Glass-Maxim Lapierre-Victor Oreskovich
BLACKHAWKS
Patrick Sharp-Jonathan Toews-Mary Hossa
Ben Smith-Michael Frolik-Patrick Kane
Bryan Bickell-Jake Dowell-Troy Brouwer
Viktor Stalberg-Balls-Tomas Kopecky(?) Fernando Pisani (?)
STARTING GOALTENDERS
---
Roberto Luongo
6-3
217
Apr 04, 1979
Profile: Ass-kicker, destroyer of dreams, Hawk-hater
---
---
GP
MIN
W
L
EGA
GA
GAA
SA
SV
SV%
SO
2010 -

Roberto Luongo

1
60
1
0
0
0.00
32
32
1.00
1
---
---
Corey Crawford
6-2
200
Dec 31, 1984
Profile: Playoff virgin, virgin, goalie pad cheater, fear of Orcas
---
---
GP
MIN
W
L
EGA
GA
GAA
SA
SV
SV%
SO
2010 -

Corey Crawford

1
58
0
1
2
2.07
33
31
.939
0
---
WHO IS HOT / COLD
CANUCKS
HOT
-Daniel Sedin: 4 assists in his last 3 games
-Ryan Kesler: 4 goals and 1 assist in his last 3
COLD
-Maxim Lapierre: 1 goal in his last 26.
-Sami Salo: 1 assist in his last 14 games
-Jeff Tambellini: 0 points in his last 25. Go away. GONE

BLACKHAWKS
HOT
-Marian Hossa: 2 goals and 2 assists in his last 4 games.
-Brent Seabrook: 2 goals and 3 assists in his last 5.
COLD
-Bryan Bickell: 1 goal in his last 15 games
-Jake Dowell: 1 assist in his last 16
-Tomas Kopecky: 1 goal in his last 10.
-Viktor Stalberg: 1 assist in his last 9.
-Johnathan Toews: 1 goal in his last 8. It's still just a matter of time.
INJURIES
CANUCKS
-F Manny Malhotra: eye, out for playoffs
-F Raffi Torres: out games 1 and 2, suspension
-D Andrew Alberts: broken wrist, day-to-day healthy scratch

BLACKHAWKS
-D Jordan Hendry: left knee surgery
-F David Bolland: concussion (Practiced Tuesday, still feeling effects=not good news for ChiTown)
-F Tomas Kopecky: upper body, (may not play in game 2)
VIDEO
A compilation of all the shots off the post in game 1:
I can watch Jannik Hansen's goal all day:
Complete Highlights From Game 1:
Faith No more: Epic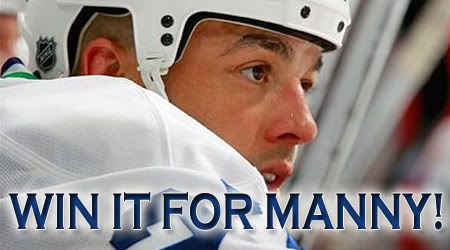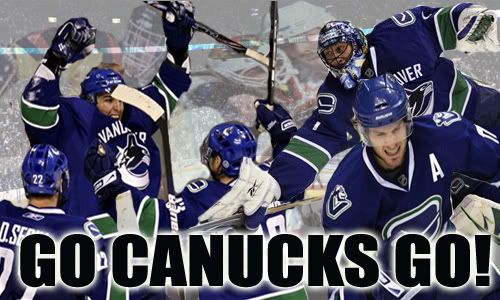 Bitch Slap