DUCKS




CANUCKS



AT




| | | |
| --- | --- | --- |
| Ducks | Category |   Canucks     |
| 29-21-4 | Season Record | 35-10-9 |
| 7th | Conference Position | 1st |
| Won 1 | Streak | Won 6 |
| 12-13-3 | < Road Record / Home Record > | 19-3-5 |
| 7-3-0 | Last 10 | 6-1-3 |
| -4 | Goals For / Against +/- | +56 |
| 2.63 (22) | Goals Per Game | 3.35 (2) |
| 2.74 (13) | Goals Against Per Game | 2.26 (3) |
| 0.86 (25) | 5 On 5 GF/GA | 1.37 (3) |
| 24.0 (3) | Power Play % | 24.2 (2) |
| 81.3 (19) | Penalty Kill % | 85.6 (4) |
| 28.2 (27) | Shots Per Game | 32.4 (7) |
| 34.1 (29) |  Shots Against Per Game | 30.6 (19)  |
| 80.6 (6) | Winning % When Scoring First | 80.6 (5) |
| 93.8 (2) | Winning % When Leading After 1 | 92.3 (3)  |
| 90.9 (12) | Winning % When Leading After 2 | 89.7 (15)  |
| 47.9 (26) | Faceoffs % | 55.4 (1) |
| 15.0 (26) | PIM's Per Game Average | 11.9 (12)  |
| NHL.com | | |
Now here is another one of those teams that give the Canucks fits. If there is a tilt where the most unexpected happens, especially on the scoreboard, it's a Van-Ana game. The teams have each won 3 games in their last 6 meetings head-to-head. The scores? 7-2 Ducks, 3-2 Ducks, 4-1 Canucks, 5-4 Canucks (SO), 4-3 Ducks, 5-4 Canucks (SO). All over the place. No shortage of goals. Blown leads. Cursed Selanne. Nail-biting shootouts. Always physical. Always entertaining. Corey Perry is always a pest and annoying as a Subway commercial. And Ryan Getzlaf, who has 1 goal and 4 assists in the 2 games against the Canucks this season, makes his long-awaited return to the Ducks' lineup. He has been out with a messed up face since December 28. The Ducks sucked it up and went 10-4 in his absence. Well done, Quacks.
A look at the stats above shows the Ducks have a mediocre road record. Not in their last 5. They are 4-1. See their 5 on 5 rating? See the power play ranking/efficiency? There's your potential game story. The Canucks are not going to get away with taking a lot of penalties. Sure, our PK is solid but I don't care. The Ducks are deadly a man up and they have a tendency of feasting on us on the PP. I also am intrigued by both teams' rankings when scoring first and leading after 1 period.
LINKS
-The Ducks signed Ray Emery and then sent him to Syracuse on a conditioning stint. They also put Aaron Voros on waivers. (TSN)
-Ducks place Jonas Hiller (fatigue, lightheadedness) on the IR. This guy will be backing up Curtis McElhinney against the Canucks. (Ducks.com)
-Vigneault on Chris Tanev: "He's been very dependable and making the high-percentage plays," said Alain Vigneault. "And he knows he's going to have to take a hit to make a play, to make that good first pass, and he doesn't shy away from that. Everything we've seen is telling us [that] with the right work and attitude he has a chance to play on a regular basis down the road." (The Province)
-Miss Germany 2011. Sorry, what?
-Keith Ballard is surprised by how flexible he is. (The Province)  I read somewhere that maybe we should call him Gumby.
The last meeting: A Canucks Win!
The Classic: Canucks-Ducks 12 round shootout from Halloween 2008:
How Getzlaf injured his face late December:
Ryan Kesler vs Corey Perry:
Pronger stomps on Kesler's leg:
Suicidal Duck Family
One of my old creations: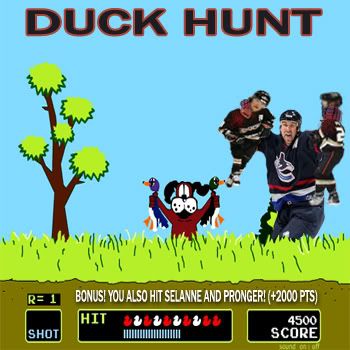 GO CANUCKS!