SENATORS




CANUCKS



AT




Time
Sun. 6:00 PM PST

TV
Sportsnet Pac.

Season Series
0 - 0

Last Meeting

4-2 Canucks (Feb.07/11)

The Enemy
Silver Seven
Scoring Leaders

D. Sedin

: 6-17-23 Spezza: 6-13-19

| | | |
| --- | --- | --- |
| Senators | Category | Canucks |
| 10-9-1 | Season Record | 9-9-1 |
| 11th | Conference Position | 11th |
| Won 3 | Streak | Lost 1 |
| 5-5-0 | < Road Record / Home Record > | 4-5-1 |
| 5-4-1 | Last 10 | 5-5-0 |
| -7 | Goals For / Against +/- | E |
| 58 (5) | Goals Scored | 56 (10) |
| 67 (29) | Goals Allowed | 55 (21) |
| 0.74 (27) | 5 On 5 GF/GA | 0.82 (22) |
| 22.4 (3) | Power Play % | 26.7 (1) |
| 79.3 (24) | Penalty Kill % | 84.4 (12) |
| 55.6 (25) | Winning % When Scoring First | 70.0 (14) |
| 50 (27) | Winning % When Leading After 1 | 83.3 (12) |
| 100 | Winning % When Leading After 2 | 100 |
| 50.3 (16) | Faceoffs % | 52.5 (4) |
| 459 (5) | Hits | 409 (13)  |
| 285 (11) | Blocked Shots | 196 (30)  |
| 180 (6) | Giveaways | 125 (24)  |
| 164 (5) | Takeaways | 123 (17)  |
| 14.7 (27) | PIM's Per Game Average | 14.6 (25)  |
| NHL.com | | |
Note: added a few stats categories to the chart: Hits, Blocked Shots, Giveaways and Takeaways. Look at how little the Canucks are blocking shots!
First off, expect the Canucks to recall Eddie Lack from Chicago, as Roberto Luongo is still day-to-day with an upper body injury. Also, Kesler will play and Ballard will not. Andrew Alberts draws back in.
I think I have verbally beat the Canucks up enough over the past several days. It would be great to see them score more at even strength. Seeing that the Senators, despite a current 3-game winning streak, are 27th in the NHL 5 on 5, this may be the game where Vancouver breaks out at even strength. They're going to have to earn it though. Gotta
score some dirty ones too.
PROJECTED ROSTERS
---
Cory Schneider
---
---
GP
MIN
W
L
EGA
GA
GAA
SA
SV
SV%
SO
2011 -

Cory Schneider

8
413
2
4
19
2.76
198
179
.904
0
---
Dank-Hank-Jank
Burrows-Kesler-Higgins
Booth-Hodgson-Lapierre
Volpatti-Malhotra-Weise
Hammer-Bieksa
Edler-Salo
Rome-Alberts
---
Craig Anderson
6-2
180
May 21, 1981
Nice pic, Craig. You staring at an ice girl again?
---
---
GP
MIN
W
L
EGA
GA
GAA
SA
SV
SV%
SO
2011 -

Craig Anderson

18
996
9
6
54
3.25
514
460
.895
0
---
Colin Greening
- Spezza - Michalek
Foligno - Stephane Da Costa - Alfredsson
Kaspars Daugavins - Zach Smith - Erik Condra
Konopka - Winchester - Bobby Butler
Phillips - Lee
Kuba - Karlsson
Cowen - Gonchar
MISC / STATS
-I have not been following the Senators at all this season. Several of the names above I don't even recognize.
-Can Erik Karlsson One Day win the Norris Trophy? (Silver Seven)
-Boo f*cking hoo, Nikita Filatov. Who around here wanted him on the Canucks again? (Sensay)
-Craig Anderson can be a beast....until he plays against the Canucks. He is a career 3-9-0-1 with a 3.34 GAA and .887 save percentage against Vancouver.
-Spezza has 4 goals, 5 points and a -8 in 9 career games vs Vancouver.
-Burrows has 4 goals, 7 points and a +5 in 7 career games against the Sens.
-Daniel Sedin is 4-7-11 in 14 career games vs Ottawa.
-Hank is 3-9-12 in 13 games.
-Sami Salo, who started his career as a Sen, is 1-7-8 in 8 career games vs his former team.
-Senators are 7-1 in their last 8 games following a win.
-Senators are 4-1 in their last 5 vs. Northwest.
-Canucks are 22-5 in their last 27 games playing on 3 or more days rest.
-Canucks are 25-9 in their last 34 Sunday games.
-Canucks are 1-4 in their last 5 vs. Northeast. That win was over the Sens.
-Canucks are 0-6 in their last 6 after allowing 5 goals or more in their previous game.
VIDEO
The Last Meeting Against The Sens:
Screw the new rap. I kick it old school, and Public Enemy's Brothers Gonna Work It Out is just brilliant:
NUCKS MISCONDUCT TEES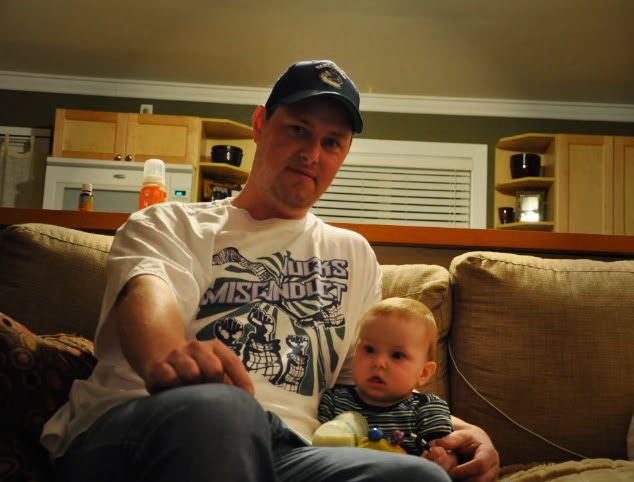 Little Liam is doing great. Those are pics of us watching Chicago get killed by the Oilers.Just got the NM Tees in the mail earlier this week. Pretty damned cool. And yes, I am gonna plug the Nucks Misconduct Store!

GO CANUCKS GO!