Aaron Rome's legend is now right up there with that of Jeff Cowan "The Brabarian". Unfortunately, no bras are being thrown on the ice for Mr. Rome. But he is receiving a lot of praise, even if it is mostly in humorous fashion. Now, I have been an Aaron Rome fan ever since he became a Canuck. Why? Several reasons. He gets mocked a lot and I don't think it's merited. I root for underdogs. Aaron Rome is that kind of guy, that if you were a boss and he was your new hire...well he'd make you look good. Rome keeps things simple. He does the job that you ask of him. And a lot of times he can exceed your expectations, even if he does make the occasional mistake.
Too much flattery? Hey, only Sami Salo has more goals than Rome for the Canucks' defencemen. But there's more:
Check this out:
Huh? Huh? It gets better:
(stick tap to missy and Kent Basky for providing the links to those stats in the game thread)
He leads the Canucks with a 33.3% shooting percentage.
I know, you are convinced already that this guy is not a mortal but I may as well keep heaping on the praises.
He destroys Bruins. And you hate the Bruins: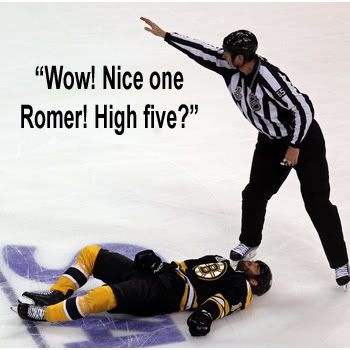 Rome likes beating on people, period. And then once in a while he surprises you with some style points:
Beauty! Check out this hip explosion:
The team loves him. Check this out:
He knows that 5 goals against isn't painful enough for the Sharks in the Playoffs:
He returns from injury against the Hawks and carries the team on his back:
The boys return home from their longest road trip, stuck at 500, and Rome puts on a show in front of his legions of fans with a 3-point night against the Islanders. The Cody Hodgson power play goal? All Aaron Rome. Rome took a point shot and INTENTIONALLY banked it off Michael Grabner's stick, right to Cody. Great vision by Rome.Very Gretzky-like.
"Sanderson..to Rome..HE SCORES! Bobby Rome!"
(h/t to Kent Basky for finding that one)
Praise for Rome on the Internets:
Two weeks ago I wouldn't have believed that immediately after reentering the #Canucks lineup, Aaron Rome would become such a big story.
That's because you, like most Canucks fans, have no clue how much of a superstar Aaron Rome really is!
Memo to Aaron Rome: Your jersey number is (two nine) not (two nines) #EnjoyingTheRide #Canucks
How clever.
"Aaron 'freaking' Rome" -

Kevin Bieksa

#quotemachine
"These poor suckers are going to pick him up in fantasy league now," -- #Canucks Kevin Bieksa on fellow d-man Aaron Rome.
Jealous.
It's 1AM and Aaron Rome is trending on Twitter! #FTW
How the heck was Aaron Rome not the first star? He deserved it. #Rome4Norris
Because Alain Vigneault doesn't pick the 3 stars.
AARON ROME 3 POINT NIGHT, WHO NEEDS SHEA WEBER WHEN WE GOT AARON FUCKING ROME #Vote4Rome
The scariest part of tonight is that someone somewhere is going to consider picking up Aaron Rome in their hockey pool.
Oh Stanchion. Now do you believe? I don't hear your bagging on Rome lately. Must be that huge foot in your mouth!
@jasonwheelerBC: We are all Aaron Rome's mustache. #Canucks"
#Canucks 3 Stars 1st Aaron Rome 2nd Aaron Rome's Moustache 3rd Aaron Rome's Stick
Insert stick joke here.
@icanucks Aaron Rome has more goals than

Ryan Kesler

#Canucks
Digest that one for a minute!
"Let's talk about Aaron Rome," Alex Burrows said before the first question was asked Sunday. "He's one of the most likeable guys in the locker room. He works hard at his game and he's a really smart player, too. Everyone feels good for him. And that makes good things happen for the rest of the team."
That and more from The Rebuilding of Rome, an Iain Macintyre piece post game.
Rome is a rock star
That from @jeffliu19. Original photo by CDC's Jeff Vinnick.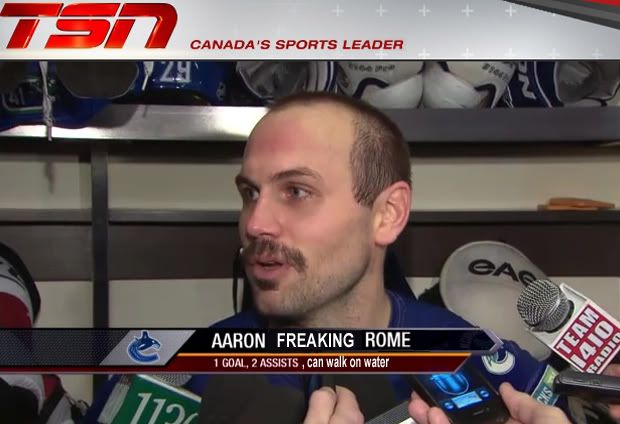 It's time to start voting for entrees into the 2012 All Star Game. Put Aaron Rome and some other defenceman who's talents are nowhere near Rome's (which is everyone else) into the AS Game. 
In closing, I'd like to say that these are fun times when the unexpected player starts lighting it up. Every time Rome winds up from the point you start thinking that the puck is somehow going into the net. Enjoy the ride!