CANUCKS




DUCKS



AT




Time
Fri. 7:30 PM PST

TV
Sportsnet Pac.

Season Series
0 - 0

Last Meeting

3-0 Canucks (Mar.06/11)

The Enemy
Anaheim Calling
Scoring Leaders

D. Sedin

: 6-14-20 Selanne: 5-9-14

| | | |
| --- | --- | --- |
| Canucks | Category | Ducks |
| 8-7-1 | Season Record | 5-7-3 |
| 8th | Conference Position | 14th |
| Won 2 | Streak | Lost 2 |
| 5-5-0 | < Road Record / Home Record > | 3-3-0 |
| 6-4-0 | Last 10 | 1-6-3 |
| +2 | Goals For / Against +/- | -15 |
| 3.00 (8) | Goals Per Game | 1.87 (30) |
| 2.81 (19) | Goals Against Per Game | 2.80 (18) |
| 0.79 (23) | 5 On 5 GF/GA | 0.68 (29) |
| 26.9 (2) | Power Play % | 12.1 (26) |
| 88.4 (4) | Penalty Kill % | 86.7 (10) |
| 75.0 (8) | Winning % When Scoring First | 71.4 (11) |
| 80.0 (14) | Winning % When Leading After 1 | 83.3 (12) |
| 100 | Winning % When Leading After 2 | 66.7 |
| 52.6 (3) | Faceoffs % | 46.8 (29) |
| 15.2 (25) | PIM's Per Game Average | 14.8 (24)  |
| NHL.com | | |
The Canucks are 2-0 with Aaron Rome in the lineup this season. They have outscored their opponent 9-4 with Rome in the lineup. Rome has 2 goals in 2 games. Rome has a 40% shooting percentage.
Put Aaron Rome in the All Star Game.
Meanwhile, the Ducks are having team meetings to figure out their current slide. Hey did you know that Aaron Rome won a Stanley Cup with the Anaheim Ducks?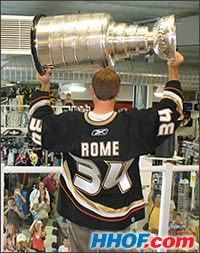 The following is "Romekill", not "roadkill":
The last meeting (Malhotra scored 2):
GO CANUCKS GO!