CANUCKS




BLUE JACKETS



AT




Time
Mon. 4:00 PM PST

TV
Sportsnet Pacific

Season Series
 0 - 0

Last Meeting

4-1 Canucks (Mar.27.11)
The Enemy
The Cannon
Scoring Leaders

D. Sedin

: 1-1-2  Carter: 0-3-3

| | | |
| --- | --- | --- |
| Canucks | Category | Blue Jackets |
| 0-0-1 | Season Record | 0-2-0 |
| 9th | Conference Position | 15th |
| Lost 1 | Streak | Lost 2 |
| 0-0-0 | < Road Record / Home Record > | 0-1-0 |
| - | Last 10 | - |
| -1 | Goals For / Against +/- | -3 |
| 3.00 (12) | Goals Per Game | 2.00 (21) |
| 3.00 (19) | Goals Against Per Game | 3.50 (25) |
| 2.50 (5) | 5 On 5 GF/GA | 1.00 (14) |
| 0 | Power Play % | 0 |
| 33.3 (28) | Penalty Kill % | 57.1 (24) |
| 0 | Winning % When Scoring First | 0 |
| 0 | Winning % When Leading After 1 | 0 |
| 0 | Winning % When Leading After 2 | 0  |
| 54.2 (7) | Faceoffs % | 54.1 (8) |
| 6.0 (3) | PIM's Per Game Average | 7.0 (5)  |
| NHL.com | | |
What the hell was that? ONE game followed by a FOUR day break? Well, have no fear, folks, because this week has FOUR Canucks games. All on the road. CBJ, Philly, Detroit and finally Edmonton on Saturday.
The Canucks will need to show up for more than half the game or they could face the wrath of Prospal-Carter-Nash, who have a combined 7 points in the BJ's first 2 games. Almost every Canuck player on Thursday's roster (loss to Pittsburgh) can be better. Chris Higgins gets a pass from me. In fact, if he continues putting out efforts like in Game 1, he could find himself on Line 2 in Game 2. Marco Sturm was very quiet on that line, but told the Province that "it's all about timing" and "getting used to new linemates." Looking forward to watching Cody Hodgson's progression and hope he bags one. So close in Game 1.
LINEUPS (UNOFFICIAL)
CANUCKS
D. Sedin-H. Sedin-Burrows
Sturm-Hodgson-Samuelsson
Higgins-Malhotra-Hansen
Weise-Lapierre-Volpatti
Hamhuis-Bieksa
Edler-Salo
Ballard-Tanev
BLUE JACKETS
Prospal-Carter-Nash
Umberger-Vermette-Atkinson
Calvert-Pahlsson-Dorsett
Brassard-MacKenzie-Maksim Mayorov (who?)
Tyutin-Clitsome
Methot-Martinek
Johnson-Savard
STARTING GOALTENDERS
---
Roberto Luongo
---
---
GP
MIN
W
L
EGA
GA
GAA
SA
SV
SV%
SO
2011 -

Roberto Luongo

1
65
0
0
3
2.77
28
25
.893
0
---
---
Steve Mason
---
---
GP
MIN
W
L
EGA
GA
GAA
SA
SV
SV%
SO
2011 -

Steve Mason

2
99
0
2
7
4.24
54
47
.870
0
---
MISC
- Kesler, an Ohio State grad, might not be the only Canuck who likes it in Columbus. Vancouver hasn't lost in the Buckeye State since Dec. 1, 2008, nearly three years ago. (Blue Jackets Home)
-Embrace The Hate via vancitydan
-Line For Line. Note For Note: The 2012 Vancouver Canucks Back In Black. Check it out.
-"I mean, really, you're that upset?" Clutterbuck told the Minneapolis Star-Tribune. "They think it's my fault he elbowed me in the face when I wasn't expecting it. It's like a parent whose kid is always getting in trouble, but it's never the kid's fault. It's hilarious. If I embellished it, I would have thrown my gloves in the air and pretended I was unconscious." That in regards to this:
Wiz is still serving 6 more games of an 8 game suspension for that.
Last meeting between the Canucks-Jackets: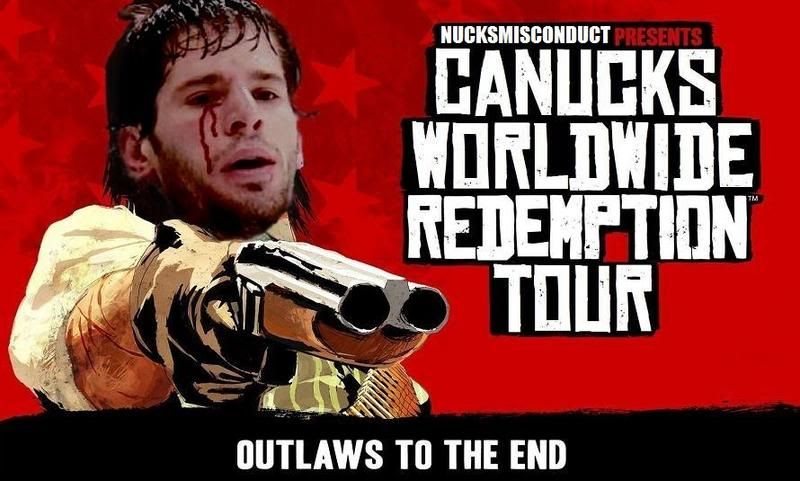 Get that first win, boys!
Happy Thanksgiving to all! Except you, America. Haha.