PENGUINS


CANUCKS



AT




| | | | |
| --- | --- | --- | --- |
| Time | Thurs. 7:00 PM PST | TV | CBC, Versus |
| Season Series | 0-0 | Last Meeting | 3-1 Penguins (Nov. 17/11) |
| The Enemy | Pensburgh | Scoring Leaders | |
First things first. Every year we at Nucks Misconduct hold a score predicting competition. In the comments section, you can predict the score of the game, the winning team and the winning goal scorer. 1 point for each one you get right. It's ok if you pick the same score, winning team or gwg scorer as others have. The Score Predicting Wizards leaderboard is updated and can be viewed on the lower left sidebar on the main page.
What a terrific way to start the regular season: at home against the stinking Penguins! I say "stinking" because I can't stand that team. Never did like them.  Was there ever a super-sized NHL superstar who played like a diving/embellishing wimp like Mario? "Don't live in the past, Zandberg," I keep having to tell myself. "This ain't the Pens of the early 90's."
But then this happens:
He killed Willie! That bastard! My fave Canucks defenceman of all time never played another game in a Vancouver uni. I want Malkin's head on a platter! Stick your hip out Hammer. Send this clown to infinite and beyond!
Make no mistake. This Penguins squad is going to be solid this year. This is a stiff test for the Canucks right off the bat.
STARTING GOALTENDERS
---
Roberto Luongo
---
---
Marc-Andre Fleury
---
LINEUPS (unofficial)

For the Canucks:
Burrows-H.Sedin-D. Sedin
Samuelsson-Hodgson-Higgins
Sturm-Malhotra-Hansen
Weise-Lapierre-Ebbett
Hamhuis-Bieksa
Edler-Salo
Ballard-Tanev
For the Penguins:
Steve Sullivan-Evgeni Malkin-James Neal
Chris Kunitz-Jordan Staal-Tyler Kennedy
Matt Cooke-Mark Letestu-Pascal Dupuis
Arron Asham-Joe Vitale-Craig Adams

Paul Martin-Zbynek Michalek
Kris Letang-Deryk Engelland
Matt Niskanen-Ben Lovejoy
MISC
-Just a heads up, odds are the Canucks will raise the Western Conference Champions banner pre game.
-The EA Sports NHL 12 simulation for this season "projects" the Penguins to win the Stanley Cup. Funny, because mine had the Blackhawks winning. Updated rosters and all. BAH!!
-There is a slim chance that Pens D Brooks Orpik plays in the season opener. (Pittsburgh Tribune)
-Imagine this: Crosby, Malkin and Staal have played together in only seven of the past 96 games dating to Round 2 of the 2010 Stanley Cup playoffs. (Pitts Tribune)
VIDEO
The last meeting:
Same game: Ballard hip checks Malkin (thank you, Keith!):
Hell yeah! It's on! Let's get this party started! By the way, enjoy this one, because the next Canucks game isn't until MONDAY. Yeah. Enjoy your hangover on Friday, haha!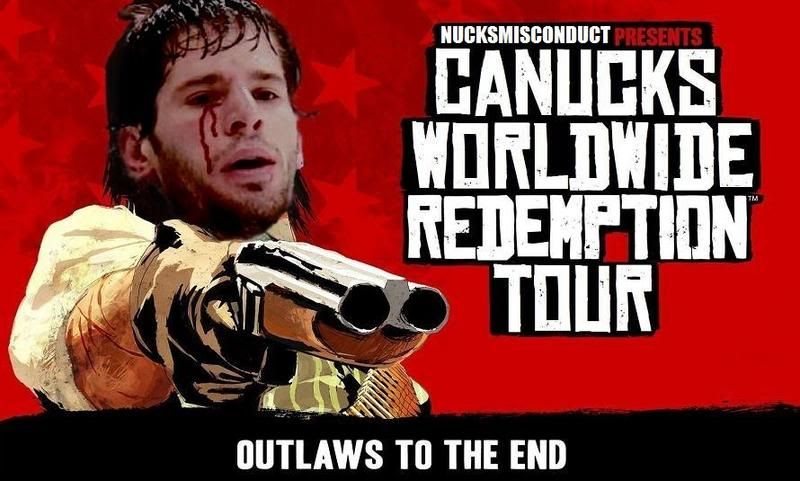 Hat tip to Semi_Colon for making that beauty 'shop.